Kyiv marks Revival Day, a national holiday of Bulgaria. The presentation of the book My Sister Sofia... becomes the clou of the event
3 November, 2016 - 11:02
Before enlightening a society, one must wake it up. At this conclusion arrived the participants of observance of Revival Day (also known as the Day of Bulgarian Enlighteners), a national Bulgarian holiday, which was held on November 1 at the Institute of Philology (Taras Shevchenko National University, Kyiv). The event was organized by the Center for the Bulgarian language, literature, history, and culture and co-sponsored by the Embassy of the Republic of Bulgaria in Ukraine. Among the guests was Krasimir Minchev, Ambassador Extraordinary and Plenipotentiary of the Republic of Bulgaria to Ukraine, teachers and students of Bulgarian, as well as representatives of non-governmental organizations.
Presentation of the new book from Den's Library, My Sister Sofia..., became the highlight of the event. Den/The Day's editor-in-chief Larysa Ivshyna, compilers, and authors of the book were invited by the Institute of Philology and the director of the Center to share more about their new publication.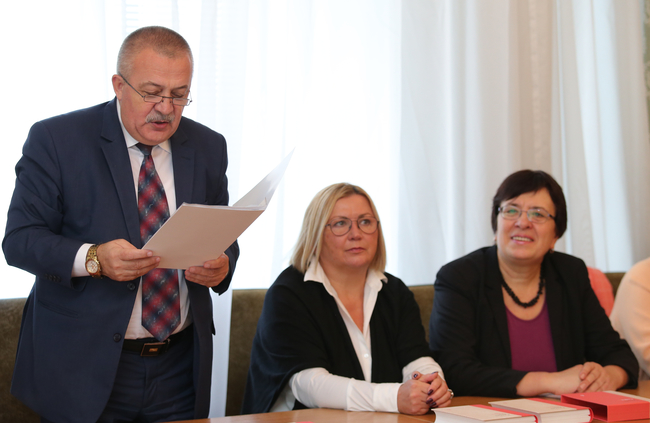 AMBASSADOR EXTRAORDINARY AND PLENIPOTENTIARY OF THE REPUBLIC OF BULGARIA IN UKRAINE KRASIMIR MINCHEV RECOGNIZED DEN'S LIBRARY'S LATEST VOLUME AS A MAJOR CONTRIBUTION TO THE DEVELOPMENT OF BILATERAL RELATIONS, WHILE ASSOCIATE PROFESSOR OF SLAVIC LANGUAGES AND LITERATURES OLENA CHMYR (PICTURED RIGHT) WHO CO-AUTHORED THE BOOK MY SISTER SOFIA... DUBBED LARYSA IVSHYNA "UKRAINE'S AWAKENER-IN-CHIEF" / Photo by Artem SLIPACHUK, The Day
"Ukraine does not have its own Enlighteners Day, but I am convinced that there have always been enlighteners in our nation," said Ivshyna. "I hope they will achieve the same result as Bulgaria once did, when it set an ambitious goal to join the EU and NATO. It is not a matter of formality, but a reunification of those countries which set themselves new civilizational goals. Today's 'enlightening' is aggravated by a huge mass of information weighing down on man. That is why good, reliable 'sailing directions' are of great importance, which will help find the islands of knowledge in the boundless information ocean. Our society was supposed to transform very soon, but unfortunately it got little support from state. With this goal in mind we actually make our newspaper. The book My Sister Sofia... is a collection of works by fantastic authors. I am proud that these people responded to our call and saturated our ambitious plans with their intellect. Their readiness to share their expertise with our seemingly newspaper project proves the existence of speedy, 'motoric' solidarity, so rare in the Ukrainian academic environment. As an editor of a daily paper I realize that society is always busy with its own everyday routine, but someone must collect, interpret and pass on this knowledge, so it might remain in national circulation and so that the things discussed in these lecture rooms were not confined only to a narrow caste of the chosen few. Bulgarian expertise, namely, the art of preserving own national tradition, deserves to become a Ukraine-wide intellectual gain. The accession to the EU did not hurt Bulgarian identity – conversely, if you pursue your own identity, you become more interesting for the world. For Ukraine the consolidation of its own identity and the dissemination of quality knowledge about itself is a strategic goal. Identity and modernization: this is the direction in which we should look for solutions to Ukrainian problems. By learning more about Bulgaria, we learn about ourselves."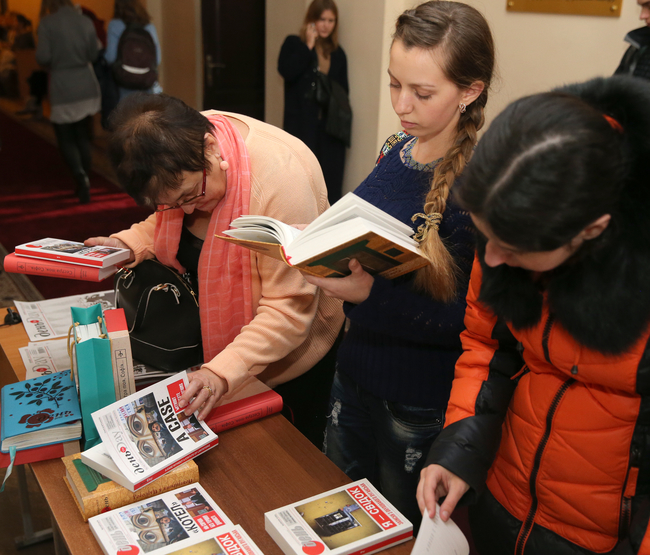 "By means of the book My Sister Sofia... you effectively built a bridge between Bulgaria and Ukraine," said Ambassador Minchev. "This bridge is very long for it dates back to ancient times. Our two Slavic nations feel very close because this proximity is deeply rooted in history. When Ukrainians come to Bulgaria, they feel at home, and the same is true of Bulgarians in Ukraine. This proves the identity of our mentalities. I hope that everyone will read the book and see that Bulgaria and Ukraine's histories are intertwined like a braid. My Sister Sofia... is a serious contribution to the development of our bilateral relations. I must admit that my working day begins with Den on my desk. This periodical contains urgent materials and analysis of major events. Besides, it helps me learn Ukrainian."
The Ambassador was presented with past year's publication of Den's Library, Return to Tsarhorod, as a souvenir to remember this meeting by. After the meeting the students who were bursting with questions would not let Den/The Day's editor-in-chief go for a long while.