Vadym Svyrydenko and Kostiantyn Vinnichenko talked about it using real-life examples at Den's Summer School of Journalism
8 August, 2018 - 17:57
The Ukrainian team which will compete in the Invictus Games in Sydney at the end of October started its second training session on August 7. Let us recall that our team will participate for the second time in this international competition for wounded soldiers which was founded by Prince Harry. Overall, various sports events for veterans are held almost on a weekly basis, because this is the best and most accessible way of rehabilitating wounded soldiers. Presidential Commissioner for Rehabilitation of Wounded Anti-Terrorist Operation (ATO) Soldiers Vadym Svyrydenko talked to Den/The Day about it before. And recently, Svyrydenko joined his assistant Kostiantyn Vinnichenko as they became lecturers at Den's Summer School of Journalism.
This conversation was special in that we heard many frank stories that helped us understand how and why people become soldiers, risk their lives in the war, and how they then return to peaceful life. Back during the meeting, an idea emerged of creating – together with students of the Summer School – a club of sports journalists, dedicated to telling about the veterans' competitions. Indeed, their victories inspire not only other soldiers, but also ordinary people. So watch out for this initiative developing. In the meantime, read about the transfer of experience between different generations of soldiers, people finding their vocations at the front, and why there is always a place for the creation of new things in war.
"PEOPLE WHO HAVE BORNE ARMS UNDERSTAND EACH OTHER"
Olha KRYSA, Ivan Franko National University of Lviv: "The membership of the Ukrainian team, which is to compete in the Invictus Games in Sydney this fall, is already known. There is a certain association in people's minds which sees men alone as participants of such competitions. But they are not alone in it, and the national team includes women as well. Can you tell us more about female participants in international veteran competitions?"
Vadym SVYRYDENKO: "We even ask women to apply for such competitions as much as possible. Women can take part in the Invictus Games as well. Olha Benda was among them, having served as a cook of the 72nd Separate Mechanized Brigade and lost her leg. She had a sports prosthetic leg made. She got interested in participating in the selection, but wanted to go back to the front line again, so she did not even plan to go to Australia at first."
Anastasiia KOROL, Vasyl Stus Donetsk National University: "Why is it important for you to get Ukrainian soldiers to participate more actively in such competitions?"
Kostiantyn VINNICHENKO: "First of all, this country had no experience of military operations since independence. The state should provide all the resources so that a wounded soldier would not only get adapted to peaceful life, but could as much as possible take care of themselves, be an equal member of society. They did not pay attention to it in the Soviet time. They created dedicated residential facilities for people who became disabled. It was only on May 9, the Victory Day, that they spoke about the veterans' heroism. But international experience has come to Ukraine thanks to sports. This is the first such huge platform providing our lads with a way to understand each other, and this is not a political system. Through sports, war veterans can adapt quickly, get help and understand that they can become equal members of society within a short period of time.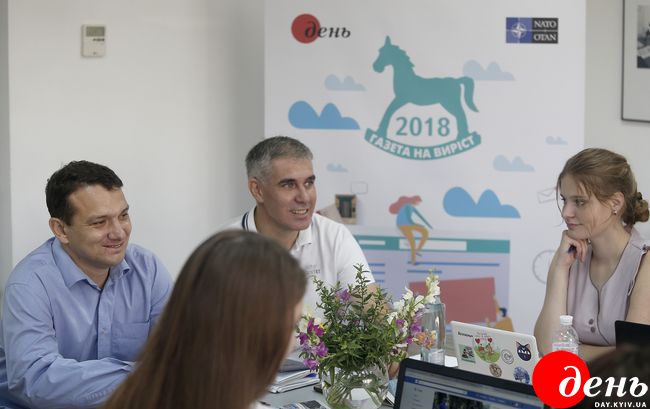 "Wounded lads do not just need help. They need the opportunity to choose any path they like, access any profession, new knowledge. When they will get it, we the public will get a new impetus. Civilians also get certain signals when they see the emotional experience of lads who have been through tough times. They team up around veterans, and so changes may begin in Ukraine."
Mariia PROKOPENKO: "By the way, do the Afghan war veterans join your initiatives?"
V.S.: "We do not draw any dividing lines between people who have gained combat experience. There are various communities. Some of them are closed, made of people who do not want to join. A certain number of ATO veterans had fought in Afghanistan as well. People who have borne arms understand each other. And when legislative changes are made regarding war veterans, they affect them all, both ATO and Afghan war veterans. But everyone has their own adaptation experience. The ATO veterans are just acquiring it. And sports offer the first strong opportunity to become a full member of society for any serviceperson returning to peaceful life.
"In general, the Afghan war veterans have contributed a lot to the ATO. Soldiers of the volunteer battalions were still young in the beginning, and the Afghan war veterans were already battle-seasoned, they taught younger lads, and thanks to them, many people survived the war. They taught them how to behave during shelling, how to properly hide. And when we got our first killed in action, it was Afghan war veterans who provided psychological help.
"When I had lost my limbs and was still in intensive care, the first person to come and tell me what I needed to eat and how to do the first exercise was an Afghan war veteran. Today we are best friends, and it can be said that I covered my first three kilometers with him."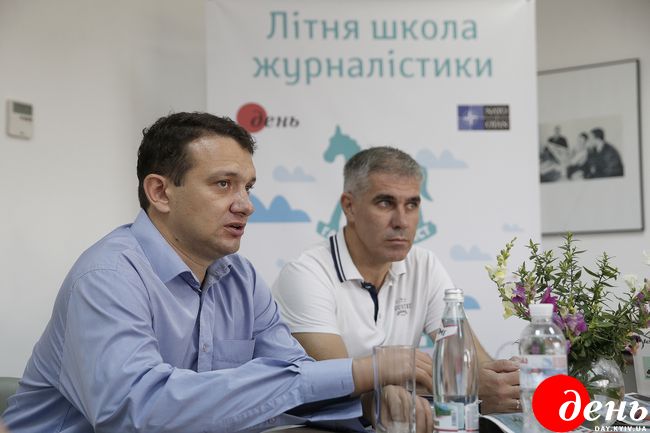 "THE PRESENCE OF DISABLED PEOPLE IN THEATERS IS A GREAT INDICATOR OF ACCESSIBILITY"
Daria CHYZH, Borys Hrinchenko University of Kyiv: "Can Ukraine provide you with quality prosthetics? And how do you evaluate the conditions in this country for the people with special needs?"
V.S.: "Domestic producers make sport prosthetics both for running and for crossfit exercises. We have a joint project with a NATO trust fund which pays for training our specialists. They buy equipment, and our specialists learn how to do it while practicing on our lads. These are very positive and significant steps forward. But, unfortunately, our infrastructure is not yet ready for such changes.
"I travel a lot in Ukraine, so I can confidently say that Kharkiv is the most advanced city regarding the situation of the people with special needs. They install many ramps and retrofit stairs there. There is still a lot of work to do in Kyiv. I do not know why it is so. It is difficult to even compare it with foreign countries, because these latter have elevators in the subway even.
"For me, the presence of disabled people in theaters is a great indicator of accessibility. We come there, and four or five people sit by themselves there, they are not afraid of anything, they have adapted cars and elevators, steps. One would not even ask oneself how it is possible to get there. As soon as they have a desire, they go there. I think this is a model for us. We must change not only the city, but also the society."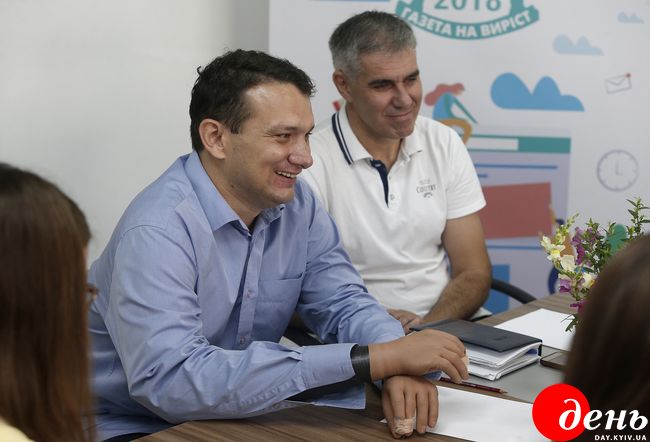 "WE ARE PROUD TO BE IN PARTNERSHIP WITH DEN/THE DAY"
Yuliia DOVHAICHUK, Taras Shevchenko National University of Kyiv: "What practices do we need to borrow from Western countries to increase the level of rehabilitation assistance to soldiers and enable Ukrainians to get rehabilitated at home instead of having to go abroad?"
K.V.: "This year, the National Council for Sports Rehabilitation of Defenders of Ukraine was launched. Commissioner Svyrydenko heads this organization. The special feature of this National Council is that unlike other Ukrainian projects that target soldiers, its management is entirely made of those who fought in the ATO, got wounded there, and understand the topic well.
"Our goal is to create opportunities for training of specialists and trainers, create clubs of any sport recognized in Ukraine. Moreover, we want to see emergence of sports management, marketing, administration bodies. So, if some lads want to create a club in a small town, they get a complete package of necessary assistance from the National Council. NATO also provides educational support.
"Our goal is to provide opportunities for creating sports businesses. This practice is widespread abroad, where it involves various partners and sponsors who want to provide dedicated support in this field. When lads get wounded, they do not want to go beyond the limits of the veteran milieu, but such businesses offer opportunities to get a job, earn money, and stay fully involved in the community, be useful.
"Den/The Day newspaper is a partner of ours, and we are very proud that we can support each other. Our meeting is a great opportunity to create a student sports journalism club. You represent different cities and colleges. So, you have the opportunity to talk about all these programs in your regions, talk to students, veterans, to your organizations. There are civilians who seek to help the wounded, and they also need information that you can convey as well."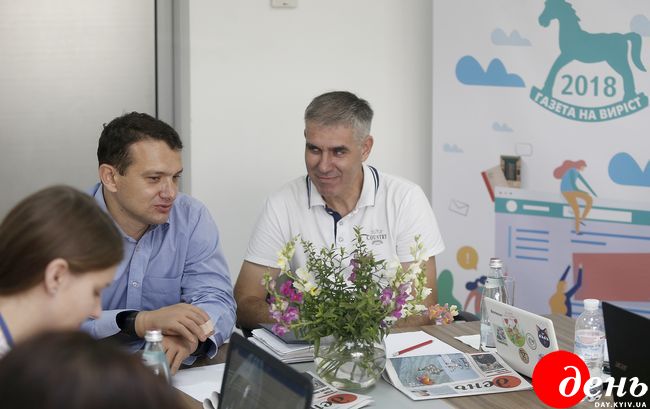 "I ALWAYS WANTED TO JOIN THE MILITARY, EVEN WHEN STILL A SCHOOLCHILD"
Sofiia POSTOLATII, Sumy State University: "In June, President of Ukraine Petro Poroshenko signed into law a bill amending the military service regulations. You went to serve as a mobilized soldier yourself. How, according to your observations, is the military service in Ukraine changing?"
V.S.: "The military is changing. I joined the military when I was 20 years old, served in the border guard troops and qualified as combat medic. When the war began, I clearly knew that I would be there, because I was a combat medic, a border guard, and these are the first people to be called up. When I got my call-up papers, it being as late as the third wave of mobilization, I was not afraid. I knew that I had to go and fight if I was serious about taking such a responsibility. Also, when you hear: 'first soldiers killed in action,' 'first soldiers wounded in action,' then you understand that they need you there, that you may not stay put. My friend Maksym was eager to join the ATO, but they refused to recruit him. And when I got my call-up papers, he went to the military recruitment office, sat there and said: 'I will not leave until you enlist me.' So, he got into the 72nd Brigade."
K.V.: "I know that some lads went through almost the same situation. Indeed, lads had died during the Maidan protest, there were changes, and people went to war. When I heard that the first Russian troops entered our territory, I ran to the military recruitment office that same day. I was getting told: 'wait, we will call you back,' 'you have already been taken off the reserve roll,' 'you are too old.' And it went on for a long time, I could not get recruited. Then I heard that there were first volunteer battalions being created. And I thought, 'I have a family, how can I tell them?' And then I got a 10-year US visa and told the family that I would go there to earn some money. I did not go west, though, but east instead, and was assigned to the 1st Battalion of the National Guard, which is known as the General Kulchytskyi Battalion now. My family did not know, nobody knew it. And it so happened that my aunt was at her country home, bad people called her and said, imitating my voice, that I was gravely wounded and needed money for treatment. She did not understand what it all was about, since she thought I was earning money in America. There were a lot of TV reports about soldiers then. My family members saw personal details of Halyna Almazova, a volunteer who often traveled to eastern Ukraine, and called her. She said: 'I saw him three days ago. He is alright. If you get any such calls again, make sure you do not trust them and do not keep in touch with these people.'
"This is one story among many thousands like it. It was 2014, and everyone seemed to have come to understand that the country was in danger. And when the time comes that something depends on you, when you defend your family, you feel yourself needed. It was a great discovery for me that very different people came to fight in the war, as they differed in their careers, social status, education, age, and experience.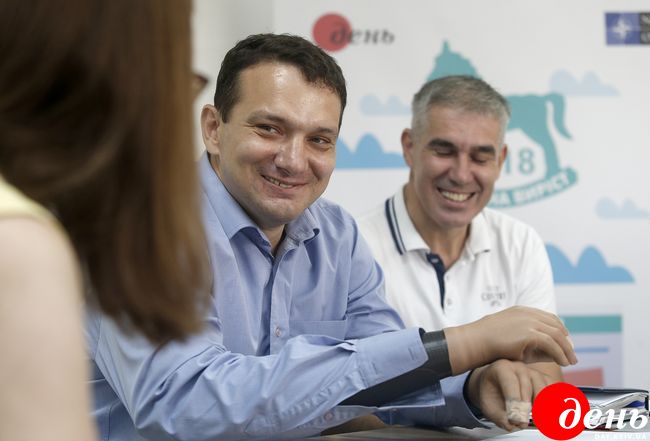 "From the very beginning of the war, I kept a diary, recorded things, photographed them, filmed videos. Lads from the Kyivan Rus' Battalion thought that I was writing something about someone, so they treated it with caution. Then one of my friends wanted to read what I had written there. He was older than me, and having read it, he asked himself why he himself was not writing anything, as he was a professional historian. It was even difficult to understand why he went to war at all: he had bad vision, he did not even hit the target, and got lost easily. And it provided him with an understanding why he was there. He began to tell other lads why they were there, why Russia was fighting us. It involved regular lectures, psychological support, and a personal diary, he delivered these materials through volunteers. That man launched his own mechanism. When you return from the war, you realize that each person is unique, they carry something that can make each of us happier."
V.S.: "In fact, everyone has their own path, everyone chooses who they are going to be. Much depends on upbringing, on family priorities. My parents were always Ukrainian-speaking, I always defended girls. We have to go there, the front needs men. I am all for gender equality, but we need men in the war.
"I always wanted to join the military, even when still a schoolchild, but when I came of age, the Soviet Union collapsed. I watched my elder brothers go to serve at first, saw them graduating from a military school, and I decided that I did not want to go there after all, but the dream of being a soldier still remained. I am convinced that many lads are such confident and focused young men now. The military profession, in my opinion, is for males. Also, the government must promote patriotism, get people to speak Ukrainian after all. I wish greatly that in the future, when a wounded soldier would walk down a street, nobody would ask him: 'Are you an ATO veteran?' and then say that he had it coming as he walks away.
"I had an interesting case in America. I walked across a park, and they raise the flag and play the US anthem there at 8 a.m. A lad, a soldier, stood to attention even though he saw no one around. That is, he is a patriot, he honors his nation and memory of the fallen. It would be very good to see such a patriotic upbringing taking place in this country as well, so that people simply love their country."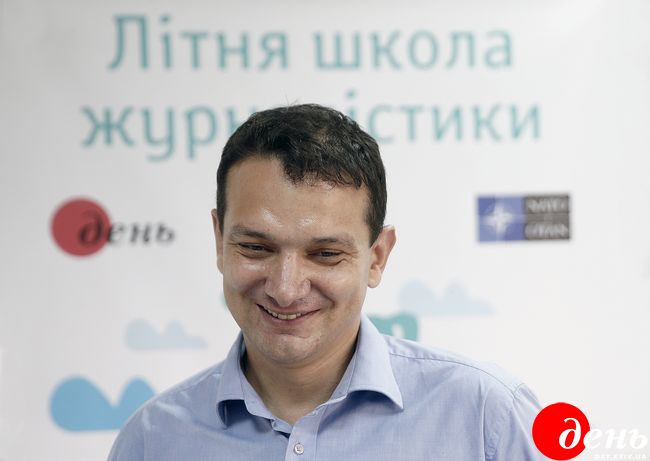 "PEOPLE'S FIRST PSYCHOLOGISTS ARE THEIR WIVES, MOTHERS, SISTERS"
Evelina KOTLIAROVA, Taras Shevchenko National University of Kyiv: "New rehabilitation centers are being created in Ukraine. However, how far are soldiers open to cooperating with specialists? And how to convey to fighters the idea that seeking help is an acceptable and correct decision?"
V.S.: "We organize veteran meetings. People come to us, we try to leave our friends among veterans. When we know that people have had very strong injuries, contusions, then we involve psychologists.
"We have centers for neurological rehabilitation. We work in this direction with hospitals in Lviv, Irpin, and Kyiv. The NATO trust fund allocates funds for this. We talk about our wounds and the positive effect of rehabilitation centers. It does not take much motivation here, we need just to talk to veterans."
Viktoriia HONCHARENKO, Dnipro Law School: "How have your life values changed after your injury and rehabilitation period?"
V.S.: "My principal value is life. No one has the right to deprive anyone of it. My values have not changed, I have just grown to feel stronger about them. Many soldiers face issues after getting wounded, so I meet with their families and ask them to help them undergo rehabilitation. Subsequently, after they get whole again, the soldier will consider his family to be his everything. It is for the family that the soldier will turn the world upside down. Therefore, the key values for me are the family and our homeland."
K.V.: "The first victory of any veteran is the victory in the family, because when lads go to war, the whole burden of family support gets to rest on women's shoulders. And then lads return home with the idea that they are masters of their homes. It is very important for wives to be psychologically ready to accept the fact that their husbands return as changed men. Lads themselves must also understand that not only they, but the entire families, who lived without them for a certain time, got changed.
"It is often said that there is no family rehabilitation in Ukraine. But this is very important. People's first psychologists are their wives, mothers, sisters who meet returning soldiers."
V.S.: "I even believe that the medals we receive are not ours but our wives'."
"CREATIVITY AND WAR GO TOGETHER"
Solomiia NYKOLAIEVYCH, Lesia Ukrainka Eastern European National University: "Mr. Svyrydenko, you worked for a newspaper for 10 years, engaged in its promotion. Do you plan to return to this line of work in the future?"
V.S.: "When I went to war, I had my job protected, and after being wounded, I was invited to return to that job as well. But at the same time, I was asked to work where I really could be useful, especially for our veterans. When I returned from the Marine Corps Marathon in Washington, DC, I met with the president of Ukraine, and it was then that I realized that I had to help others get rehabilitated. There are many such organizations today, so there is strength in unity, as they say. We solve complex issues together."
Mariia PROKOPENKO: "In a conversation within the framework of the Wounds Project, Mr. Svyrydenko shared his opinion that there is more to the war than killing, as one can create new things there as well. How exactly do you understand these words?"
K.V.: "I will try to answer. I know about some lads setting up their own radio station at the front. There are also those who write poetry, draw things on empty ammunition boxes. Creativity and war go together. On their return, lads look for ways to realize their creativity. My friend Yurii Neroslik draws military posters, and we have held exhibitions together at Kyiv City Hall and the Ukrainian House exhibition center. A lot of his images have spread over the internet, and not all users know that he is their author. We must not forget those who have not returned. All of them also dreamed about something."