"As a Russian patriot I want Ukraine to win"
Vladimir Voinovich on the war in Donbas, the future of his country, and civilization meaning of the West
10 September, 18:03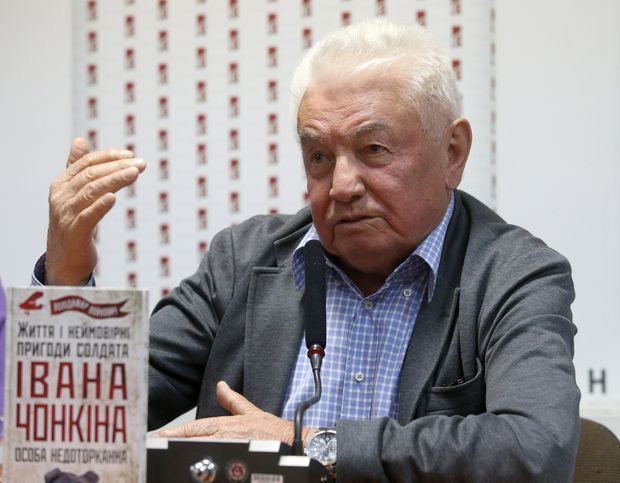 The arrival in Ukraine of Russian writer and human rights activist Vladimir Voinovich, who supported our country during the military aggression of Russia, caused a real stir among the press and the readers. The schedule of the many-day visit was very tight. The writer came to present the Ukrainian translation of the book Untouchable Person, the first book from the legendary trilogy "Life and Extraordinary Adventures of Soldier Ivan Chonkin," which was published by the publishing house Klub simeinoho dozvillia. It is interesting that the book was translated by Mykhailo Kameniuk and was published in a small print-run 24 years ago, and has not been published ever since. Today the translator is working on the last book of the trilogy.
It was crowded at the meeting with the readers which took place in the bookstore "Ye" on the eve of Vladimir Voinovich's leave. The event had a format of questions and answers. It turned out that the writer has a long-time connection with Ukraine. Namely here Vladimir Voinovich spent his childhood. "I left Ukraine in 1951 and since that time very rarely spoke Ukrainian, therefore I will speak Russian," Vladimir Voinovich explained at the beginning of the meeting, "Although I love this language very much, I'm ashamed to speak it at such a big meeting of people. For me Ukraine is not a strange country."
Vladimir Voinovich's parents came from Ukraine. His mother was born in Kherson gubernia, and father in Novozybkovo (today it is Bryansk oblast, but it used to be Chernihiv gubernia). The writer was born in Tadzhikistan, but when he was eight, three weeks before the beginning of the war, his family moved to Zaporizhia. Later there were first bombings and evacuation. They evacuated to Stavropol krai, where at that time everyone was speaking Ukrainian. When the war was over, Vladimir Voinovich returned to Ukraine, and lived here till the age of 19, till he was called up to the army. By that time he graduated from a vocational school in Zaporizhia and studied on evening courses. In the army the future writer did not part with Ukraine, he underwent the course of young soldier in Dzhankoi, served for 1.5 years in Poland, then in Luhansk, which was called Voroshylovhrad then. "We had an aviation school for navigators in Hostra mohyla," he recalls, "Then there was Chuhuiv of Kharkiv oblast, an aviation school as well. All these places were mentioned in the military reports of the past months. After the demobilization I lived for a year in Kerch, and later moved to Moscow, where I realized myself as a writer."
It is clear that apart from creative work the guests above all asked about the writer's attitude to the Russian-Ukrainian conflict which is unfolded in the Donbas. Vladimir Voinovich went much farther than innumerous Russian workers of culture who supported Ukraine, he publicly wished luck to Ukrainian army. "A terrible war is going on these days," Vladimir Voinovich said, "Recently nobody would see in a nightmare that a conflict between Russia and Ukraine was possible. I would rather suggest that a war between some Russian regions will break out. In my opinion, namely for the reason that a lustration didn't take place in our country in the 1990s, the forces which at first encroached on the Crimea and then started a war in the Donbas came to power in our country. Now these events are compared to the Anschluss of Austria, but I think they much more resemble the events of 1968 when the Soviet power was scared that the revolution in Czechoslovakia would be a tempting example for Soviet people and sent tanks there. When during Maidan Ukraine decided to take a European path, Moscow got scared, because our regime in all ways divides itself from Europe and I would say human coexistence with the civilized world. I love Ukraine very much, but I love Russia very much as well, and as a Russian patriot, I want Ukraine to win, the idea of Maidan to be realized, and this to serve a good example for Russia. Of course, Ukrainian people will need to cover a long way to Europe, but now you are ahead of us. When you reach it, probably Russia will follow in your footsteps."
After the meeting and a long ritual of giving autographs, in spite of the tight schedule (late in the evening the writer was invited to another live show on television), Vladimir Voinovich agreed to give an interview to The Day.
Mr. Voinovich, have you read any of Ukrainian contemporary writers?
"Young contemporary writers – no. In childhood I read in Ukrainian all modern and classical Ukrainian, as well as the world, literature, I read even Russian writers in Ukrainian translation. I know the generation of Ukrainian writers who are younger than me, but who cannot be called young: poets Ivan Drach, Lina Kostenko, Mykola Vinhranovsky. During my current visit to Ukraine, I met Andrii Kokotiukha, but I didn't have time to read his works."
I think if you ask an average Russian, he will hardly name at least one modern Ukrainian writer. Why, in your opinion, Ukrainian culture is not demanded in Russia? Maybe it is one of the reasons that made this war possible?
"I don't think that this is a reason. We simply started to live differently. In the Soviet time there was the magazine Friendship of Peoples, which translated and published Ukrainian literature. Now we have nothing of this kind. I think Russians don't know modern Polish literature better. They read some American detectives, books that have won world popularity, The Da Vinci Code, for example. I don't like such books."
What would you recommend to Ukrainians today? How to behave, when the neighboring country attacked you?
"I think it is important not only for the entire people, but every single man should defend what he believes in, in spite of difficulties and risks. I wish you to survive and win. Not just win, but also not to lose the desire to join Europe. For if you win and become a totalitarian state (during the war it happens that people's feelings become more acute and they elect a dictator), then I won't wish anything good to you. I dream that Ukraine will become a democratic European country and your society will have new prospects of development."
Thank you for your wishes. You have many times said that maybe in a long prospect Russia will eventually get closer with Europe. It is known that this is an eternal discussion in the milieu of Russian intellectuals since the time of adherents of the West and Slavonic world. What are your arguments in this dispute?
"The world has become a system of connected vessels. Since the end of the 1940s it was much more disconnected than now. Today owing to transport means, aircraft, electronics, owing to the worldwide radio, television, Internet, the world has become very close. Now we don't have any really independent countries. Independence is a conditional notion, because not only Ukraine, but even the United States is dependent on the external world. All countries depend on one another. After all, there is a desire for the people to stick to some general rules of living in a dormitory house. I think namely the Western world created these laws, and it is not without a reason that Ukraine and partially Russia seek the same. But this process is impeded in Russia. Sooner or later, if not everyone is get killed in the third world war, the world will accept these reasonable conditions."
In Ukraine they say that the West does not help us enough. Do you agree? Why, in your opinion, as a person who has lived for a long time in the West, people there are not ready to sacrifice their, for example, economic interests for the sake of Ukraine and security in Europe?
"This is usual human weakness. Most of people are egoists; the same refers to the country. They don't want to quarrel with Russia, break business connections, etc. It is hard for Europe to impose sanctions. That is why two ideas are struggling, either to make a principal action or compromise. In the West there are many adherents to compromise, and there are simply conformists, people without principles who are ready to do anything. The struggle between these positions goes on, and so far something in the middle is winning."
You have presented to the audience a Ukrainian translation of your book. In your opinion, why does Russian literature need to be translated into Ukrainian? I'm asking this because in Ukraine, among other things, there is a negative attitude to this phenomenon. They say why distort the original, when everyone knows Russian.
"I was thinking, why, too. But my translator Mykhailo Kameniuk convinced me that there are people who want to read in Ukrainian. Incidentally, the first and second books in the trilogy about soldier Ivan Chonkin in Ukrainian were published in Ukrainian publishing house Dnipro earlier than the original in Russia. At that time we received 150,000 requests to buy the book, but because the economic situation in the 1990s was not simple, we could publish only 15,000 copies. Today in Ukraine there may be young people who have a bad command of Russian, maybe this translation will be useful for them, but I would recommend the rest of Ukrainians to read the book in original."