Lawyer Aleksandr Popkov: "The Russian authorities are doing everything in their power to treat Hennadii Afanasiev as a Russian citizen"
21 April, 2016 - 11:36
"I have been served with a paper issued by the FMSRF [the Federal Migration Service of the Russian Federation. – Author] and notifying me that I am a citizen of Russia... But I do not give up still and will fight to the end, because I am unbroken, and my name is Afanasiev," reads the letter which Olha Afanasieva received in mid-April from her son, a Ukrainian political prisoner in Russia. The letter is dated April 4. It came against the backdrop of optimistic statements that the Ukrainian Justice Ministry began negotiations with the Russian law-enforcement agencies regarding the transfer of Oleh Sentsov, Oleksandr Kolchenko, Hennadii Afanasiev, and Yurii Soloshenko.
There were a few previous attempts to label Afanasiev a Russian citizen without his consent. In late March, the political prisoner even recorded a video statement with the aid of human rights activists which asserts that he is a citizen of Ukraine. In addition, the Ukrainian consul provided Afanasiev's Ukrainian foreign travel passport to Russian law enforcement, and the document has been attached to the prisoner's case. So, what the migration service's statement might mean?
"I do not know any details of this notification. But this piece of paper is no big deal, the trouble is that the Russian authorities are deliberately doing everything in their power to treat Afanasiev as a Russian citizen," his lawyer Aleksandr Popkov stressed. "The document itself cannot affect his transfer to Ukraine in any way. Everything depends on the position of Russia, and I mean the federal government."
Russian human rights activist Ernest Mezak agreed with the lawyer: "If Vladimir Putin feels like extraditing Afanasiev to Ukraine, the latter will be extradited, and if he doesn't want to do it, there will be no extradition. Meanwhile, the migration service labeling him a Russian citizen cannot affect the transfer process in itself."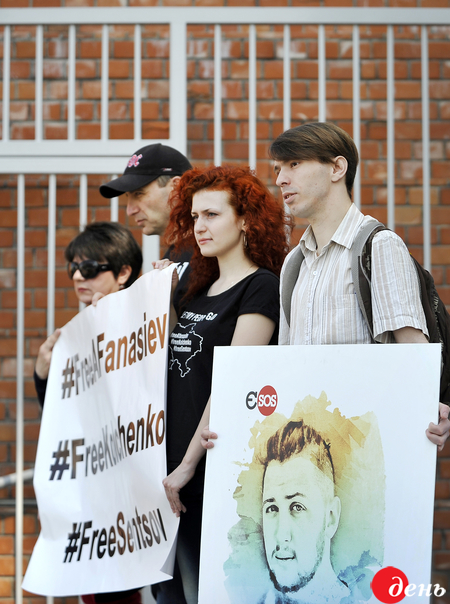 Activists and Afanasiev's friends gathered in front of the EU mission in Ukraine on April 18. Their posters called for release of Afanasiev as well as Sentsov and Kolchenko whose cases feature the young man as a witness.
"This building is hosting a human-rights-themed meeting today. It is attended by delegations from EU nations. So, we want to draw their attention to the Afanasiev case. While the Sentsov, Kolchenko, and Savchenko cases are discussed a lot, that of Afanasiev is often overlooked," the protest's organizer Evelina Hanska explained. "That letter from the Russian migration service means that the Ukrainian consul may be prevented from visiting Afanasiev, and his extradition request may be denied."
Alim Yakubov, a friend of Afanasiev, communicates with the prisoner through letters. "The Mikun prison, where he is being held, has a strict regime. The prisoners, in fact, have nothing to do. They get an hour-long walk daily. Afanasiev reads books, since there is a mediocre library there," Yakubov told us. "In February, he was sick with suspected sepsis. However, he finally was allowed to see a doctor, injected with antibiotics a few times and has seemingly recovered somewhat."
According to Yakubov, to get Afanasiev freed, we need new international sanctions against Russia. Also, anyone can support the prisoner, since Afanasiev likes getting letters very much. Most importantly, they have to be written in Russian and contain nothing about politics. This can be done through the RosUznik online resource or by writing personally to the following address (in Russian Cyrillic): ЕПКТ ФКУ ИК-31 УФСИН России по Республике Коми, 169060, Усть-Вымский район, г. Микунь, ул. Восточная, Афанасьеву Геннадию Сергеевичу, 1990 г. р.
Meanwhile, The Day will follow this developing situation.