Den/The Day's reporters dispatched to the ATO frontlines are back with front-line reports, launching a series of features on how people are living under enemy fire. This time it is Novobakhmutivka
19 October, 2017 - 10:59
H20 is Ukraine's major Sloviansk-Donetsk-Mariupol highway. Practically no traffic here, not even after a major repair done before Euro-2012, save for a minibus carrying ATO volunteer Anna Dombrovskaya and the rest of the crew. Because of the hostilities in the east of Ukraine, this highway is no longer considered to be safe. Ukraine's Avtodor Motor Roads Company has worked out alternative routes bypassing the occupied territories. Anna Dombrovskaya uses every route to help the populace of the front-line areas. Like when Den/The Day's minibus, laden with books, copies of the Ukrainian daily and Visti z Donbasu [The Donbas News], also with loaves of bread, used this highway [and other routes], visiting dozens of front-line areas. 
Prior to the Defender of Ukraine Day [October 14], our journalists joined Anna Dombrovskaya's Project Musical Battalion to greet the defenders of Ukraine, knowing that Ms. Dombrovskaya, a Russian, has been supplying seven thousand copies of Den to them every week, thus trying to refute Russia's propaganda.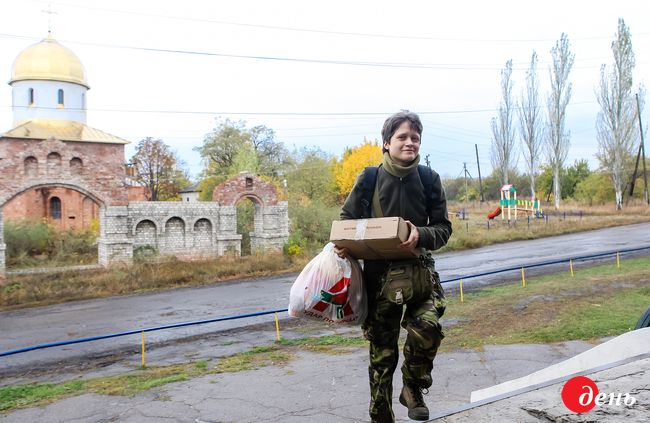 VOLUNTEER ANNA DOMBROVSKAYA BROUGHT 100 CHILDREN'S UKRAINIAN-LANGUAGE BOOKS TO A FRONTLINE NOVOBAKHMUTIVKA SCHOOL AND IMMEDIATELY BEGAN TO COLLECT BOOKS FOR THE SCHOOL IN THE VILLAGE OF VERKHNIOTORETSKE. JOIN UP!
Avdiivka, Krasnohorivka, Novobakhmutivka, Novhorodske, Kamianka, Vesele, Verkhniotoretske – these front-line areas in the east of Ukraine showed a special emotional atmosphere before Defender's Day. We spoke to hundreds of people there and they realized that the Ukrainian army was the only guarantee of peace for them. They were sick and tired of living under enemy fire, they wanted their homes safe. Some, however, because of the absence of drinking water, bad cell phone, mail service, no Ukrainian TV channels, poor public transport, being dozens of miles away from hospitals and/or malls, continue to believe in peace and quiet. These people are trying to survive, no matter what. 
Natalia Chupryna, librarian and mathematics teacher at Novobakhmutivka's high school, started her demonstration lesson by saying: "We're about to mark the Defender of Ukraine Day, a very important celebration at this time of ordeal for our country. On this occasion, we remind ourselves of the importance of patriotism, of the need to support our men fighting out there with what we can, and telling them we love them. These men are proving their worth fighting for this country, and you, students, have to prove your worth by studying well." She was addressing a class of 43 children, all to be found in Novobakhmutivka, a village currently inhabited by 870, located in Donetsk oblast less than six kilometers from the so-called demarcation line. "This populace includes the 146 families of internally displaced persons. Their children are among our students. Some of them are under school age. Their parents grabbed them and ran after the shooting started and some of their homes were hit," explains Ms. Chupryna.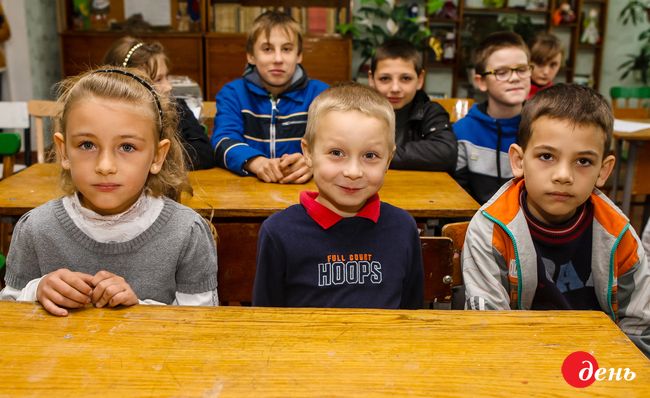 Our minibus stopped in Novobakhmutivka first, since Anna Dombrovskaya had some 100 books in Ukrainian and copies of Den for the kids, and that our journalists had copies of a new publication entitled The Crown, or Heritage of the Rus' Kingdom. Ms. Dombrovskaya's visit coincided with the demonstration lesson, so we could listen to children reciting poems dedicated to the Ukrainian army and Ukrainian Cossacks. Then they wrote "magic letters" addressing Ukrainian army men, meant to prevent the enemy from killing them. All this happened with artillery and gunfire heard at a distance. Ms. Chupryna noticed the expression on my face and whispered: "Don't worry, that's far enough. We're used to the sounds. They usually start shelling in earnest after 4 p.m. Our village has long been out of range, God be praised." And she knocked on the wood (a desk) to make sure.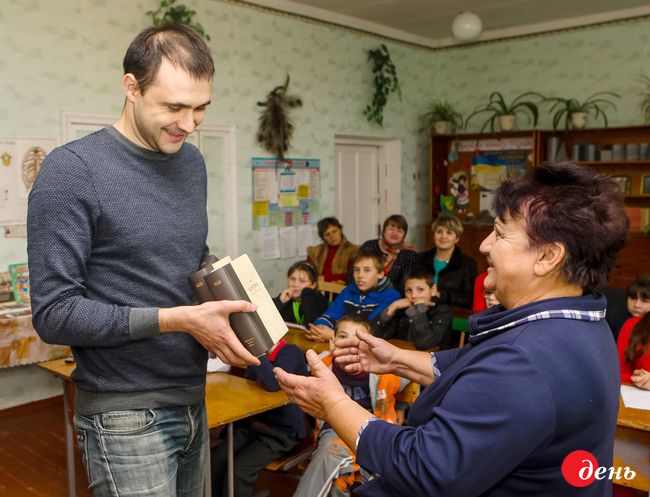 THE DEN CORRESPONDENT PRESENTED ON BEHALF OF THE EDITORIAL BOARD A NEW BOOK, THE CROWN, OR HERITAGE OF THE RUS' KINGDOM, TO THE SCHOOL LIBRARY AT THE PATRIOTIC EDUCATION LESSON
The demonstration lesson (or one of "patriotic education," as they called it) occurred in a friendly atmosphere. Those present asked Den's journalists to take the floor. After all, receiving guests from the capital city was a rare occasion. In the meantime, a dozen kids at the nearby daycare center were rehearsing the evening gala concert that would attract a number of fellow villagers. Dressed as male and female Cossacks, they performed several folk dances, doing great.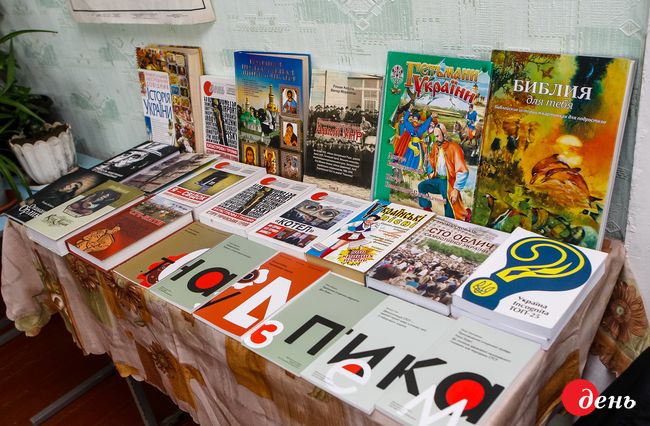 FROM NOW ON, THE FRONTLINE VILLAGE HAS A SERIOUS ARSENAL OF "INTELLECTUAL WEAPONS" – ALMOST THE WHOLE DEN LIBRARY
Similar festivities took place in most front-line areas, at high schools, libraries, local clubs (still known as the Soviet-era "Houses of Culture"), on the central square, gathering hundreds, nay thousands of residents. Novhorodske, a village located seven kilometers from the demarcation line, hosted the volunteer rock band MuzBat (Ukrainian acronym of Musical Battalion). The local "House of Culture" was jammed with villagers willing to listen to the music and applaud the guests. Serhii Faifura, rock bands Braty Stanislava, Druzhe Muzyko, Fata Morgana UA, TaRuta, et al., performed in Avdiivka and Pokrovske. No pop stars performed in Novobakhmutivka, but the populace was happy. 
Says School Principal Halyna Pavlovska: "Our children are tempered by this war. Last year, after another heavy shelling, with shells falling and exploding less than 500 meters from the school, I ran to the daycare center for shelter. I saw the kids hiding in the toilets, the most protected place, doing so in a well-organized manner. There they just lied on the floor. We practice the same drill at school. I would like to thank Den and Anna Dombrovskaya for bringing the books. There are only 43 students, but they have to be looked after. I can't recall the last time we received books and could replenish our library stock. There are 5,800 books on our library stock record, including textbooks, but there are many Soviet publications. I mean books about Lenin, Marx, the Soviet Union, about Russia as Ukraine's Big Loving Brother, all that stuff. We've long removed them from the shelves, out of the children's sight. Our vacation starts on October 17, but you can see that the kids have taken your books so they can read them at home... Shells exploding near your home, near your school make an experience you'd want to forget, but you have to live with it. All we can do is try to survive – and we can do this when helped by volunteers. Also, psychologists visit us every two weeks, treating the children and us teachers. Adults also need professional help."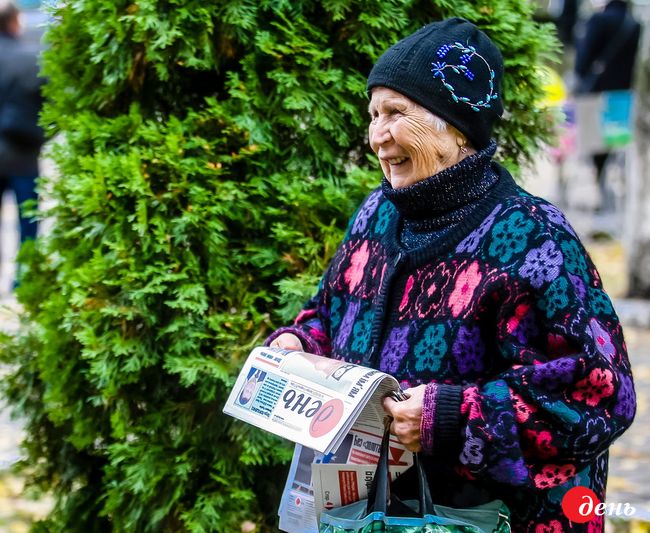 School Principal Halyna Pavlovska: "Each time enemy fire reaches its peak, the schoolchildren are sent home – where classes continue. We teach them on a remote control basis: two days at school and three at home. This practice began in 2014 and was continued for several weeks, in February 2015. We used to give the children their homework and visit [their homes] to check it. No one could believe we'd receive new books. We've long asked for aid [from the government], but have received little. But then Anna brought us copies of Den and part of the newspaper's Library Series, courtesy of the editor-in-chief. We told her we needed books for children and several days later Anna called, saying 'We're on our way.'" 
The school principal is sure that the local history museum, organized by the school and boasting 9,500 exhibits, is something to feel proud about: "The school roof started leaking after another shelling. We needed repairs and we needed to upgrade our museum. People started helping. Some would bring Soviet-era tiles, others would donate collector's coins, books, and photos. In the end, we realized that our display lacked data relating to our latter-day history, our struggle for national liberation, and our war with Russia. We called for help and we received it."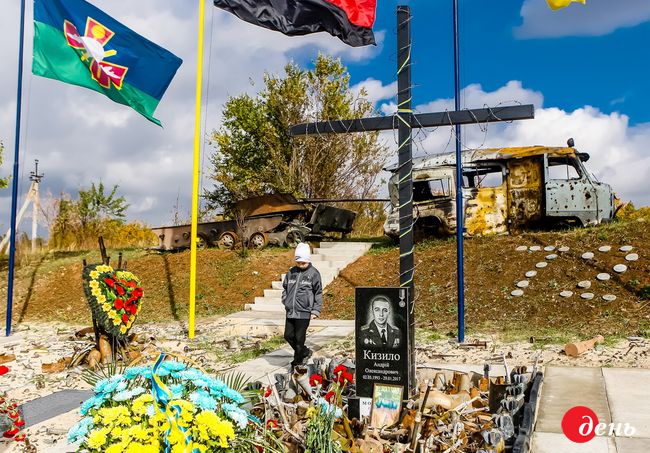 A MEMORIAL TO THE UKRAINIAN SOLDIERS WHO DIED DEFENDING THE INDUSTRIAL AREA WAS UNVEILED IN AVDIIVKA IN MID-SEPTEMBER. THERE HAVE ALWAYS BEEN FRESH FLOWERS THERE SINCE THEN
Anna Dombrovskaya: "Their museum lacked topical items on display. We thought it would be best to display shell and mine fragments found by our combat engineers on the outskirts of the village... We believed this would serve as graphic evidence that would add to the history of this small village, and that it would be respected by another generation as part of the national history of Ukraine… We will keep delivering copies of the newspaper Den to the front-line areas. The presence of Ukraine's press means the presence of Ukraine. We'll also keep supplying books. This time we should thank contributors from Kyiv, Vyshhorod, Rivne, Ivano-Frankivsk, Lviv, a unit of the Ukrainian army, and your Editors. I'm planning to deliver some books to the high school in Verkhniotoretske right after the end of vacation. High schools and daycare centers in the front-line areas badly need fairy-tales and fiction books in Ukrainian (by classics and modern authors), dictionaries, encyclopedias, and ABCs..." 
After Novobakhmutivka, the minibus with Anna Dombrovskaya and Den's journalists on board visited a dozen front-line towns and villages, handing out copies of the newspaper, loaves of bread, and asking how people were doing under enemy fire. 
Editor's note. More on this in the coming issues, specifically on Verkhniotoretske, a war-divided village, and on Kamianka inhabited by less than 100, located several hundred meters from the demarcation line.