Experts comment on the Baltics' military and ideological effort to foil the Kremlin's plans
5 November, 2015 - 11:28
The Baltics, long seriously concerned about the Russian aggression in Ukraine, have begun to receive aid from the US and its allies. This week, Estonia received the first batch of US military equipment, totaling 40 units, in that 4 M1A2 Abrams tanks and 10 Bradley IFVs. As reported by The Baltic Times web portal, American equipment has been delivered to a military base in the town of Tapa, which is located 90 km from the capital of Estonia. The next deliveries are due to reach Tallinn in mid-November.
The Estonian authorities link strengthening US military presence to "aggressive and unpredictable behavior of Russia." Let us recall that 12 American A-10 attack aircraft were deployed to Amari airbase in late September.
This kind of military assistance will also be sent to Lithuania, Latvia, Poland, Romania, and Bulgaria. When visiting Eastern and Central Europe this summer, US Secretary of Defense Ashton Carter agreed with leaders of these countries to deploy US military equipment in their territories.
"We each agreed that, while we do not seek a cold, let alone hot war with Russia, we will defend our allies," Carter declared during his visit to Estonia in June. He also said that the US did not want to face new challenges, because "we have been busy for the last decade-and-a-half. We have had Iraq, we had Afghanistan. We have got plenty going on in the world, but then all of a sudden, here you have behavior by Russia which, as I said, is an effort to take the world backward in time. And we cannot allow that to happen," Carter added.
As clarified by Reuters, US secretary of defense agreed with allies to deploy 250 American tanks, Bradley infantry fighting vehicles and self-propelled howitzers to Europe. The Pentagon officials also noted that each of these countries would host from a company (150 soldiers) to a battalion (750 soldiers) of US forces.
In addition, British soldiers joined the US and German troops who were already in the Baltics in early October. "We are already deploying RAF jets to the Baltics and providing crucial training to the Ukrainian Armed Forces. Now we will have a more regular drumbeat of troops deploying in the Baltics and Poland," UK Secretary of State for Defence Michael Fallon was quoted as saying by The Financial Times.
The newspaper also reported that the length of British soldiers' deployment remained an open question, but it would be on a rotation basis, thus allowing the US, Britain, and Germany to avoid accusations that they violated their agreements with Russia that time-limited deployment of Western soldiers in the former Eastern Bloc after the Cold War.
According to chairman of the Estonian parliament's National Defense Committee Marko Mihkelson, NATO must carry out "a unified and forceful       policy" against Russia. "Russia has   launched a power game, actually a hybrid war in the western direction, which can only be successfully confronted by a unified and forceful NATO policy," he stated.
Tartu University political scientist Karmo Tuur believes that few Estonians have absolute confidence that NATO or other structures will be able to deter Russian aggression. "However, the Estonians have an understanding of how to ensure one's security. NATO helps us to move this way. Membership in clubs like the EU and NATO is among our instruments and mechanisms to deter the Russian aggression," the expert said in a comment for The Day.
Sweden, too, is increasingly looking towards the North Atlantic Alliance lately. Swedish Defense Minister Peter Hultqvist said recently that his nation was considering joining the NATO Center for Strategic Communications to enhance its experience in combating propaganda wars in the world of social networks.
"We need more competence, as this is a new environment, a new arena, where we have to deal with misinformation on many issues and in different types of campaigns," Hultqvist said in an interview for the Swedish public radio. This is far from the first such signal from Sweden, which is also seriously concerned about the Russian aggression in Ukraine.
Let us recall that NATO member nations host 20 Centers for Strategic Communications. Three of them are located in the Baltic countries: Lithuania deals with energy security, the center in Latvia is concerned with NATO strategic communication, and a similar entity in Estonia is tasked with cyber security.
COMMENTARIES
"TO CALM RUSSIA, WE MUST RELY ON ECONOMIC RATHER THAN MILITARY INSTRUMENTS"
Lauras BELINIS, political analyst (Lithuania):
"Looking at military and strategic capabilities only, the Baltic States are very 'convenient' for an attack. We have no natural obstacles, and even troops stationed in these countries can be easily hit by practically any armament system, both airborne and missiles.
"In this sense, although NATO military presence in the Baltic States is small-scale, it shows the solidarity of NATO with these three countries. Also, this is evidence of its willingness to defend them in case of any aggression. Thus, it sends a very clear and unambiguous signal to Russia: any attempted aggression or similar provocative action against the Baltics is unacceptable.
"However, to calm Russia, we must rely on economic rather than military instruments. The EU, NATO, and the entire sane democratic world must act in unison to show Russia that any illegal and amoral actions against its neighbors would meet a very firm response."
"WE MUST MAINTAIN AND DEFEND ALL THE TIME THE INDEPENDENCE WHICH WAS RESTORED IN 1991"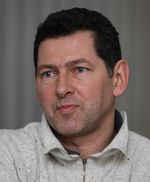 Atis KLIMOVICH, journalist (Latvia):
"Every Baltic nation should host at least a brigade of foreign troops, preferably American or British. However, NATO and the US treat this issue cautiously.
"In my opinion, the alliance offered a determined response to Russia's actions in Ukraine. It has made it clear that it would not stand by should some power carry out aggression against any NATO member state, regardless of its size. Thus, NATO shows that the Article V of the Washington Treaty implies real action and not just statements.
"Defense ministries of Estonia, Latvia, and Lithuania took the threats made by Russians seriously enough. Our countries are carrying out many measures to prepare, train, and increase their armed forces. However, despite the fact that we are members of the alliance, we must improve our combat readiness further.
"The fighting in Ukraine has shown that Russia is far from invincible. Still, we need to understand that we must maintain and defend all the time the independence which was restored in 1991. This includes repelling ideological movements originating in Russia as well. We also need to closely monitor TV broadcasts and print media market. Latvian bookstores sell a lot of aggressive 'garbage,' I mean books that justify the annexation of Crimea or occupation of the Baltic States in 1941. This indicates that our countries should be more active in defending their independence and continue deeper integration into European structures. Had Ukraine started its efforts to join the EU and NATO earlier, today's events might well have been avoided."