Den's journalists met at Boryspil Airport the Ukrainian soldiers and veterans who took part – for the first time and successfully – in the Cateran Yomp international competition
19 June, 2018 - 10:52
Could you walk 54 miles (about 87 kilometers) across a rugged terrain – hillocks, swamps, stones – in 24 hours? And 36 or "only" 22 miles? These distances are covered by wounded European and US veterans and soldiers who participate in the Cateran Yomp (a military term for a long-distance march). This international competition is held annually in Edinburgh, Scotland. Those who endure 22, 36, and 54 miles win bronze, silver, and gold, respectively.
This is the first time Ukraine took part in the Cateran Yomp. Out of the six competitors, five – Maksym Muzyka, Pavlo Mamontov, Oleksii Chushkin, Oleksii Korotchenko, and Dmytro Fesenko – won gold, and one, Serhii Romanovskyi, won bronze. Serhii's achievement astonished everybody, for he was the only competitor with an above-knee amputation.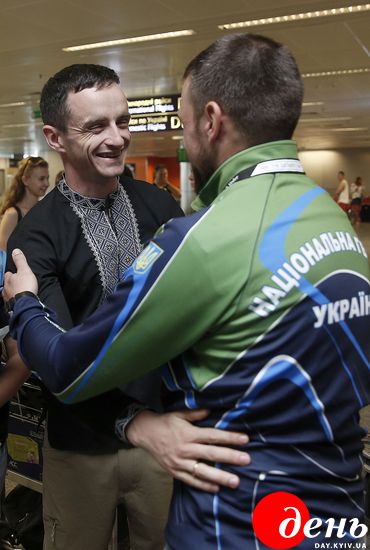 EXPECTATIONS
In the morning, we were at first taken aback in Boryspil Airport's international arrival lounge. The participants were returning on an indirect flight via Istanbul. We were afraid that we might be waiting for a wrong flight, but then we saw UA First Channel journalists (incidentally, there were no representatives of other media) who were also waiting for the Ukrainian competitors. And when we saw a uniformed guy with flowers, who came to meet his friend, we finally made sure that all was OK and waited on calmly by the exit. Our cameras attracted attention, and passengers kept asking what kind of "interesting people" were arriving in Kyiv.
"WE WONDERED UNTIL THE VERY FINISH WHEN IT WILL BE EASIER"
National Guard of Ukraine serviceman Dmytro Fesenko was the first in the Ukrainian team to cover the "golden" distance: it took him 22 hours 18 minutes to do so, while the other guys needed 23 hours 30 minutes.
"There were very many slopes 750-800 meters high on the average, moorland, mountains with rivers – you walk on them as if it were a swamp, too. The route is very difficult and very interesting, landscapes are incredible, the mood was always elated," Dmytro says, sharing his impressions.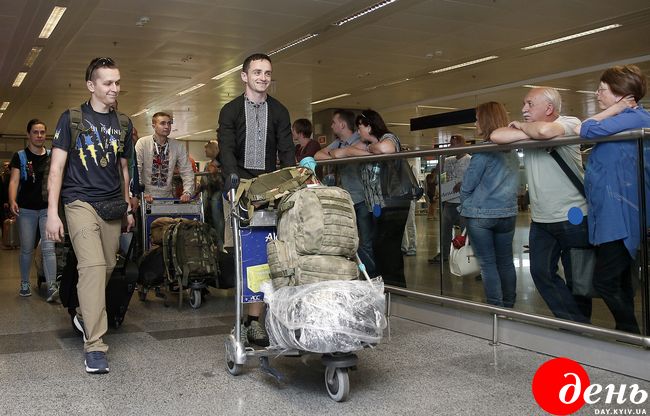 Experienced competitors say the "bronze distance" is the most difficult one. "We were told that if we pass the 'bonze distance,' it will be very easy on the 'silver and golden distances.' So, we wondered until the very finish when it will be easier, but it became easy only after the finish," Dmytro says grinning.
To tell the truth, the Ukrainians planned to confine themselves to the "bronze distance." But then they were either fascinated with landscapes or overwhelmed with sporting ardor, and they went forward.
"I CONSTANTLY CHALLENGE MYSELF"
Serhii Romanovskyi, an air assault officer at the National Academy of Ground Forces, stood down at the first distance but then supported his team, driving up to checkpoints on a car. "The distance was very difficult, but it was incredibly fascinating. By the end of the 'bronze distance,' my battery had discharged, we had another six kilometers to go – through the highest peak and slope, – but we still managed to finish," the guy says.
Serhii has served in the Armed Forces of Ukraine since he was 16. He commanded a company in the 80th Independent Airmobile Brigade and was wounded in 2014 near the town of Shchastia. He had his leg amputated above the knee, which does not prevent him from going in for sports, doing business, and serving at the Ground Forces Research Center.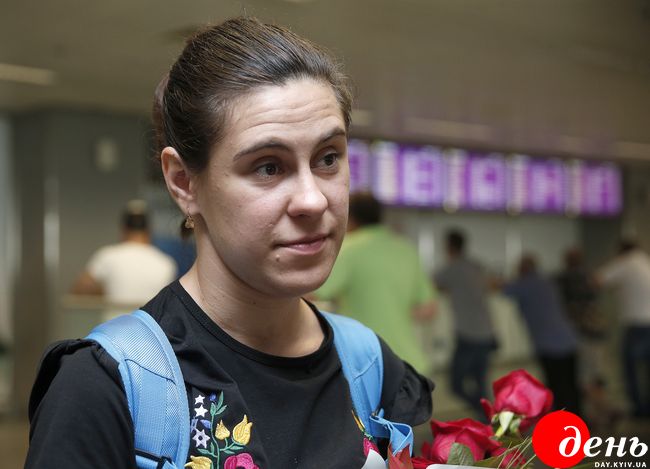 KATERYNA MASHKO, ASSISTANT TO THE PRESIDENT'S AUTHORIZED REPRESENTATIVE FOR REHABILITATION OF WOUNDED ATO VETERANS, LEADER OF THE UKRAINIAN GROUP IN EDINBURGH
"The military train throughout their lifetime. So I've undergone uninterrupted training. In general, I constantly challenge myself. This includes participation in Heroes' Games, marathon, triathlon, continuous workouts, military service, etc. – always moving forward. This year I will try myself out in the US Marine Corps Marathon. I have already applied," Serhii said. "A sound body means a sound mind. One must not be developed one-sidedly. If your brains develop, so does your body, and vice versa."
"THIS KIND OF COMPETITIONS DRAW YOU OUT OF LAZINESS"
One more winner of gold, Pavlo Mamontov, has already got used to international competitions. Last year he took part in the Invictus Games in Canada. "I competed in the indoor rowing and cycling. I ran short of a second to win a medal. Rowing was not top on my agenda, so I did it in the evening, on the same day with cycling. I expected nothing special and did not train much. But, much to my surprise, I won bronze," Pavlo recalls. The veteran continued to keep himself in shape after the Invictus Games – particularly, to do 15-km-long jogs. This increased motivation, so he trained more seriously for the Edinburgh competition.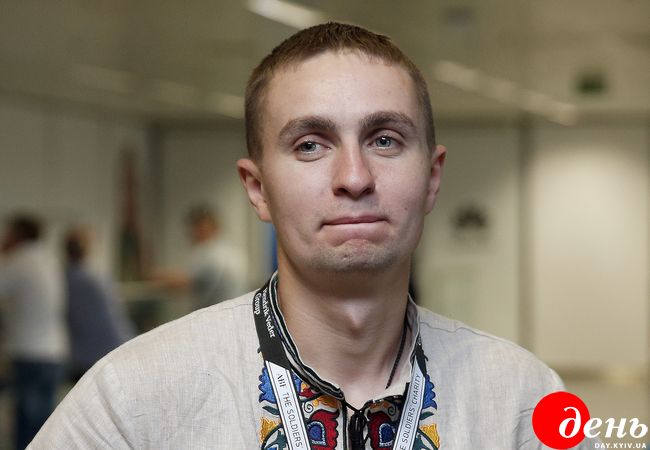 OLEKSII CHUSHKIN, SENIOR LIEUTENANT AT THE 81st INDEPENDENT AIRMOBILE BRIGADE OF THE ARMED FORCES OF UKRAINE, WON A GOLD MEDAL
In 2014 Pavlo joined the Azov volunteer battalion. He received a mortar shell wound in early 2015 near the village of Hranitne, Mariupol raion. "I was a mortar man, we had a mortar duel, and a shell landed on our position, killing two and wounding six of us, including me. I had all my hand bones shattered, fingers broken, and pieces of flesh torn off, I had burns, etc.," Pavlo says. "As artillery shelled villages, we drew the fire in order to conduct an evacuation operation, surround and mop up the enemy. We were sort of kamikazes. In principle, we knew what awaited us and were doing it deliberately."
Before the war, Pavlo did not go in for professional sport, but trained to his heart's content. He practiced Muay Thai, sport tourism, skating, cycling, and running. "It was very difficult after I was wounded," the veteran confessed. "I had a serious wound. It took me about a year to undergo surgeries and rehabilitation. I lost some functions of the hand, and my overall health condition worsened. Then laziness came – 'my hand aches, so I'd better do no workout…' And such measures as these competitions gradually draw you out of this. You first have an external motivation, but it vanishes then, and you go on training for yourself."
Shortly before flying to Edinburgh, Pavlo completed his diploma thesis. He studies public administration at the Ukrainian Catholic University. "I'm trying to take an active part in various projects, not only in sport – some business schools, classes, etc.," he says.
A BIT OF AN EDUCATIVE MISSION
"We managed to carry out this project thanks to heedful people who wanted to take part in and helped us organize it. It is, first of all, the Ministry of Defense and the National Guard. The British Embassy in Ukraine also supported us – they helped prepare visa documents," says Kateryna Mashko, Assistant to the President's Authorized Representative for Rehabilitation of Wounded ATO Veterans, who coordinated the Ukrainian team. "We were also supported by the Presidential Administration and the Soccer Federation of Ukraine. The latter helped make the uniform designed by Yurii Pysarchuk. Yurii took part in the US Marine Corps Marathon last year – he ran 42 kilometers with an orthosis on."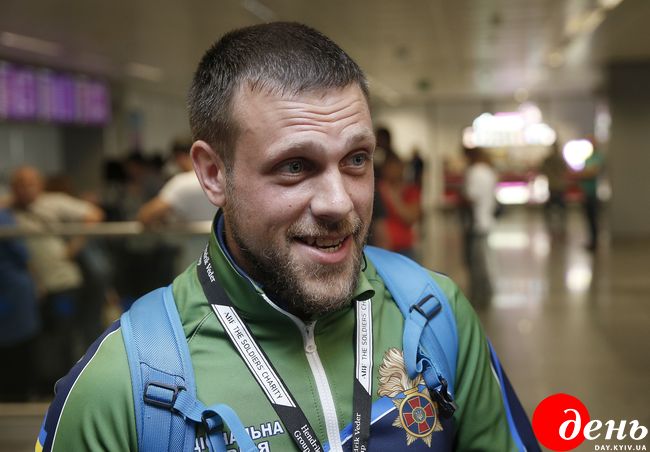 NATIONAL GUARD OF UKRAINE SERVICEMAN DMYTRO FESENKO WAS THE FIRST UKRAINIAN TO COVER THE "GOLDEN" DISTANCE OF 54 MILES
Cateran Yomp teams consist of 4 to 6 persons. In Ukraine, the selection criteria were as follows: a wound, a physical shape that allows one to cover a distance, and knowledge of the English language. "The latter is very important, for when the veterans were in Scotland, they could mingle with representatives of other countries and perform an educative mission, speaking about the situation in Ukraine," Mashko points out. Although most of the participants in the quick march were in the know, some of them did not understand what is wrong with the World Cup in Russia and were unaware of the Donbas situation.
"Frankly speaking, I am stunned. We mostly mingled with the military, and almost all of them are in the picture. If only you heard the way they called the aggressor! They know which country is the aggressor and show solidarity with us," Fesenko adds.
Ukrainian veterans are going to train now for the 43rd Marine Corps Marathon to be held in Washington in late October. There are also plans about the next Cateran Yomp. "I hope two teams, about 10 veterans, will represent Ukraine next year. Organizers do not object so far, but it remains to be seen how many places they will give us by the quota," Mashko says.