Yakym Pohrebniak's architectural gem
In commemoration of the Holy Trinity Church's 250th anniversary
27 December, 00:00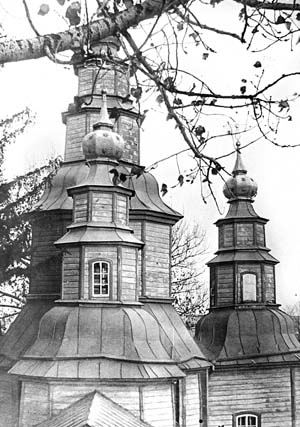 For almost 240 years Novoselytsia's Holy Trinity Cathedral has towered over the steppe adjoining the river Samara, over many rivers now running shallow, over the populace now degraded and depleted by local industrial hustle and bustle, and polluted environs. This temple was built in 1775-78, commissioned by the Samara Cossack starshyna senior officers. The project was conceived and supervised by Yakym Pohrebniak, an outstanding Ukrainian architect. This temple is a monument to Cossack Ukraine liquidated by Catherine II of Russia [also known as Catherine the Great. – Ed.]. In 1775, she signed an ukase renaming Novoselytsia Novomoskovsk. Today hardly any of the local residents will recall Novoselytsia as the center of the Samara Ukrainian Cossack palanka administrative unit.
In the 1880s, it became clear that the church in Novoselytsia was in disrepair. The Synod in Moscow instructed the local religious authorities to gradually revamp, even tear down old Ukrainian Eastern Orthodox temples. Novoselytsia's cathedral would have suffered the same lot but for the resistance from the scholarly and creative quarters (Dmytro Yavornytsky, then a young historian, took an active part in that public effort). In 1887, the Synod allowed the temple to be restored, but the thievish contractors replaced the 18th-century filigree techniques with purely mechanical, less costly ones.
Stefan Taranushenko, a distinguished art critic, several times studied and measured the Holy Trinity Cathedral in the 1920s and early 1930s. At the time he could consult old timers who remembered the way the temple had looked like before being revamped. They said its central upper section had been higher, that the structure had looked haystack-like, with the domes placed further apart from each other. Proof of this is an old photo made before the church was revamped. Afansii Slaten painted his picture of the temple relying on this photo. Taranushenko says the "square planning" of all such wooden temples implied the central framework being taller than those on the sides, as evidenced by that old photo of Pohrebniak's Holy Trinity Church in Novoselytsia. After revamping it was lost between the other domes. "This is a hackwork copy of the original architectural relic; whoever made it failed to comprehend the original architectural beauty," wrote Taranushenko.
However faulty, the temple's revamped version presented an impressive monumental view, reminding one of the brilliant Ukrainian architect's perfect original design. Oles Honchar's novel, The Cathedral, is dedicated to this architect and his masterpiece. It has these lines: "The cathedral hovered sullenly in the evening clouds. It emanated something sorrowful, almost alarming. Who had built it? By what miracle had it survived? What soul had someone invested in it?"
During the architect's lifetime word spread about his Novoselytsia masterpiece across and far outside Ukraine. The nine-domed temples in the Kuban region, cathedrals in Krasnodar, churches in Manitska [the name of a stanitsa Cossack village], each boasting a monumental design, somehow remind one of the grand architectural ensemble on the banks of the river Samara. Every element of this design is strongly reminiscent of Ukrainian wooden church architecture. In fact, old photos, drawings, and descriptions make one wonder about that perfect architectural beauty.
Peoples failing to protect themselves, their land, culture, and language will lose their temples, sooner or later.
Yakym Pohrebniak created the Holy Trinity Church in Novoselytsia well in his sixties, after many years of professional experience in religious architecture. I was recently fortunate enough to discover an interesting document in the Central State Historical Archives. It allowed me to ascertain Pohrebniak's birth date. I discovered an old file relating to the Kharkiv Cossack Polk [administrative region of Ukraine, according to an old administrative-territorial system. – Ed.]. There were registry entries [all written in Church Slavonic, with Ukrainian equivalents in square brackets. – Ed.], among them one pertaining to Nova Vodolaha, dated 1772, reading: "This is to testify that there is a son-in-law by the name of Kondratii [Kindrat], son of Afanasii [Opanas] Pohrebniak in the yard [court] of Gavriil [Havrylo], son of Pavlo Bulba, and that he has two sons named Ignat [Hnat] and Yakym, aged 15." It is safe to assume that Yakym Pohrebniak was born in 1707. This archival source further allows to assume that his father's name was Kindrat, that the name of his maternal grandfather was Opanas, and that Yakym's father Kindrat, son of Opanas, lived on the grounds of an estate owned by his son-in-law, Havrylo, son of Pavlo Bulba. In other words, Yakym Pohrebniak's father's name was Kindrat, and that his maternal line leads directly to the Bulba Cossack family. This archival source further establishes Yakym's place of birth. In the first quarter of the 18th century, there were three sloboda villages in what is now Kharkiv oblast, namely Stara Vodolaha, Nova Vodolaha, and Mala Vodolaha. Nova-Vodolaha-based ethnographers aren't sure about his place of birth, allowing room for error, including Stara Vodolaha. Therefore, it is safe to assume that Yakym Pohrebniak was born in Nova Vodolaha.
There is no way to ascertain where Yakym Pohrebniak learned architecture, just as there is no way to assess his academic background. Historical sources read that the towns and villages of Sloboda Ukraine did good business in the first half of the 18th century; that Nova Vodolaha emerged some time in 1675 as a stronghold on Muscovy's southern border; that its residents took an active part in defending Muscovy against the Tatars. It was a Moscow-government-run sloboda village, so its residents weren't serfs and could do good business. They did, making the sloboda a well-to-do populated area. Johann Hildenstedt, a full-fledged member of the Russian Academy of Sciences, visited Nova Vodolaha on a long trip across Russia. There is an entry in his diary, relating to the area, populace, environs, including an earthwork with several cannons, a big church within the fortress, and several public buildings. There were private homes and two churches on the banks of the river Vodolaha and Ocheretiana, a river in a gully on Vodolaha's left bank. Nova Vodolaha boasted some 700 homes. Hildenstedt wrote that the populace was made up of prospering merchants and artists, that there were several stores where one could buy basic goods, also silk, cotton, and kitchen herbs. There were many skilled craftsmen who offered tanned skins, pottery, including pale yellow dishes and tiles that matched every such Dutch product. There were also well-planned homes, each with a large guest room and barn, tiled stove, large windows, and wooden flooring, each such home built using thick linden, oak or alder trunks. Nova Vodolaha was surrounded by orchards.
Hildenstedt wrote that the river Vodolaha and the adjoining territories were abundant in thick woods, dominated by oak, so it is safe to assume that this oak was used when building churches. There were four markets held every year and taking part in a market was a good business indicator in Sloboda Ukraine. During that period four markets were held every year in Kharkiv, with two in Merefa, four in Artemivka, and five in Valkiv.
According to the 1732 census, there were two schools and five teachers in Nova Vodolaha, proof of a relatively high education standard. Even more interestingly, the 1779 official statistics relating to Nova Vodolaha in the Azov gubernia read that there was a "school funded by the populace, where the children of parish priests were taught Latin up to the rhetorical level, along with math, Russian grammar, orthography, and catechism (depending on the pupils' abilities). Taranushenko notes that Sloboda Ukraine in the 17th century had become a center of Ukraine's most active creative elements; that these elements had integrated and formed a new organism whose potential served as a synthesis of Ukraine's previous creative history, with an eye to all local/regional peculiarities. This synthesis is present in Sloboda Ukraine's architecture, with its noticeable achievements, as graphically evidenced by Nova Vodolaha, Yakym Pohrebniak's homeland.
In the mid-18th century, Nova Vodolaha boasted three temples, including the three-domed Resurrection Church, St. Nicholas' wooden one (built in 1751), and the Transfiguration Church, built sometime in 1750. It is safe to assume that Yakym Pohrebniak witnessed and possibly took part in their construction. Petro Fomin, a noted Kharkiv-based religious researcher, wrote that there was local evidence to the effect that Yakym Pohrebniak had designed several three- and five-domed churches in Sloboda Ukraine before the Novoselytsia temple, adding that some of Ukraine's oldest houses of God closely resemble the one by the river Samara; that they may have well served as Pohrebniak's preliminary designs when working on the Samara one. Fomin was convinced that the Holy Trinity Cathedral of Novoselytsia was built using Sloboda Ukraine's construction techniques germane to the 17th and the first half of the 18th century.
Finally, there is G. Nadkhin's well-known translation of a document formally offering Pohrebniak to design the Holy Trinity Cathedral in Novoselytsia, subsequently used by Dmytro Yavornytsky. This is graphic proof of the customer being impressed by Pohrebniak's architectural skill embodied in his design of the church in Merefa. When those concerned gathered to discuss the Novoselytsia religious construction project and agree on the architect, one of them said he knew the man, adding: "I visited Merefa not so long ago. There is a church with five domes and the crosses topping the domes shine every bright day, gladdening every Christian heart." When asked about the architect, he said his name was Yakym Pohrebniak, that he was a good Christian from Vodolaha. The meeting resolved to hire the architect. Yakym Pohrebniak was already in Novoselytsia, brought there by the man who recommended him in the first place. Yakym built a model of a nine-domed cathedral and his customers agreed he was the best religious architect they had ever seen.
However, even before his Merefa design, Yakym had made what could be referred to as one of his best creations: the Church of the Presentation of the Blessed Virgin Mary in Artemivka, a sloboda in what is currently Kharkiv oblast. Taranushenko noted its architectural perfection after having studied and photographed every detail in 1926. These photos are invaluable, offering the original view of the architectural masterpiece. There is a document, dated 1827. It reads that the Presentation Church was revamped in 1824, but that its contemporary design differed from the original one, specifically in terms of stone foundation and iron roofing; that the original wooden church was solid-built back in 1761, with a single altar commemorating the Presentation of the Blessed Virgin Mary, and that divine services could be celebrated on the premises without any threat to the faithful in the audience.
Note that the specialists who examined the Presentation Church 66 years from the date of its construction agreed that the wooden structure, designed by Yakym Pohrebniak, was well built and reliable. A hundred years later, people marveled at its reliability and longevity, compared to other religious structures, like the Church of the Nativity of the Virgin in Derhachy, a sloboda in that same Kharkiv gubernia. Contemporary official records indicate that this church (built in 1768) was almost as old as the Presentation one, but that it was actually falling apart. A stone church replaced it in 1825.
The Presentation Church was a square five-domed design, employing Sloboda Ukraine's architectural traditions, with cut angles, and with one side of the central square being noticeable superior to the other sides… the varying size of the base of the central and side octahedrons formed the logical constructive foundation of the central highest vault… with the distance between the top axes and their mass ratios planned with a mind-boggling precision, making each visitor aware of light embracing every level while creating a sense of harmony. Even standing in the babynets [place in a church, meant for the female parishioners. – Ed.], one could easily see the whole central part of the temple and appreciate its height, with a bright square ornate window.
The north and south sections in the lower part of the church were directly connected to the central section, thus creating a single architectural volume… Yakym Pohrebniak utilized Ukrainian religious construction traditions, with two rows of big windows letting in sunlight, emphasizing the sense of harmony and beauty… Yakym Pohrebniak's architectural perfection was manifest in his constructive thinking…, with each wall inclined toward the central axis. The sides of the octahedrons had each a five-degree incline, but totally unnoticeable, with the entire temple being seen as a single floating whole. Even the surviving photos and drawings of the Presentation Church leave one breathless with admiration, including perfect architectural lines, flawless design, large apertures allowing lots of sunlight, complex planning of planes and vertical surfaces, combination of white tops and painted doorjambs. All this reminds one of the rococo construction style. A wooden three-tier belfry was almost simultaneously built to the west of the Presentation Church, following a similar architectural design. Taranushenko writes in his "Notes on the Monuments to Art in Sloboda Ukraine" (November 1926) that Yakym Pohrebniak's successors went further in working out architectural forms other than those of the church in Artemivka, specifically when designing St. John's Cathedral in Rubtsova, a sloboda in the Izium uyezd district (currently under the surface of the Krasnooskolsk Reservoir), St. Michael's Church in Osynova, a sloboda in the Luhansk uyezd, St. Michael's Church in Liman, (vil. Liman, 1798), St. Nicholas' Church (Krasny Oskol, 1799).
Back in the second half of the 18th century, the outskirts of Kharkiv boasted towns and villages embellished by churches, each seeming to beat the next with its masterful design. Their bells tolled every Sunday, on every red-letter day, echoing all over the area. The bells of Yakym Pohrebniak's Church of the Presentation of the Blessed Virgin Mary in Artemivka are heard loud and clear in Merefa and its Nativity Church. Further on one can hear the bells of the Holy Trinity Church in Byshkyn (Cherkasy oblast)… dozens of beautiful churches, reminding one of Yakym Pohrebniak's talent that will live until the last of his architectural masterpieces succumbs to the run of time.