From Crimea to Yamal: Kyiv saw a film on the imprisonment of Sentsov and Kolchenko
20 June, 2018 - 15:52
"When we were making this film and, in general, watching the story of Oleh and Oleksandr, we decided to calculate the distances they 'traveled' on the expanses of Russia. It came to a total 20,000 kilometers for both of them, a half of Earth's circumference at the equator," Angelina KARIAKINA, coauthor of the film Across Half the World at Gunpoint: the Story of Sentsov's and Kolchenko's Imprisonment, said during the film's premiere at the Zhovten movie theater. In addition to Angelina, Natalia Humeniuk, Anna Tsyhyma, and Natalia Kaplan, Oleh Sentsov's first cousin, worked on the film, which is a Hromadske TV (Community Television) project.
"It is not just entertaining mathematics. This confirms once more that, like, in principle, all the 'Crimean cases,' the Sentsov and Kolchenko case is extremely important to Russia," Angelina continues. "They wanted to punish these people cruelly for all to see. For deporting an individual beyond the Arctic Circle, where only a few days are sunny and warm, to the town you can only reach from Salekhard, if you are lucky enough, in the winter across the frozen river or, otherwise, on helicopters or motor boats, is a torture."
WHO HELPS "THE KREMLIN'S CAPTIVES" IN RUSSIA
Oleh and Sashko were arrested in Crimea in May 2014. They were tortured and then taken to Moscow's Lefortovo pretrial jail. Then there were trials in Rostov-on-Don and conviction for terrorism – 20 years in a high security prison camp for Oleh and 10 years for Sashko. They were transported to their destinations. Sashko is serving his sentence in the Kopeysk prison camp near Chelyabinsk – not exactly a health resort. Besides, inmates had been cruelly brutalized in this camp until recently. They even staged a peaceful protest in 2012, after which the prison administration was changed and the regime was eased. Oleh was first deported to Yakutia and then it was decided to isolate him still more tightly. Since the fall of 2017, Sentsov has been serving his term at the "Polar Bear" prison camp in Labytnangi, Yamalo-Nenets Autonomous District of Russia. Oleh drew attention to himself and the rest of "the Kremlin's captives" when he went on a hunger strike on May 14. He demands that all the Ukrainian political prisoners in Russia and Crimea (there are 70 of them, according to human rights activists) be freed. Kolchenko also went on a hunger strike on May 31 but discontinued it recently due to poor health.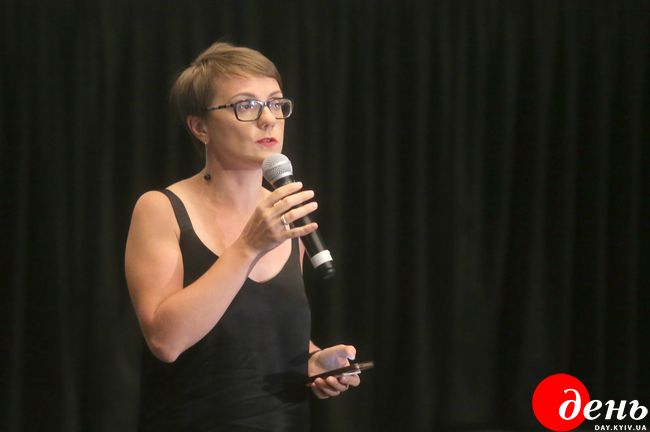 "I went to the Urals only, but even this struck me. We were more or less aware of where we were going. Besides, we had been to Russia before – we covered the trial in Rostov. So we expected nothing extraordinary. But it is a different thing when you know all the logistics of communicating with a political prisoner. Suffice to mention parcels, letters, visits…." Kariakina says. "We could not speak directly with Sashko Kolchenko. We came to the town, where the prison camp was located, approached and photographed it. Then Sashko's lawyer came out to meet us. We received the letter he had just written. This struck me in purely human terms."
Both Kolchenko and Sentsov have non-public lawyers who bring and take letters, tackle certain procedural problems. "The cases of Ukrainian political prisoners may cost these people a career, so they are trying to do this without too much publicity," Angelina explains. Besides, the public regularly receives information about Kolchenko from human rights activists Tatiana and Nikolai Shchur. Earlier, when they were part of the Civic Supervisory Commission, they could even see Sashko. But the Shchurs were expelled from this commission in 2016, and they have to work through a lawyer now.
"IT IS IMPORTANT THAT THERE ARE TRUE EMOTIONS HERE"
A lot of the powers-that-be, including Foreign Minister Pavlo Klimkin; Vadym Chernysh, Minister for Temporarily Occupied Territories and Domestically Displaced Persons; and Hugue Mingarelli, Head of the EU Delegation to Ukraine, came to see the film.
"The film, the idea, is super. It is important that there are true emotions here. Whenever you work on this kind of subject, involve others, trying to explain to our friends what it is all about, you will never explain it rationally. And this film is an emotion," Klimkin said after the preview. "We have agreed that, after the film is dubbed into English, we will try to 'plug' it not only among politicians, but also where it is in principle possible." Incidentally, you can already watch the film Across Half the World at Gunpoint on Hromadske TV's YouTube channel."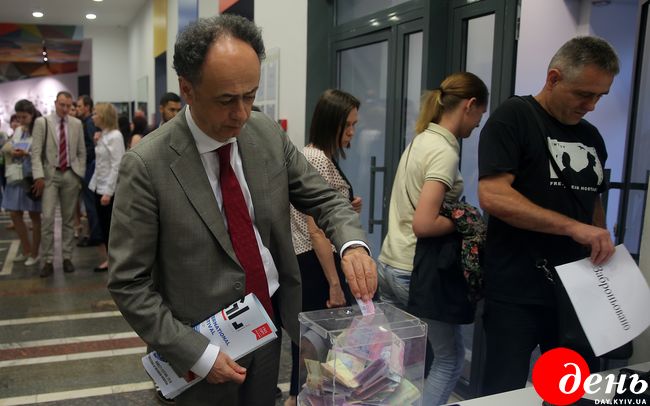 "It is very difficult to free Sentsov. But why only Oleh? I am always saying we should not decide on who is more important. Oleh is a unique personality. Whenever I address any audiences, I just quote a fragment from this letter – why he went on a hunger strike. When everybody hears that, in reality, he is starving not for himself but for the release of all the political prisoners and hostages, this creates an altogether different impression," the foreign minister added.
Liudmyla Denysova, the Verkhovna Rada Human Rights Ombudsperson, told journalists recently that she is planning to visit Ukrainian political prisoners in Russia and Crimea – first of all, Oleh Sentsov, Oleksandr Kolchenko, Stanislav Klykh, Mykola Karpiuk, Roman Sushchenko, and Resul Veliliaiev.
"The fact that we managed to get permission for Ms. Denysova to visit our political prisoners gives us an opportunity to see our guys' physical and psychological condition and support them in some way," Klimkin noted. "I was trying many times to reach Oleh by phone. Once, on his birthday, there was a hope, but they canceled the call in ten minutes. In other words, such contacts are very limited – his cousin Natalia, his lawyer… But we must increase pressure on the eve of the FIFA World Cup – any pressure, be it political, media-related, human, or on the part of civil society. Russia is not indifferent to whether or not the championship will be a success. It is all too clear why Oleh chose the very moment, and we should take advantage of this moment."
"I WILL ONLY FEEL PROGRESS WHEN MY SON IS AT HOME"
Petro Vyhivskyi, the father of Valentyn Vyhivskyi who was absurdly sentenced in Russia to 11 years in prison for espionage, liked the film Across Half the World at Gunpoint. He believes such films should be made about all "the Kremlin's captives." "The whole world knows about Sentsov and Kolchenko, but there are almost 70 more people about whom very few know. And their relatives cannot fight for them because they have no access to either the media or our governmental bodies," Petro explains.
"Valentyn is serving his sentence in Kirov Oblast, Russia. Relatives have been out of touch with him since February this year, when he was detained in what is known as 'all-purpose cell.' Petro Vyhivskyi does not know what for. "The Ukrainian consul visited Valentyn a little more than a month ago. My son and I were supposed to have a long meeting, but there are restrictions on visits in such cells. There are no restrictions on correspondence, but his letters are held up in the prison. The consul says he receives some of our letters, but we get none from him," Petro says. "We will get permission for a new visit somewhere in the fall if the son does not have his stay in the 'all-purpose cell' extended. But this punishment is also likely to be extended for up to a year. The son used to be kept in a solitary confinement cell without restrictions, and now he is in a smaller one-man cell with all restrictions. He cannot phone home, has no TV, radio, or newspapers. Four walls, meals, sometimes a walk – and that's all. We used to send books, but he was given none of them. He can only take some from the prison library."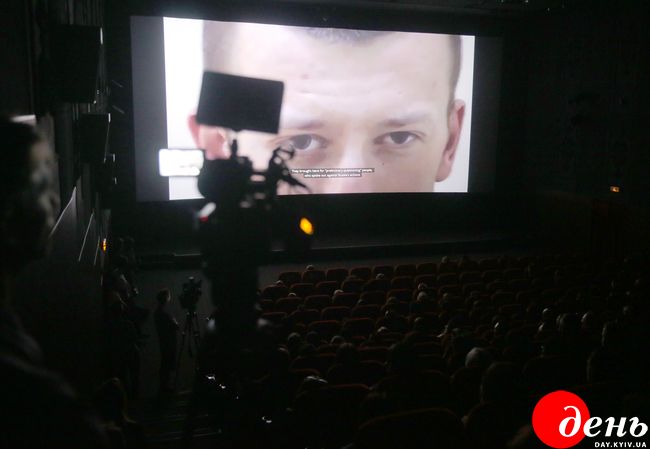 Asked if he feels any progress in the question of political prisoners' release, for there have been several international meetings on this matter since Sentsov went on a hunger strike, Vyhivskyi says: "I will feel it when my son is at home." In conclusion, Petro called on Ukrainians not to go the FIFA World Cup in Russia.
***
One of the most dramatic moments in the film is when Natalia Kaplan is standing behind the fence near the prison camp in Labytnangi. Sentsov's cousin muses that it is impossible to pull him from captivity, although he is just a few hundred meters away. And it does not matter what distance separates them – 10,000 kilometers or these meters. "This makes it clear what captivity, especially undeserved one, really is," Kariakina says.
Incidentally, funds were being raised during the Zhovten preview for the families of Ukrainian political prisoners. About 19,000 hryvnias were collected – almost as many as the kilometers Sentsov and Kolchenko "traveled" at gunpoint. You can also support the relatives of "the Kremlin's captives" by remitting funds in line with the following details:
EDRPOU (Unified State Register of Enterprises and Organizations of Ukraine) code: 41757119
Recipient: charitable foundation "Relatives of the Kremlin's Political Prisoners"
Settlement account: 26006300032429
MFO (sort code) of bank: 322669