Well-known journalist and Den's contributor Natalia Ishchenko won the James Mace Prize for Civic Journalism in 2017
28 November, 2017 - 11:54
During the memorial week that honors the millions of victims of the Holodomor – one of the biggest disasters in the history of Ukraine – this country is still waging a de facto war. Day after day, we receive reports of our defenders' deaths in the anti-terrorist operation area... Ukrainians are still suffering genocide in the Donbas at the hands of the aggressor. And since 2014, this hybrid war has been particularly actively accompanied by information aggression and propaganda against this country. In such a situation, the readiness of every Ukrainian to show a civic position is especially important, so the main principle of the James Mace Prize which has been awarded by Den since 2009 has become particularly important in such a trying time.
"This year, the James Mace Prize goes to... Natalia Ishchenko," announced chairman of the Public Council of the James Mace Prize, Ambassador Extraordinary and Plenipotentiary of Ukraine, writer Yurii Shcherbak at Den's editorial office.
The audience responded with loud applause. This is the first time in the years since the Prize started to be awarded that a media expert, a person who, through her professional activity, tries to bring Ukraine's victory closer by fighting Russian propaganda and lies, receives this high award.
"Today, we are awarding the James Mace Prize for the ninth year in a row, but we congratulate already the tenth laureate," said Larysa IVSHYNA, the editor-in-chief of Den/The Day. She immediately clarified: "In 2013, the jury could not decide on the name of one winner, so they decided to present two awards at once to Petro Kraliuk and Volodymyr Boiko.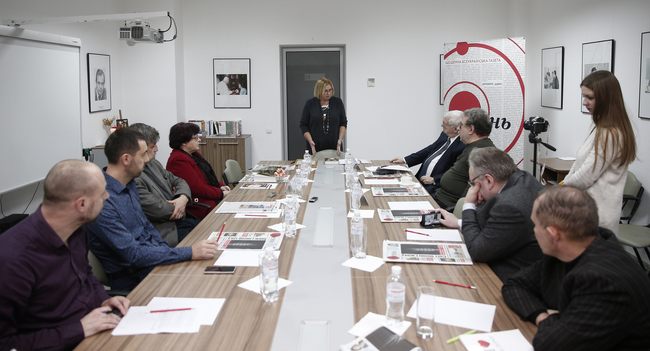 Photo by Ruslan KANIUKA, The Day
"Every year we meet here, in the editorial office of Den, to examine our media landscapes together and determine who is trying to promote the ideas, principles, and views of James Mace. Of course, this applies not only to research on the Holodomor. Life dictates new challenges... This year, we were preoccupied with the fact that Ukraine is engaged in a hybrid war. Journalism has always been on our radar, and the Prize, in fact, is awarded for civic journalism. As it turned out, civic journalism in our media is not so simple and understandable to all. Many people remain captivated by false pluralism and cannot decide where they stand, where their friends are and where are the enemies. We remember well that for a very long time, people searched for words in the war with Russia, and there were many who called on us to avoid calling an enemy an enemy. That is why the clearcut determination of James Mace, maintained despite it being difficult for him to break through with his truth about the Holodomor, his ability to be a nonconformist, are especially relevant today.
"This year, Natalia Ishchenko made a clear civic stand, by being the first to respond to our initiative to create a Ukrainian Journalist Platform and support it, as well as influencing by her example a large number of people, particularly in the media. And this clarity is now extremely important. Many people still have their values confused. I even wrote to my friends who were affected by the aggression of Russia and were forced to leave for Vinnytsia with Vasyl Stus Donetsk National University, asking: 'Why do you invite apologists of 'false pluralism' that has plunged the country into war as public speakers?' It is necessary to establish a position, to be able to say no, we must be able to refuse their advances, avoid inviting them or shaking their hands, and finally create an atmosphere of intolerance for people whose actions have led to the war.
"Once again I congratulate our laureate. I am very glad that she is a charming, intelligent, and principled woman. I have read many pieces by Ishchenko, was just sitting there for a time reading only her texts. It is incredibly pleasant that she is an author who is not afraid of addressing important and acutely relevant themes. She has the wherewithal to confront primarily the information warfare that Russia openly wages not only on Ukraine, but also on Europe, in particular European values, European solidarity and tolerance. Unfortunately, this is a very serious war and it will last for a long time. We do not have the right to relax and think that this is a temporary campaign. Russia with Vladimir Putin, and then even without him, will continue its information aggression. They are betting on people's emotions, on history. Actually, history becomes a battlefield, and a conquering horde invades the territory of our history, being convinced that they have the right and can impose on us their vision of our past. Again, history has become a battlefield, and Ishchenko is doing everything in order to confront this. In particular, she urges us not to fall into the trap of imaginary objectivity. In Europe, they do not understand that the force opposing them has no moral norms, no ethical rules... This force has only one thing, I mean a crazy false ideology, and it imposes it on the world. Meanwhile, Europe is accustomed to the objectivity of peacetime and listening to all points of view. Our laureate often acts as a 'cold shower' in this regard."
"Ukraine and Ukrainians must learn to honor their heroes adequately, and the James Mace Prize is one example of not only remembering the work of this outstanding researcher, but also motivating other people to work for Ukraine," said 2017 James Mace Prize winner Natalia ISHCHENKO. "James Mace did an immensely important job for Ukraine, and we feel its effects these days when we remember victims of the Holodomor.
"Mace had been dead for two years when in November 2006 the Verkhovna Rada of Ukraine declared the Holodomor a genocide of the Ukrainian people. This view of the tragedy is shared by the overwhelming majority, or 77 percent of Ukrainian citizens.
"At present, the Holodomor has been recognized by 24 countries as a genocide at the national level, and in a number of countries, such decisions have been taken by local authorities. Without the work of Mace, all this would have been simply impossible.
"For many years now, in the end of November, Ukraine is united when people from Lviv to Kharkiv, from Odesa to Chernihiv, lit candles of memory in their windows. We remember that this moving tradition was proposed by Mace.
"I believe that a time will come when his name will be given not to small lanes, but to major streets, squares, and public gardens of many Ukrainian cities. Although, why should I just believe it? We need to start working on it!
"I am proud that I will be presented the James Mace Prize. And today it is impossible not to mention the contribution of Den and personally Larysa Ivshyna in promoting Mace's work in Ukraine. Den's editorial team has been carefully and persistently gathering people who are not indifferent, who care and tirelessly work to get Ukraine rid of post-totalitarian rudiments, post-colonial dependence, and the post-genocidal syndrome.
"When we in Den began a discussion about the importance of a journalist's civic stance during the war, the need to defend the country at the information front as well, about the Kremlin's hybrid special operations, which involved representatives of international organizations as well as, unfortunately, representatives of the Ukrainian media community, some colleagues asked me: was I not afraid to speak the true, but unpleasant things that are disliked by many reputable people? I was very surprised, and only at that moment I felt for real that we were making breakthroughs here in Den, doing something immensely important, which nobody had done before."
According to a good tradition, the annual award ceremony of the James Mace Prize, held at Den's office, where the well-known journalist and researcher of the Holodomor, who gave his name to the prize, once worked, became a good occasion for an open discussion involving many friends and like-minded people, the best journalists of this country. The event was attended by the initiator of the Prize, editor-in-chief of Den/The Day Larysa Ivshyna; head of the Public Council of the competition, Ambassador Extraordinary and Plenipotentiary of Ukraine, writer Yurii Shcherbak; well-known writer and journalist Natalka Dziubenko-Mace, as well as prize winners of the previous years: Ihor Siundiukov, editor of the "History and I" section of Den; Ivan Kapsamun, editor of the politics section of Den; Valentyn Torba, journalist of the politics section of Den; researcher of the history of culture and journalist Serhii Trymbach, as well as scholars and journalists Serhii Hrabovskyi and Volodymyr Boiko.
"I am glad that Ishchenko has won this year's prize. And this is not only because of feminine solidarity. This is primarily because of her journalistic achievements," said the widow of Mace, well-known journalist and writer Natalka DZIUBENKO-MACE. "The James Mace Prize is the most important, best-ever award in this country bestowed by our best newspaper. It lends wings, adds optimism, and shows that you have chosen the right direction in life and taken an important position in the profession. And most importantly, you are not in it on your own, as you have the club of laureates to join. We light candles in our windows in memory of the victims of the Holodomor. These little candles become a powerful unifying flame, give us an opportunity to feel part of the great ocean of hearts, souls, minds that need to be united. James wanted this value-based unity. I thank you, Ms. Ishchenko, as well as all the winners of the Prize and the editorial staff, for working and living according to the principle of fighting for the truth."