26 September, 2017 - 11:22
The Lviv Publishers' Forum offered incontrovertible evidence that The Crown, or Heritage of the Rus' Kingdom, the latest addition to Den's Library series, began to actively push its way to the hearts of readers immediately, in the very first days after its release. Moreover, it has been a success as well! A convincing proof of this was offered by the book's launch in the Mirror Hall of the Potocki Palace, where there was literally no room to turn in, and people were even standing in the passages, as well as by the fact that the entire batch of the book that had been brought to the Forum was quickly sold out.
The Crown has absorbed a prolonged, painstaking, systematically directed effort of the contributors' team (just look at these names: Yurii Tereshchenko, Petro Kraliuk, Oxana Pachlowska, Volodymyr Rychka, Natalia Yakovenko, Leontii Voitovych, Serhii Hrabovskyi, Dmytro Virskyi! Participants of the 2016 and 2017 Den's Summer School of Journalism Oleksandra Kliosova and Maria Chadiuk took part as well). For almost a year, this work was directed in its intellectual and organizational aspects by our editor-in-chief, whose introduction is a well-thought-out compositional "entry" to the book, an overview of its fundamental ideas and thoughts.
So, if I am not mistaken, Den's new book has every chance of becoming a bestseller (in the best sense of the word – as a book that is not only promoted and launched, but actually read). God willing, we may soon face the need to print another edition! For us, this is very important, because the circle of Den's contributors has set itself objectives which are truly important for our present, and the attention of the reading community will prove that we have been heard and that these objectives are starting to be achieved, albeit step by step. The future, I hope, will confirm this.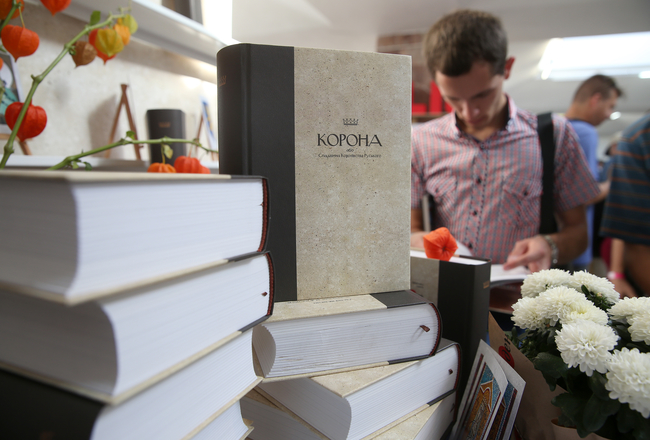 As one of the book's compilers (together with Roman Gryvinskyi), I would like to share my vision of these objectives and how the immediate content of the book is subordinated to them.
They include overcoming of historical amnesia which still afflicts a much too large fraction of Ukrainians. That is, we need a rethinking of historical problems (from the Rus' Kingdom's time, and even from the very origins of the Ukrainian statehood up to the 20th century) as those that face us here and now, not 800 years ago, because they do not belong to ancient epochs alone. We are talking here about our famous rulers (Prince Roman, King Danylo, his brother Vasylko, his nephew Prince Volodymyr the booklover, who was a true Christian and humanist), the history of glorious noble families (like the Ostrozkys and the Koretskys), and the past of our famous and sometimes forgotten capital cities – Kholm, Lutsk, Volodymyr-Volynskyi, Halych, Lviv, and the fate of the celebrated rulers of Lithuania (Vytautas, Gediminas), and the history of medieval Belarus, which is so very closely connected with Ukraine, and the unrealized project of the idealized Commonwealth of Three Nations, created by Stanislaw Orzechowski-Roxolanus, and the amazing figures of the 20th century – Hetman Pavlo Skoropadsky and his ancestors, the thinker Viacheslav Lypynsky, Archduke Wilhelm von Habsburg (Vasyl Vyshyvany) who devoted his life to the struggle for freedom of Ukraine, and our contemporary Otto von Habsburg. The reader will get acquainted with the interesting "portrait gallery" of these people.
But what unites these, such disparate figures, times, states, cities, traditions? As the reader will see, there is such a unifying core. This is continuity, linking the history of the Ukrainian state, from Ancient Rus' to the Rus' Kingdom to the Grand Duchy of Lithuania and, accordingly, the Duchy of Rus', on to the Polish-Lithuanian Commonwealth and the Duchy (Voivodeship) of Rus' already as its constituent part, the Hetmanate, the Ukrainian People's Republic, and the restoration of independence in 1991. This is a concise political "hologram" of our statehood (by the way, the brilliant outline of political history of Ukraine which is published in The Crown was penned by Professor Tereshchenko). This, instead of an archaic imperial scheme: Kyiv – Vladimir – Moscow – Petersburg – Moscow again...
We tried to create a "magic crystal," to trace our history through what is the key "triangle" in our opinion: the elite – the people – the state. We have a precious heritage of aristocracy, nobility, and elitism (not necessarily linked to a specific estate, for the elite included the Ostrozky princes, who defended our land with a sword and printed the Bible, as well as "simple" Cossacks who died for Ukraine, and Ivan Bohun, who said: "I take off a hat only before the Lord God!" and Vasyl Vyshyvany)! Another thing is important: it was in those historical periods, when both the elite and the people knew what the honor was, that we were winning.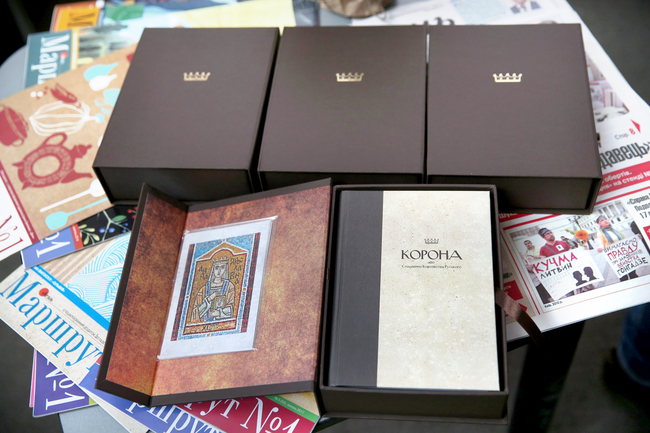 A separate section of the book is dedicated to contemporary European (and Japanese) constitutional monarchies and the history of their formation. We invite the public to start a discussion on this topic, and it is important that, irrespective of whether this idea will be realized, it offers a chance to radically change Ukraine, because both parliamentary republics (like the Federal Republic of Germany with the Bundestag) and parliamentary monarchies (like Norway with the Storting) are highly similar. Why should not Ukraine become a parliamentary state (not necessarily a monarchy)? True, for this purpose we need to "just" create a real, not nominal parliament (the current Verkhovna Rada with its un-de-Communized name is not one, let us admit it honestly!). This would be a real, radical, non-declarative political reform, even though it will, of course, take time.
***
The success of those who created the book will lie not only in guiding readers on a thorough exploration voyage of their native history. The greatest success will be getting Ukrainians to understand: the crown of history is being won and defended today.
"DEN PROPOSES A MODERN VIEW OF THE PAST: THIS IS INTERESTING AND IMPORTANT"
Svitlana KAPLUN, a teacher at Kharkiv Academy of Continuing Education:
"Although I am a physicist by education, I am also interested in history. Having learned that Den would produce such a book, I was immediately interested in it. I have recently read The Reconstruction of Nations by Timothy Snyder, and found there many interesting things about the history of Ukraine and Poland. In the wake of this interest, I ordered the book The Crown, or Heritage of the Rus' Kingdom. I did not expect it to be so fundamental and large in terms of its volume. When I got it I was delighted! Unfortunately, since we educators have a tight schedule in September, I have not been able yet to read it from the beginning to the end. I read a few pages at a time and anticipate a new encounter all the time. I am very happy to own such a book. I am convinced that such studies deserve gradual exploration, allowing one to learn our history page by page, to grasp it, to prolong one's pleasure. This is not a novel that can be 'swallowed' at once and quickly forgotten. I follow Den on Facebook as well: actually, it was there that I saw the news about the preparation of the book. I have not bought any books from Den's Library earlier, The Crown is my first acquisition. For some time, I was subscribed to your newspaper, and now I read it mostly on the Internet. I believe that the themes raised in The Crown are highly relevant today. In Ukrainian history, there are many myths originating from populist historiography, from the school curriculum. We need to debunk and rethink them. Den proposes a modern view of the past: this is interesting and important. Externally, the book also looks great. It is easy to use the bookmark ribbon. The content is well-structured. I am satisfied."
"WE STILL DO NOT KNOW OUR TRUE HISTORY"
Vadym SHELIAKIN, Mykolaiv, a migrant worker employed abroad:
"I was always interested in such subjects. The roots of all the troubles of our present lie in the past. If you want to develop, you need to know your history. We have been under the influence of the Muscovite Empire for far too long, which explains why it is so difficult to choose our own way today. 'Learn thoroughly the foreign things / But do not shun your own,' Taras Shevchenko wrote once. Unfortunately, to a large extent, we have failed at preserving our heritage. The Crown, or Heritage of the Rus' Kingdom is my first book to be purchased from Den's Library series. I believe that Ukrainian history needs a fresh look and a rethinking. A lot of Ukrainians live abroad today, often belonging to the most progressive strata of society. I am convinced that history can become a unifying factor, the basis of our identity. We still do not know our true history, we do not know about the achievements of our ancestors. I think that the monarchical idea may be relevant today, and so this is a good topic for discussion. At the same time, I am not sure that the majority of our society is ready to accept it, as these layers of memory have been purged at the genetic level even. Perhaps the exception will be the younger generation, but we need to work to make it happen. I ordered The Crown to expand my own worldview, as well as those of my children. I also want to praise the design of the book, its high-quality printing. When I first saw the image of the new collection, it reminded me of a folder from a historical archive!"
"KNOWING HOW THINGS WERE, ONE CAN PREDICT HOW THEY WILL BE"
Ihor STEFANYSHYN, Ivano-Frankivsk, an environmental engineer and journalist:
"I am a fan of Den's Library. It all began when I got my hands several years ago on the book Two Rus'es. Then I read Ukraine Incognita, My Sister Sofia..., and now I have decided to order the book The Crown, or Heritage of the Rus' Kingdom as well. We read these books together with my grandmother, who is a primary school teacher. I support Den's choice of issues to be discussed. Without history, we will not have a future. We have to read and explore our history, the more so given how interesting it is! I was interested in history at school, but it went away almost totally in university, because my major was engineering. Now, I have come to realize that history is needed, since knowing how things were, one can predict how they will be. Sometimes I catch myself thinking that I do not even know, for example, what happened here, in Ivano-Frankivsk region, between two world wars. And when I get myself immersed in a single period, questions arise immediately about others. The collection is great. Thank you also for the postcards that were included in the package. I do not have any complaints regarding the design, as the cover is really good! I am convinced that the book will serve me and the next generations. History is always relevant. I hope Den will keep making new additions to its library."
Interviewed by Roman GRYVINSKYI, The Day
---
Thank you for your work!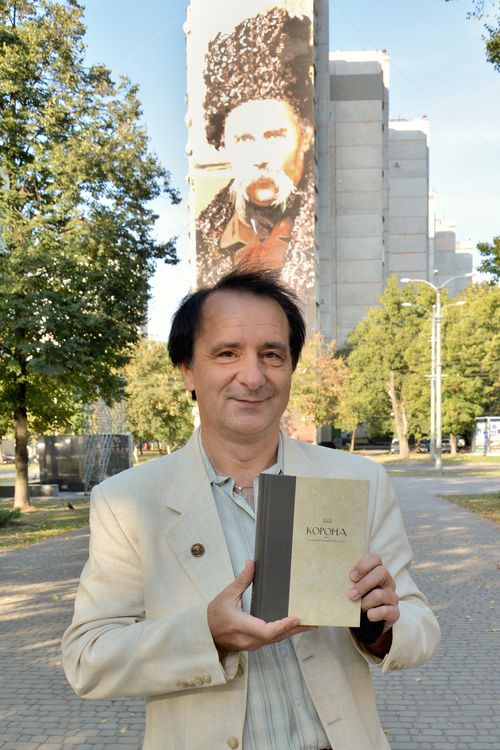 Photo courtesy of the author
Good day, Dear Editorial Board!
Last week, I received the much-anticipated book The Crown, or Heritage of the Rus' Kingdom at the post office! I am very grateful to you for it.
I have been subscribed to the Friday edition of the newspaper from 1997 or so. Some time ago, I even wrote a letter to the editor about the journalist Valerii Lapikura, which was published (!) in the newspaper. I cannot imagine what can make me ever cancel my subscription to the printed version of the newspaper. Reading Den (and I stretch reading the Friday edition for a week) has long been an integral part of my life. Den is always with me on my trips. Sometimes I deliberately leave some issues of the newspaper (which I have myself read), such as the last time when I left one on a coffee table near the reception area in an Albanian hotel.
Now to the book. I have bought two copies: one for myself, and the other for a gift. In my opinion, it would be a nice gift at a birthday party. Incidentally, my relatives in Belarus and Germany received copies of the Polish-language edition of Wars and Peace... as gifts from me, and they were very pleased.
Thank you for your work!
And I wish dear Ms. Larysa Ivshyna and all your employees good health and creative inspiration!
Respectfully Yours, Valerii MOROZ, auditor, Kharkiv