What did President Petro Poroshenko's encounter with the media show?
16 May, 2017 - 12:33
The president of Ukraine spent almost a year without talking to a broadly representative selection of journalists. His penultimate such encounter occurred on June 3, 2016. Finally, it happened. On May 14, that is, Europe Day and Mother's Day, Poroshenko held a press conference which lasted about two hours and celebrated the abolition of visas for Ukrainians traveling to the EU. Just like past time, the talk with the media was held in the courtyard of the Presidential Administration.
THE MAIN MESSAGE
Poroshenko congratulated all present on Mother's Day and Europe Day, and then delivered a short speech in which he stated, inter alia: "Visa-free travel is much more than a simplified way of crossing the border. I believe that this is an event of extremely profound importance, a giant step towards Europe, an assertion of human freedoms, an assertion of the independence of our country; if you will, it marks our overcoming of the consequences of the Pereiaslav Treaty. This is Ukraine finally leaving the ranks of the so-called post-Soviet states which Russia contemptuously calls its 'near abroad.' Conversely, it signifies deeper involvement of Ukraine in the common European civilization. Now, only mad people can keep treating Ukraine as part of the so-called 'Russian World.' Ukraine has become part of a united Europe stretching from Lisbon to Kharkiv. We share common values while preserving national identity." The president clarified that Ukrainians did not need visas for traveling to 52 countries already, and 34 EU countries would be added to that list in June.
Questions of journalists (there were 191 media professionals registered for the event) touched upon highly disparate subjects, including the domestic and foreign policies, the war and the Minsk Agreements, the first family and the Eurovision contest... Here are some main points from Poroshenko's answers:
"I sincerely believe that Ukrainians living in the Donbas and Crimea will benefit from visa-free travel when Crimea and the Donbas return to Ukraine. For now, these benefits will become available to temporarily displaced persons provided they follow the appropriate procedures.
"As for the second term, I think that as of now, it is too early to talk about the list of potential presidential candidates.
"At no point in Ukraine's history did this country enjoy this much freedom, including freedom for journalists and public figures to do their jobs.
"The US is involved in the Normandy format talks to resolve the situation in eastern Ukraine.
"We cannot achieve peace only because Vladimir Putin does not comply with the Minsk Agreements and does not intend to do so. However, these agreements allow us to show the world who is to blame for this, go to court, and bring the offender to justice, and thus use international law to make Russia pay the price for violating the agreements.
"I would like very much to see more support for my idea of deploying peacekeepers. They [pro-Russian militants. – Ed.] were frightened when they saw that the peacekeeping idea was starting to find support, and they organized an explosive attack on a vehicle of the OSCE's Special Monitoring Mission, which killed an American paramedic observer.
"Regarding Oleksandr Onyshchenko's tapes, I can say that I have not listened to them and do not intend to do so. If Onyshchenko feels he has anything to report, he should have contacted the police, the courts, explained his actions in a court of law, and defended himself.
"The lion's share of people suspected in the involvement in the May 2, 2014 events in Odesa have been identified, and some of them have been detained.
"We were trying to figure out the possible risks associated with the signing and enactment of the Law 'On Deposit Guarantee for PrivatBank,' the law will be signed, I will not veto it, and the depositors have nothing to fear.
"I love my wife very much. We have a very democratic family relationship. She is an active public figure, and she never asked for my advice before agreeing to host a series of TV broadcasts, which will be totally non-political in nature.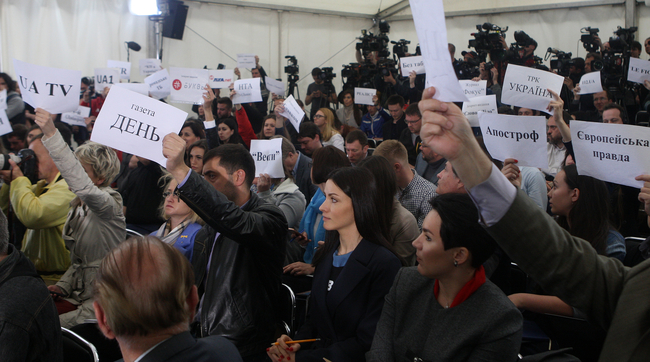 Photo by Mykola TYMCHENKO, The Day
"As the president, as a politician, and as a citizen, I believe it to be unacceptable for the Ukrainian parliament to include persons who hold dual or triple citizenship. I have never held and do not intend to obtain any other citizenship, nor do members of my family.
"The Eurovision contest was held at a very high level. I liked the song of the winning entrant from Portugal, as well as performances of Jamala and Onuka."
Now, I would like to dwell on a few points.
THE PRESIDENT'S BEHAVIOR
It was not much different from previous times. As before, Poroshenko flirted with journalists and avoided clear answers to their questions. Based on my own impressions and having analyzed the reactions of journalists and experts, the chief complaint over the head of state's actions was precisely his penchant for drowning questions in irrelevant talk and failing to essentially answer them.
"I asked four specific questions of the president," investigative journalist Mykhailo Tkach posted on Facebook:
"Do you know that to protect the president and your entourage, an army of human bots has been created on the Internet? They actively attack those who write critical articles or merely express critical opinions.
"Do you know that the Security Service of Ukraine (SBU) is in the business of organizing fake protests targeting civic activists? We showed evidence of it in a recent broadcast of our show Skhemy.
"Do you know that those who dare to publish criticism of the government have their phones tapped, they are followed, their personal information is made public, and they have fakes invented about them?
"Do you see those who are currently being persecuted for criticizing the government as your enemies? What will you do, personally as president, to stop this persecution of dissenters which uses worst antidemocratic techniques?
"I got no answers to these four questions. Had the president answered in the affirmative, he would have admitted to his own inaction, and thus personal interest in these events. Had the president answered in the negative, he would have admitted to his own cluelessness regarding the situation of civil society. Therefore, since the president did not want to answer at all, he resorted to classic manipulation: praised himself for supporting freedom of speech, praised the SBU, and invited us to a meeting, although very often we do not get written answers even after sending official requests to the president."
The organization of the press conference was an issue in itself. "Two hours before the press conference, I have received a lot of questions for the president from my colleagues and readers. They vary widely, including angry, ironic, sarcastic, and quite serious ones. Thank you, my friends. My most important question, however, is as follows: who will not get an opportunity to ask questions at Poroshenko's press conference?" journalist Svitlana Kriukova posted on Facebook.
Of course, I do not want to believe that there is some "special pool" of trusted journalists, but for some reason, it happens so that the same people are entitled to ask the president every time, but strangely enough, it turns out that Poroshenko's spokesman Sviatoslav Tseholko has failed to notice Den (and me personally) for the third press conference in a row. I do not say it to complain, but rather to point out that the press secretary does a disservice to the president and makes us think of him engaging in silencing as a special form of censorship. Moreover, I believe there is no need to remind anyone of Den's role and importance for this country, as the newspaper celebrates its 20th anniversary this year.
***
"I think that the next press conference will be held much sooner than this one, which we have spent almost a year waiting for," the president said in conclusion. We also hope that it will be held sooner, and most importantly, the approach to the organization of the event will be revised.