Maria Rypan about childhood, interests, and character of her uncle Lubomyr Husar
19 June, 2018 - 10:47
Recently, Ukrainians marked the first anniversary of the departure into eternity of the former head of the Ukrainian Greek Catholic Church (UGCC) His Beatitude Lubomyr Husar. He was one of the most prominent and most respected moral authorities of the recent decades, and not only for the Greek Catholics, but also for believers of other denominations and non-religious people. Cardinal Lubomyr Husar was called a great prince of the Church, a preacher, the spiritual father of the nation and a man who was an entire era. However, for some he always remained just Uncle Liubko...
The Day spoke to the niece and goddaughter of His Beatitude Lubomyr, Maria Rypan, who lives in Toronto, but often visits Ukraine to research the Husars' family roots and spread some more facts about His Beatitude's life. This year, Rypan tours Ukrainian cities introducing a new book, entitled My Dearest Mommy! (Correspondence of Father Lubomyr Husar with His Mother), which was launched at this year's Book Arsenal fair in Kyiv. His Beatitude corresponded with his mother Rostyslava and sister Marta for many years (1975-76 and 1985-92), which saw a lot of fateful events in the life of the Ukrainian people and the UGCC. So, the bishop offered his vision of these historical events in the letters to his family, evaluated them, but also revealed his inner world not only as a church figure, but also as a human being.
"HE HAD A SAINTLY ATTITUDE TOWARDS HIS FAMILY"
On the instructions of His Beatitude Lubomyr Husar, you have recreated the genealogy of your family, even discovered some pages that were little known even to him. Whom he remembered and respected most, which of his relatives he was similar to?
"He greatly respected his father Yaroslav. He especially loved to tell about his dad's habit to remember on Christmas day which corners of the world had been visited by members of the Husar family. And believe me, they visited a lot of places. He remembered well his grandfather Lev, who was a notary in Halych for many years. Unfortunately, Liubko did not know him personally, since he was born 10 years after the death of his grandfather, but heard a lot about him from his father. He remembered warmly his other grandfather as well, Father Luka Demchuk, who was the parish priest in Kalne, where Liubko's mother was born. In general, he knew everything about everyone and had a saintly attitude towards his family. He always knew who was there, who got married, died or was born. And all the materials about our family that I have now came to me thanks to the uncle. My grandmother began to investigate our genealogy, but Liubko, too, was interested in this, supplemented her findings and could tell more on his own, because he had contacts in other milieus. If people wanted to convey some information about the Husars, he immediately directed them to me and said: 'When you will be going to visit me, stop in this or that place as well, speak there and talk to those people.' In the end, when I did it all, Liubko was very angry that I was staying with him for such a short time. So during my last visits, I stayed in Kyiv for two weeks in order to have time to do research and spend time with the uncle as well. Moreover, I saw how he planned many meetings in different places. I also learned it from him."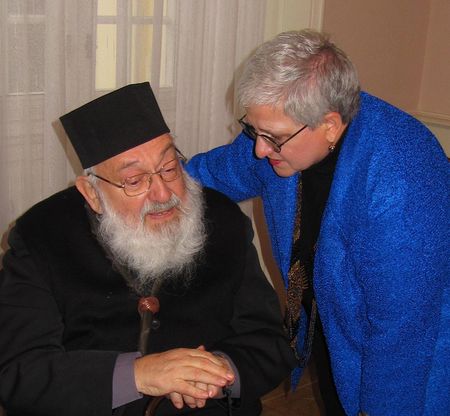 MARIA RYPAN AND HIS BEATITUDE HUSAR
His Beatitude Lubomyr Husar was a very educated man. How did he do at school? What did he study, what interests and hobbies did he have?
"In general, the uncle was an ordinary child. He had fun and joked like all the children. However, he studied a lot and had diverse interests, which actually shaped him: music, literature, religion, culture, sports. I think this is evident from what man he eventually became and how he behaved."
"MY DEAR YOUR BEATITUDE, UNCLE LIUBKO…"
How did your family holidays go when Bishop Husar came to visit?
"The uncle arrived to family holidays very rarely. However, it is interesting that he never forgot anyone and always tried to greet us. We lived on different continents, so the time difference was six hours, or even seven hours (with Ukraine). And Liubko asked us all the time: 'When do you sit down at the table?' so as to wake up at night and call us. It was important for him to personally bless us and wish us happy holidays. Later, we began to use Skype for communication, or the uncle greeted us in writing. Sometimes we even recorded it on a tape recorder and translated greetings into English, because some relatives did not understand Ukrainian. So, Uncle Liubko was always with us."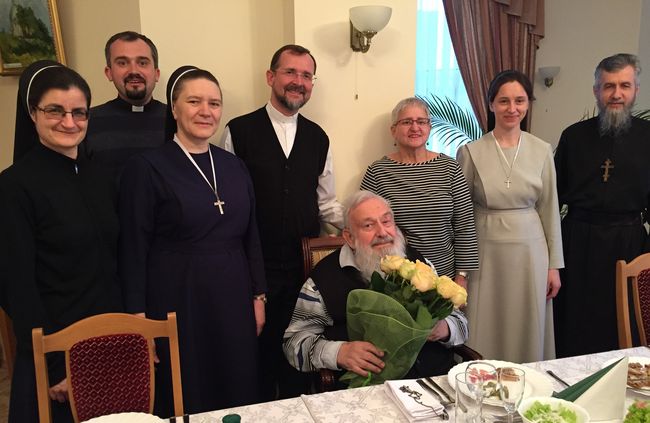 CELEBRATING THE 40th ANNIVERSARY OF LUBOMYR'S SECRET EPISCOPAL CONSECRATION BY PATRIARCH JOSYF SLIPYJ IN ROME AT HOME, IN THE RESIDENCE OF HIS BEATITUDE IN KNIAZHYCHI NEAR KYIV ON APRIL 1, 2017
How did you call him at home?
"We called him only Uncle Liubko, and everyone liked it. My mother Marta, the elder sister of the bishop, called him Liubko or Liuban. Even at the funeral, when my brother Roman spoke, he began his speech by addressing the deceased: 'My dear Your Beatitude, Uncle Liubko.'"
"HE TREATED EVERYONE EQUALLY"
Why did His Beatitude Lubomyr belong to the Plast scouting movement since his school years, and supported this organization afterwards?
"The uncle's mom was in the Plast, as well as the whole family. In addition, at the time when he studied at the gymnasium in Salzburg, the Plast was the only organization for Ukrainian youth. Almost everyone was a member. The Plast instills spirit, good training, and patriotism. Later, when Liubko moved to America, he joined the Red Viburnum Plast squad and was a lifelong member. Of course, he could not actively participate in the organization's activities, but still made efforts to visit its camps to celebrate mass. He always supported them spiritually."
Did he stay in touch with any childhood or youth friend?
"The uncle maintained contacts mostly with his mates from the gymnasium and Plast. He liked attending reunions very much and did not want to be addressed 'Your Beatitude' or 'My Lord Bishop' at these meetings. For them, he was just Liubko. The uncle treated everyone equally, regardless of age or status, because he considered himself to be just a regular Plast member. And all the warmest memories he had, except for the family, were connected with the Plast. The rest of his childhood friends had got lost over the years as they scattered throughout the world."
"HE BELIEVED IN THE BRIGHT FUTURE OF THIS COUNTRY"
His Beatitude Lubomyr was a moral authority, even for non-religious people. I remember how the bishop came to bless the Ukrainians in the early days of the Euromaidan, on December 1, 2013, when a car was used instead of the scene. He could not climb onto the car and stayed below with the crowd. I was there and saw the extraordinary attention and respect with which people listened to him, even though they could not see the cardinal. Why did people trust his opinions so much?
"I think that people treated him as a starets, a spiritual teacher at that moment. But despite his venerable age, Uncle Liubko was interested in everything and believed in the bright future of this country. It was necessary to show it to people. I am convinced that his words were coming from the heart, and people saw that the starets came, dared to come and speak among the first leaders to do so. Then, perhaps, they began to respect him even more."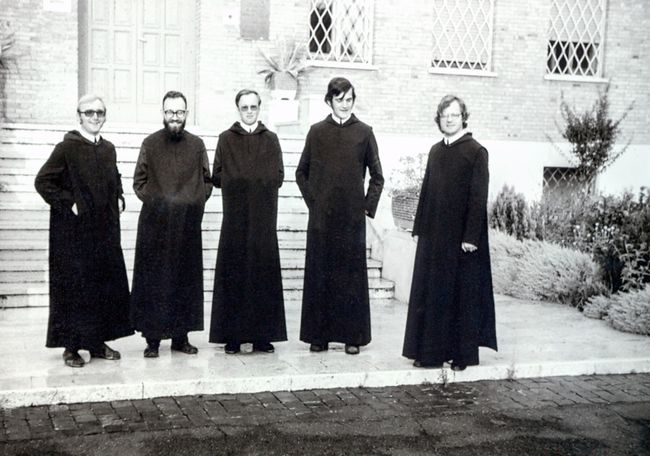 MONK LUBOMYR WITH NOVICES OR FELLOW BROTHERS IN FRONT OF THE STUDION MONASTERY NEAR ROME (1973)
The first words that come to mind when recalling His Beatitude Lubomyr Husar are wisdom and simplicity. How did he manage to preserve his ability to listen to people and see them, to express global and important thoughts with absolutely simple words which were understandable to all?
"It is simple: he was an ordinary person. Now people are exaggerating and artificially creating a majestic image, but in fact, Uncle Liubko just prayed a lot and was an ordinary, kind and diligent person. He did not like to see people being treated differently, all were equal for him, and he could speak with anyone. This skill came naturally to him. He did not need to pretend to be someone, because he was always himself. So he was shaped by the environment in which he grew up. It all came from the family, from childhood."
You recently delivered lectures in various cities across Ukraine about the Husars' genealogy and introduced four books about His Beatitude, the last of them called My Dearest Mommy! What are your impressions of these meetings?
"I had very interesting meetings in each community and each city I visited. Many of the facts that I talked about had been unknown to the general public. But I wanted to show as much as possible and tell people what kind of a family it was and who my uncle was. In particular, I was very pleased to go to the village of Kalne, where my grandmother was born, and to talk to the locals. I had the honor of knowing His Beatitude Lubomyr intimately, so now my job is to share knowledge about him with everyone..."