Den/The Day's journalists have visited the Ukrainian village of Ryzhivka, which lies on the border with Russia, to find out how the lives of local people have changed after the war started
12 December, 2017 - 12:00
"I have a half of my house looking to Russia" – with these words, 80-year-old resident of the border village of Ryzhivka, Bilopillia raion of Sumy oblast, Halyna Hudilina met Den/The Day's journalists and immediately invited us to go inside the house. "Guys, go here, please. This is my bedroom which looks to Russia... You can see the border fence, barbed wire... Look out the window: the two countries converge directly in my house and in my kitchen garden."
Having returned from the anti-terrorist operation area and described in detail in a series of photo reports the peculiar features of life in frontline cities and villages, Den/The Day's journalists decided to visit the border with the aggressor country, Russia, in order to see firsthand how people were living, what they were thinking, and what problems they were encountering in villages that are literally one house away from the border with the country that is waging war on us.
Hudilina's house is the last on the Ukrainian side of the border. Literally in front of it, there is a Ukrainian border checkpoint, and then you enter the town of Tyotkino, Glushkovo District, Kursk Region. "Our Druzhby (Friendship) Street, Ryzhivka village, goes smoothly to the Russian Tyotkino railway station. In the Soviet era, it was decided to transfer a portion of this street to the village of Tyotkino. It was renamed Pogranichnaya (Border) Street," Hudilina told us. "We did not understand the map then. It was the Soviet Union, Ukraine was here all the time, and Russia was there. But all locals had the right to cross the border freely. And even after Ukraine's independence, the border was a formality to an extent. It did exist, of course, but we lived as one village. All of us are their relatives here, and there all are ours. Ukrainian children went to school in Russian Tyotkino, and went outdoor here and there; many of us worked there. But after the war started, Ukraine closed our village border crossing, the one that was in front of my gate. Absolutely for everyone, including locals. As soon as the border was closed, troubles began. Tell this to the authorities in Kyiv: here in the village, we cry for days due to the checkpoint being closed, and Russians cry as well... I cannot even go to the store. I used to go for bread to the Russian store which is less than 50 steps away. And now I have, despite my health conditions, to walk more than a kilometer; a girl has a sick immobilized mother living there, and a man has his wife cut off there."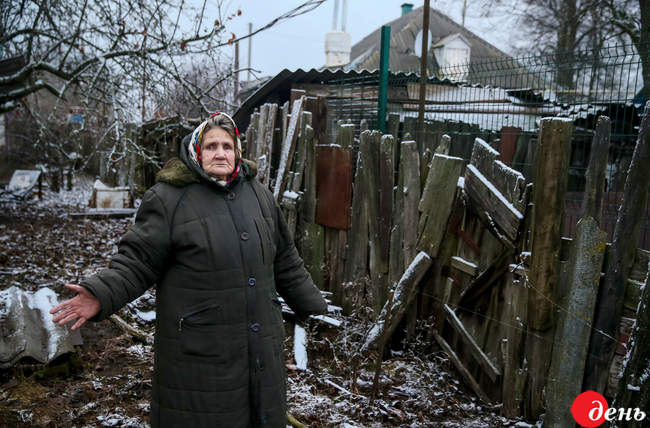 "You see, there is no family in the village that has no relatives in the village of Tyotkino or a bit further in Russia," we heard again, this time from Ryzhivka's representative in the Bilopillia Raion Council Volodymyr Viduiev. He kindly agreed to accompany us in the village, because he knows the local issues well. "I personally have two cousins residing in Tyotkino. Earlier, when the pedestrian border crossing was open, our people moved freely provided they carried a passport and had a local registration, they went to Russia to visit their relatives, to the store, to work... Meanwhile, people of Tyotkino all went to our Bilopillia raion to the bazaar, because foodstuffs are cheaper here. The pedestrian border crossing is completely closed. This was a Ukrainian initiative, the official explanation being that it would prevent the enemy's sabotage teams from infiltrating. Now people are forced to go by car through the Ryzhivka vehicle border crossing. They go five kilometers from the village to the border crossing, and then another five to seven kilometers to the Russian town's center. And as a result, Grandma Hudilina has to cover 15 kilometers to see a neighbor, and she loses time at the checkpoints..."
On hearing that the raion councilor mentioned one of the reasons for the closure of the border crossing – the need to prevent infiltration of sabotage teams from the Russian Federation – Hudilina interrupted him: "Listen, the Ukrainian border crossing here is manned by such committed Banderaites, they are strong and healthy and will never let in any unwanted visitor, no matter how much money they might be offered. Even a mouse could not slip through, much less an enemy. And should they really need to go through, do you really think that they will do it in the very center of our village, through the official checkpoint? If so, they might do it just as well with Russian flags unfurled and drums beating. Those who need to 'infiltrate' will do so, as they have the whole border to choose a location. While our leaders in Kyiv are politicking, we cannot even visit our dead. We share a cemetery with Russians as well. As for the war you have mentioned, I will tell you this: America should keep its hands off this country. Our rulers have sold out to the US, that is all the truth I know." And when we asked her about it, the grandmother made it clear that she watched Russian TV channels, although Ukrainian ones were available as well.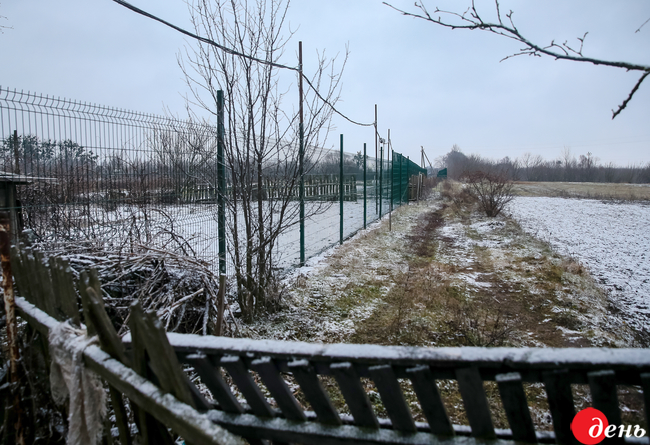 "While there was a checkpoint in the village, the Sumy-Ryzhivka bus went here three times a day. It was a convenient route. Now it does not run on Monday at all, and only two times a day on other days. The number of passengers has fallen a lot. Before, Russians went to our bazaar, or just obtained services here, in our pharmacies, hospitals, gas stations," added raion councilor Viduiev.
We left Hudilina's house and went along Druzhby Street to the center, to the village council office. Having noticed journalists with a camera, local resident Serhii approached us, and village children came running. "Write the truth, tell them that the checkpoint is the main problem. Even our children ran here and there to play. And many families are a Russian woman and her Ukrainian husband, or vice versa. Now they are divided. Understand, please, it was not Russia that closed the border, but we, Ukraine. And then Russia got offended and put up the fence," said the man. "My wife is from Tyotkino and all her relatives live there. Now she is sick in the hospital, and her sisters cannot even visit her, because they are Russian and do not have international passports."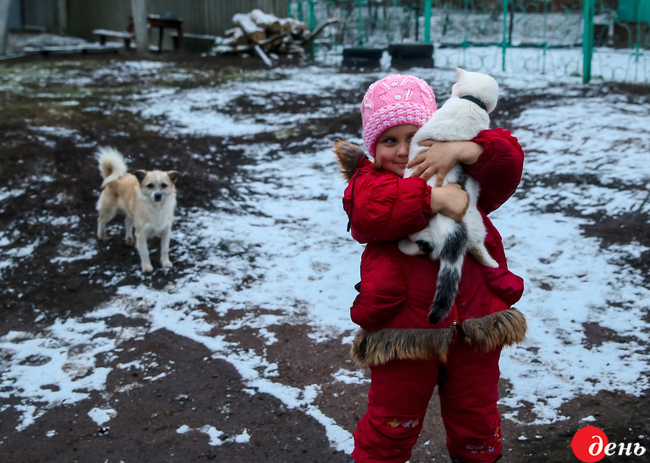 We drove past the village soccer stadium. "Our soccer team is ranked third or fourth in the whole raion, but when the ball lands on the Russian side of the fence, it is as good as lost, and we have to buy a new one," said Viduiev, and showed us the way to the village council office. A poster with portraits of Ukraine's fallen defenders hangs on the wall just several hundred meters from Russia, inside the village council office. This is the first thing that immediately catches the eye, followed by the opened door to the local library that is under one roof with the village council.
"I have written letters to everyone: MPs, the Cabinet of Ministers, the oblast council, the raion council... All have answered with formal replies stating that 'you have another checkpoint less than 10 kilometers from the village, the Ryzhivka vehicle border crossing.' But getting there takes at least two hours. Our checkpoint was established primarily for the local residents of the two countries, living in Glushkovo and Bilopillia districts. Now we ask the authorities to reactivate it for two villages at least, separated by one street – Ryzhivka and Tyotkino," said chairman of the Ryzhivka Village Council Oleksandr Chekh. "Aunt Hudilina, whom you already saw, is our star. She told you about what really is our main problem – the need to open the border. Yes, the war is going on, and the shells are bursting as we speak... But one's mother remains the mother, and brothers are still brothers. And when someone lived in an adjacent street all his life, and now he cannot visit his neighbors, it is not right. There are very close family ties here. Moreover, when a brother will be able to come to his brother and tell him that nobody eats people in Ukraine, this will contribute to our information warfare efforts. But as things stand, everybody sees Russian TV saying insane things about us, while the people themselves, us locals, are faced with the fact that Ukraine does not hear its citizens... By the way, the village council maintains the Ukrainian border crossing, we pay for its power supply... we help it by donating fuel wood and buying equipment. We are still clinging to the hope that we will reopen it. For the time being, they only open the passage to us two times a year – on Easter and May 9, when people gather to commemorate relatives."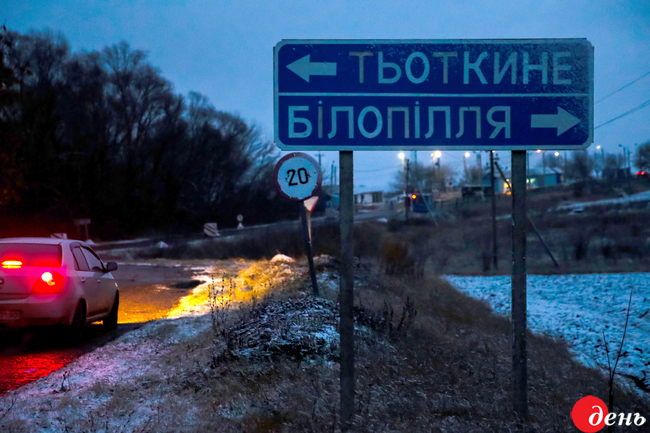 We asked him, what the popular mood was?
"The need to open the crossing for the locals at least and repair the roads – these are our two problems. They do not understand this in Kyiv. Families should not be separated. As for the road, it is an international one, and last time it was repaired was in 2012. The village itself, on the other hand, is connected to a gas pipeline, there is mains water, all local roads are paved. As for politics, I will tell you this: people watch both Ukrainian and Russian TV channels, and compare who says what, and then we try to figure it out. Also we read a lot, though we are only planning to subscribe to Den." The village mayor shows us the library. It is warm and comfortable, and its holdings are considerable for a village.
"In our border village, people are interested in romance novels and detectives. They love to read about history as well. Although we have few books about history, in particular about the modern one," said the librarian Natalia Vashchenko. "Overall, we have 4,752 books. Thank you for giving us a copy of the book 'The Trap,' or A Case without a Statute of Limitations from Den's Library series. We will have 4,753 books now."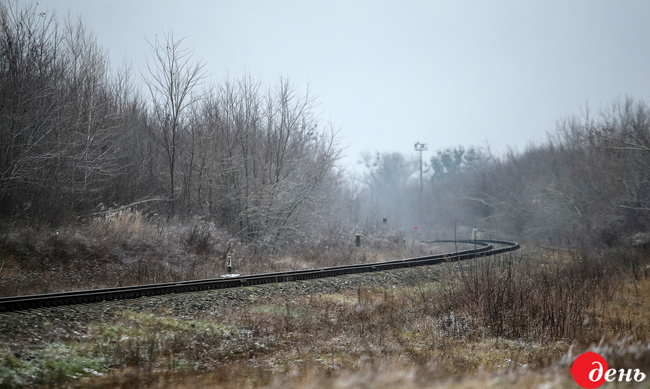 YOU CAN'T TRAVEL TO RUSSIA BY TRAIN HERE – THE RAILWAY SERVICE WAS STOPPED IN 2014
While we were leaving the library and walking to the car, a local girl ran up to us. "Are you really from a newspaper? Write about me. My grandma is 76. She cannot walk and lives alone. And we have to drive up to 30 kilometers every day, while she is just several hundred meters away directly across the border," the girl, named Svitlana, was a little excited. She believed that publishing her story in the newspaper would help. "Look, my mother is Russian from Tyotkino, and my father is Ukrainian from Ryzhivka. Mother worked here throughout her life, while father worked there. This is the specific feature of border villages. And one should not try to tear us apart, it needs to be understood."