The painter's Kyiv monument is not exactly in the best condition. What else reminds of the author of Black Square in his native city?
10 August, 2017 - 11:52
A routine stroll of Den/The Day's photography editor Mykola Tymchenko became a subject for this article. What lured our colleague was Volodymyro-Lybidska Street in Kyiv's Holosiivskyi district. It is not a top must-see for tourists. But our photographer caught the sight of an original commemorative sign dedicated to the genius of Kazimir Malevich. It is a white cube of metallic frames, on one of which is written "Kazimir Malevich" in big letters. The cube stands on a stage of sorts that symbolizes a black square. It is not by pure chance that this place was chosen for the commemorative sign – the avant-garde artist, who founded suprematism and cubo-futurism, was born and lived for some time on a neighboring street named after Bozhenko before 2012 and now after Kazimir Malevich.
Malevich's best-known picture is Black Square which the commemorative sign is based on. It was solemnly unveiled in 2008 at a local public garden. But just a few years later Kyivites were indignant that nobody cared about this place. Uncommon benches were put up in the park next to the metal cube. Most of the facing tiles have peeled off and the surviving ones are covered with vulgar graffiti. The cubic structure has rusted in some places, and the nearby stone pavement resembles an old unpatched neckerchief. It is vandals who "helped" reduce the commemorative sign to this shameful state of repair – the instances of this are quite common here. Poor workmanship may also be a factor. Or, maybe, the neglected commemorative sign is a signal from the artist himself?
Kyiv was not an alien city for Malevich. He was born here, and fate brought him again to his home city after he had lived in Moscow, Vitebsk, and St. Petersburg. He resided in the capital in 1927-30, when he taught at the Kyiv Art Institute (now the National Academy of Fine Arts and Architecture). This period in the artist's career is described in the book Kazimir Malevich: the Kyivan Period of 1928-1930 published a year ago by Rodovid and KMBS.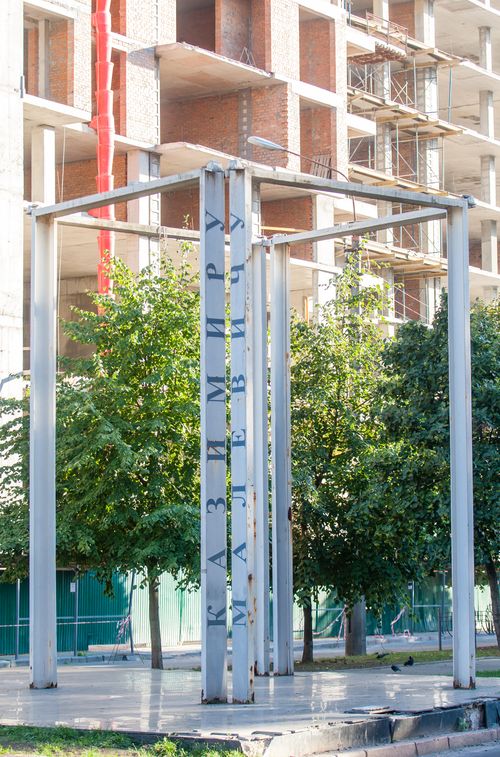 The story of this publication is as unusual as the oeuvre of Malevich himself. In late 2015, the artistic circles had a lively discussion about a sensation – new texts of Malevich and documents about his teaching at the Kyiv Art Institute in 1929-30 were found in Kyiv. Over 70 typewritten and several handwritten sheets had been kept for almost 90 years in the archive of artist Marian Kropyvnytskyi. They were included into the unique publication together with Malevich's artworks from his 1930 solo exhibit, the painter's articles, and other documents linked with his Kyiv projects.
"The whole world must know that Malevich was a Kyivite" is a quotation from the May 2017 petition on the Kyiv City Council's website about renaming Lev Tolstoy Square after Kazimir Malevich. Incidentally, activists recently suggested that Boryspil Airport be named after the painter. Although the commemorative sign in the capital remains neglected, Kyivites want to know and tell the world about their compatriot of genius, considering his name and oeuvre a Ukrainian brand.
"I organized the ceremony of unveiling the Malevich commemorative sign," Oleksii Kuzhelnyi, People's Artiste of Ukraine and artistic director of the Suziria theater, recalls. "I was impressed with the wonderful idea to open an alley-museum of Malevich's works. At that ceremony, we managed to put on an exposition of the artist's 36 pictures on the fence that had emerged practically from nowhere near a construction site. You see, it is no accident that some great ideas are born at a certain place. For example, now that there is a heated debate about the Theater on Podil, it seems to me that Malevich has come again and reminded us of himself by means of this black square, a black cube on Andriivskyi Uzviz. I am sure it will become sooner or later a natural part of this street, for it seems to have appeared from outer space, from the great memory about the artist of genius. This is also an interesting sign, for great ideas and the geniuses who embody them are born in a certain place and never leave it. And it is very important that we should remember great Kyivites and that their ideas and idea-generating mechanisms should never fail in Kyiv."