Commemorating Mykola Kolessa
Lviv's Philharmonic Society is hosting a festival of conductorsф
29 November, 00:00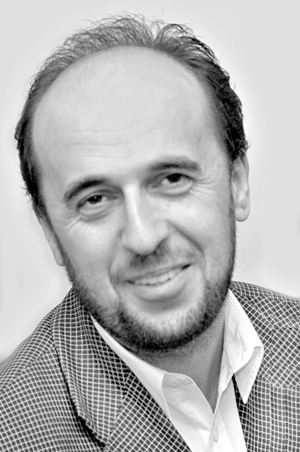 It is the fifth time that the Lviv Philharmonic Society is gathering famous musicians on the stage of the Stanislav Liudkevych Concert Hall within the framework of the International Festival of Conductors to commemorate the outstanding conductor and pedagogue Mykola Kolessa (December 6, 1903 – June 6, 2006), whose art of a conductor can be defined with full right as a phenomenon, because it combines in a miraculous way the factors of composing, conducting and performing, enlightening, and teaching. Read in The Day's interview with director-general of the Lviv Philharmonic Society Volodymyr SYVOKHIP about the festival in Kolessa's commemoration, the variegated concert activity of the philharmonic society, and the tastes of the audience and the attendance of concerts on the whole.
"YOU SHOULD BE SPIRITUALLY PURE AND FREE"
"We've started a five-concert cycle within the framework of the International Festival of Conductors in Commemoration of Mykola Kolessa," Volodymyr Syvokhip told The Day. "This year's event will be a culmination, according to the number of concerts and their quality. It will be attended by outstanding musicians from all over the world, with all of them having a common feature, which was also typical of composer and conductor Mykola Kolessa: they are all professionals. Some of the guests are closely connected with Lviv. So, Igor Simovic, the son of a famous composer and Mykola Kolessa's peer, Roman Simovic, conducted the Symphonic Orchestra of the Lviv Philharmonic Society at the launch of the forum. The concert featured Erich Wolfgang Korngold's violin concerto and Sonata for Violin and Piano by Cezar Franck, which was performed by Roman Simovic Jr., a concertmaster of the London Symphony Orchestra, a violinist of wide renown, who is winner of many international competitions. Lviv-born cellist Maria Chaikovska, professor at the Moscow Conservatoire, will soon come to perform Cello Concerto in B minor by Antonin Dvorak with our symphony orchestra conducted by Aidar Torybaiev. In the past few years we've been able to involve in the festival the National Philharmonic Orchestra of Ukraine and the National String Orchestra. The National Chamber Orchestra 'Kyiv Soloists,' who has been conducted for many years by Bohodar Kotorovych (may he rest in peace) gave a really successful performance; this year it was conducted by the outstanding conductor Volodymyr Sirenko who now heads the ensemble. That was an extremely interesting project, because Sirenko invited the National Opera soloist, soprano Svitlana Dobronravova (she has worked for seven years in Lviv Opera), who sang in Symphony no. 14 by Dmitri Shostakovich.
"Our forum shows performances of topnotch classical works and the works full of supreme dramaticism, which corresponds to the word 'commemoration.' For example, Shostakovich's symphony I just mentioned was written to tragic texts of Russian poets. Our symphony orchestra conducted by the outstanding Ukrainian musician Ihor Blazhkov (he currently resides and works in Germany) will perform Ernest Bloch's Schelomo and Toru Takemitsu's Requiem with the participation of former Lvivite, cellist Marcel Bergman. And this Requiem will not be the festival's last one.
"Kolessa deceased five years ago. On his birthday, December 6, we will unite many outstanding performers, a German conductor Peter Marks, soloists from Austria, Germany, and Poland, Lviv chamber choir 'Gloria' and Academic Youth Symphony Orchestra 'INSO-Lviv' for a concert that is going to feature the greatest piece of the world classical and commemoration music: Mozart's Requiem. Apart from it, many other works will be performed, specifically the works by Erich Wolfgang Korngold, Eschatophony by Valentyn Sylvestrov, suite from the ballet Tangerine Dream by Bela Bartok.
"It will be reminded that the 'Music Evenings of Ludwig van Beethoven' featuring Oleh Krysa and Sergej Edelman, a violinist and a pianist of world renown, will begin in the Philharmonic Society on December 15.
"We work everyday in order to make everyone understand: Lviv has a philharmonic society of the European level. Speaking about the audience which is supposed to consume this product, this is a very contradictory question. Of course, you cannot force anyone to go somewhere. I communicate with litterateurs, artists, and organizers of various actions (press conferences, exhibits, performances, etc.) and they all complain about the society's apathy. In the recent two or three years the tour and festival activity has decreased all over the world, because the houses are never full. The influence of global informatization, access to material, but not spiritual things, creates the situation when even now in our philharmonic society every second concert is performed to a half-empty hall. Of course, there are concerts that enjoy full houses. For example, the concerts to Louis Armstrong's 110th birth anniversary and 95th anniversary of Frank Sinatra the tickets were sold out long before the concert. I mean that sometimes people react very lively to simpler things, which do not require great intellectual work. The concert of Hollywood music – sweet fairytales – also enjoyed a full house. Maybe, in this sense it is really hard to come to listen to Shostakovich's Symphony no. 14, Mozart's Requiem, or Beethoven's Symphony no. 9, even performed by genius musicians, because to do that you should first of all be an optimist, spiritually pure and free. You should go with a clear heart to listen to this music – like to a confession in a church."
LIFE BETWEEN THE FESTIVALS
"We will continue a rich concert life up to May, when the Virtuosi Festival begins. The Philharmonic Society won't be closed even in January, during Christmas holidays. So we are thinking now what programs should we offer to people who won't spend three weeks at a festive table. Viktoria Lukianets will come to us from Vienna shortly after New Year's Day. Our basic orchestra will show an interesting program. I won't reveal all our plans. I will only mention that next year our program will be no less interesting than this year: there will be wonderful performers, as well as wonderful chamber and symphony orchestras. But of course, we will be gradually bringing our season up to Virtuosi Festival, which will traditionally become a culmination of our philharmonic life.
"Currently we've entered the rhythm of an active concert life, and we declare the Lviv Philharmonic Society above all as a concert establishment. We have enough creative units for this. In particular, those include academic ensembles: the symphony orchestra, INSO-Lviv, chamber orchestra 'Lviv's Virtuosi' and an instrumental ensemble 'High Castle.' Besides, we have Marian Shunevych, Oksana Hryb and the 19th Class Ensemble, a wonderful female trio 'A House on the Side,' and also bandura players, singers, pianists, and instrumentalists. I mean according to the versatility of genres and rich content we have by far the largest creative resource in Ukraine. We also actively invite touring artists. We get no subsidies for organization of concert life; I mean the money we receive goes only for salaries, not for staging programs. And we stage new programs almost every week. Sometimes we manage to earn money via selling tickets at some concerts, and use it to organize one or two financially unprofitable programs. Of course, banks help us, as well as most of Lviv hotels which accommodate our guests at discount prices, and we have partial benefits from the oblast and city authorities. Our work is based on combination of good will and one's own desire."