Discover Europe through... fairytales
Discover Europe through... fairytales
28 February, 18:03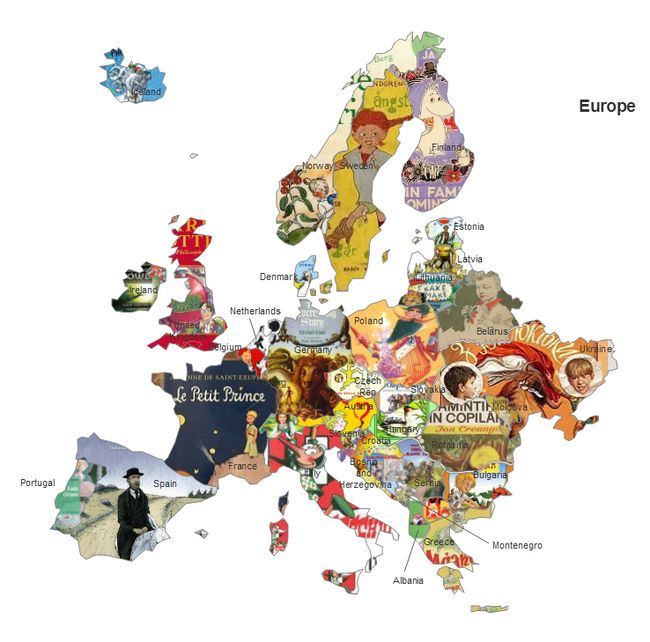 There is a map of Europe before us. Every country is marked with a separate color. But it is not a political or a geographic map – it is about books. On close examination, you will see that it is not just colors but fragments of the covers of children's books. In France it is The Little Price by Antoine de Saint-Exupery, in Italy – The Adventures of Pinocchio by Carlo Collodi, in Britain – Harry Potter and the Philosopher's Stone by Joanne Rowling, in Sweden – Pippi Longstocking by Astrid Lindgren, in Finland – a series about Moomins (trolls) by Tove Jansson, in Germany – The Neverending Story by Michael Ende, in Poland – Academy of Mr. Kleks by Jan Brzechwa, in Denmark – Magic Fairytales by Hans Christian Andersen. Ukraine is painted in orange color, and it is easy to recognize this cover – it is Toreadors from Vasiukivka by Vsevolod Nestaiko.
This map was made by teachers and pupils at various schools that are part of eTwinning, an educational project of the European Commission. Although Ukrainian schools are not project members, Ukraine was still included into this map.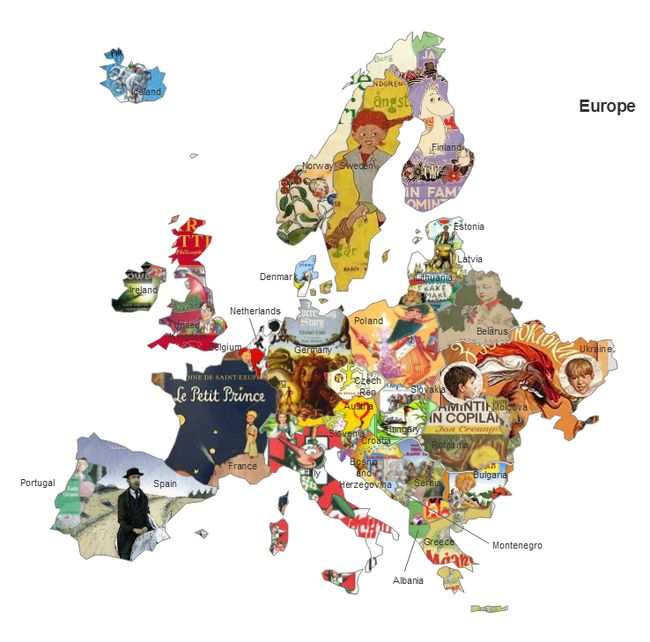 Map from the website READRATE.COM
Christina Kasinti, a teacher of the eTwinning Greek team, writes on the project's website: "First and foremost, to be able to make it, I received much help from the project's partners, as I would never learn about the most popular children's books in many countries if you did not research and tell me. I also received my eTwinning students' help at school. For example, Galini, a member of the Greek team, who is bilingual as her mum is Ukrainian, helped me a lot by conducting a small research among friends and relatives before telling me children's favorite books in Ukraine, Lithuania, Belarus, and Finland. So did other students in our school, too, e.g., for Albania, Serbia, etc."
Christina also showed on the project's website that the map was at first empty and painted blue. Then it was gradually filled with favorite children's books in various countries. It is interesting to examine this map: you immediately wish to read some of the books or to know more about the ones that are little known or unknown at all to Ukrainian readers.
It is no wonder that Ukrainian readers chose Vsevolod Nestaiko's Toreadors from Vasiukivka for the map. More than one generation grew up on the writer's books. They are still actively republished and sold. Present-day young readers and their parents know them. Mr. Nestaiko once said to The Day: "Children must be taught to be good, humane, fair, and, of course, to have a sense of humor. Children should smile more often." This is perhaps the secret of why little readers have liked Nestaiko's books for many decades and why Ukraine is painted orange on this map.