Den's website was created 21 years ago
8 February, 2018 - 11:20
1997… The country is at the crossroads of a choice. The mass media are facing real challenges, and, unfortunately, not all of them are aware of them. A great temptation to increase circulations by "going tabloid" eclipses strategic vision and awareness of threats to others. Russia is restructuring the information field at full blast – both ideologically and technologically. The result of this policy was obvious in just a few years' time. The empire spun up the flywheel of propaganda and manipulations. What could Ukraine oppose to this danger?
Unfortunately, informational scum, blurred positions, narrow ambitions, and, as a result, political infantilism led to the situation that the Ukrainian media proved to be unprepared for war at the most crucial moment.
Den opted for a different course in good time. Innovations and a clear statist position became our weapon, for in the now distant 1997 we were looking into the Day of tomorrow. And the creation of a website is an eloquent example of this. Besides, Den's website became an internet platform for the communication of adequate and professional personalities. The site has brought to Den a lot of contributors with their own point of view and angle of vision. Their position proves again that Den's website is a mission, particularly, a mission to form a strong team.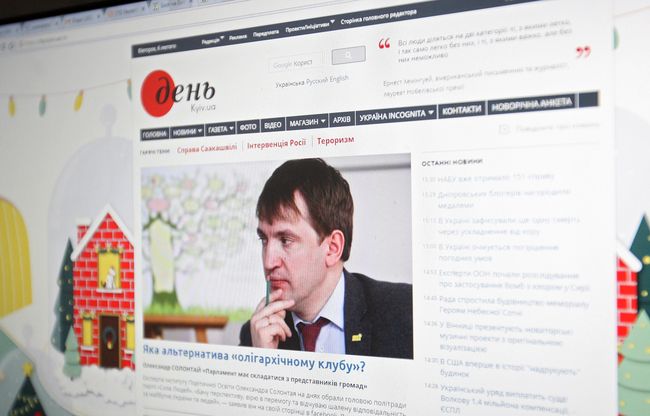 DEN HAS ALWAYS BEEN A FEW STEPS AND FEW YEARS AHEAD OF OBVIOUS TRENDS
Yurii KOSTIUCHENKO, academic, expert in security and risks:
"Maybe, setting up the newspaper's online version 21 years ago might be considered as a bold experiment in our society. But it is only at first glance because, in reality, this component of Den's media field is an integral part of the concept of media and social communications in our society which is developing in a complicated global context. This period should be measured above all by the socioeconomic, sociocultural, and sociopolitical changes we have undergone, as well as changes in the global communicative environment, rather than by years. Then we will have to admit that we also witness changes of epochs, changes caused by the evolution of technologies. It is perhaps not worthwhile to say that the challenges we are facing and the problems the globalized society is addressing are unprecedented, but they have a totally new form, new distributions and strength, and need specific responses. Yes, we can see today a regrettable tendency to insrtrumentalize the policy of management, turn anything into a set of mindless slogans and emasculated procedures which in fact ruin governmental and civic institutions. The conceptualization of this tendency in a communicative milieu kills the freedom of speech and turns the media into the gutter press and propagandistic mouthpieces. The instrumentalization of politics and communications results in the loss of basic values and universality, in particularity and, hence, leads to the escalation of numerous crises which only promote the growth of negative self-identifications, the breakup of communicative links, and shaping of the 'culture of the event' as the predominant way of information space formation. Accordingly, this kind of ruinous tendencies should be reversed by the processes of society's positive self-organization on the basis of intellectual discourse aimed at forming unifying notions and a single communicative field based on universal values. As a matter of fact, the formation of intellectual discourse and positive self-organization around universal values in our society is what Den has been striving for in so many years – and its 21-year-old electronic version has become the key component of this process. Thanks to this approach, the newspaper Den has always been a few steps and years ahead of obvious trends. So, I am pleased to greet all those involved in this important and interesting endeavor and wish them to remember always who we are, where our house is, and where we are going."
"A STYLE OF THE SERIOUS MEDIA THAT SHAPE PUBLIC OPINION"
Oleksandr PRYLYPKO, journalist:
"The Den website differs from other online publications, for it uses the manual graphics of page design and tends to deal with such 'non-format' subjects as science, philosophy, history, and religion. It is style of the serious media that shape public opinion rather than allow themselves to be led by popular tastes. I hope that time, money, and society will let us develop in this direction and dig deeper, as people of 'paper culture' used to say about the work of journalists. Today, the media more often describe problems, instead of exploring them by means of new instruments of knowledge. I wish Den to remain this kind of instruments and to be the workshop that manufactures it."