"Volodymyr, princely and kingly"
The new issue of Route No. 1 is about a 1,030-year-old city in Volyn
17 May, 11:07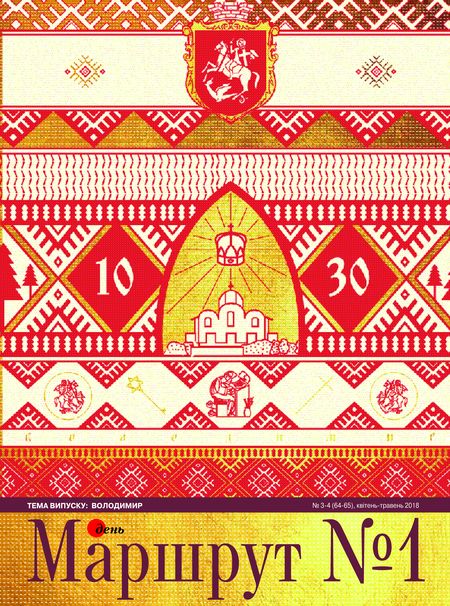 "I have said more than once that Volodymyr is not a district center but the second capital of Kyivan Rus'. But, for me, it is also the capital of Volyn. With Lutsk being the administrative center, Volodymyr is a spiritual capital. I think the Volodymyr-centered state of Lodomeria has a great, albeit insufficiently read and thought over, history. I always emphasize: history must be not so much rewritten as reconsidered – especially in our case. For Volodymyr became Volynskyi (i.e. "of Volhynia") as part of the Russian Empire in order to be distinguished from Volodymyr-on-Kliazma founded by the House of Monomakh. But our Volodymyr was named after Volodymyr the Baptist, and it is very significant that the Zymne Monastery keeps the icon that blessed Prince Volodymyr's marriage with Byzantine Princess Anna. Then Volodymyr become a kingly city, for Danylo was the king of Kholm, Volhynia, and Galicia," editor-in-chief Larysa Ivshyna writes in her column. It is with this vision of this western Ukrainian city that our creative team issued a new glossy.
"You will fall in love with Volodymyr very quickly – once and for all of your lifetime," says Volodymyr-Volynskyi Mayor Petro Sahaniuk. This is of no wonder, for the city is studded with temples that have a unique and majestic "princely" history, about which the well-known local guide Bohdan Yanovych told Route No. 1. One of them is the famous Zymne Monastery which used to be the winter residency of Prince Volodymyr. The world's only museum of Igor Stravinsky is also located near Volodymyr – in Ustyluh. Route No. 1 opens the pages of a festive, theatrical, and "tasty" Volodymyr, shows its 100-year-old "face" and "projects" its tourist boom in the future.
Are you interested? Then order Route No. 1: Volodymyr on Den's website https://day.kyiv.ua/uk/library or by the sales section phone: (044) 303 96 23. Wait until Friday to buy one at a newsstand in your city or at the ceremonial opening of the Den's Photo Exhibition in Lutsk (library of Lesia Ukrainka Eastern European National University; 30a, Vynnychenka St.).