Does the National Union of Journalists have a "national character"?
A Den roundtable discussed the necessity of a principled media platform
22 December, 12:35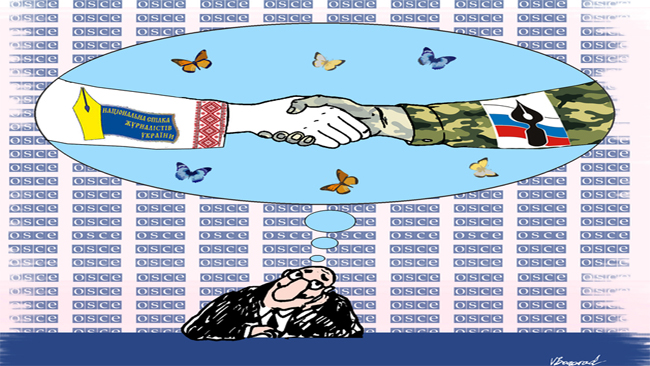 On November 23 the European Parliament passed a resolution on counteracting Russian and IS propaganda. It is stated at the official level that "the EU must respond to information warfare by Russia which conducts propaganda against the European Union and Eastern Partnership countries," while our national professional community of journalists (!) is taking part in a "dialog" with their Russian "colleagues" called "Two Countries, One Profession." It will be recalled that the EP "recognizes that the Russian Government is employing a wide range of tools and instruments, such as think tanks and special foundations (e.g. Russkiy Mir), special authorities (Rossotrudnichestvo), multilingual TV stations (e.g. RT), pseudo news agencies and multimedia services (e.g. Sputnik), cross-border social and religious groups, social media and internet trolls to challenge democratic values, divide Europe, gather domestic support and create the perception of failed states in the EU's eastern neighborhood; and stresses that… Kremlin propaganda directly targets specific journalists, politicians and individuals in the EU."
The impression is that the National Union of Ukrainian Journalists (NUUJ) cannot grasp the European Parliament's message – as if there was no brazen occupation of Crimea and our soldiers are not dying in the war against Russia, which their "journalists" call "civil."
Den has long been following the situation in journalism and "diagnosing" our media milieu – for example, we have published the articles "The Fact of Capitulation as an Act of Reconciliation" (No. 229; 2015), "The Language of Hostility vs. Latent Unscrupulousness" (No. 52; 2016), "War. Journalist. Position. Why Is Ukraine Talking Again about the Need to Combat the 'Language of Hostility'?" (No. 148; 2016), et al.
As time goes by, the servility and conformism of many journalists, a long-standing malady of the Ukrainian mass media, is becoming more and more acute. A recent event in the media field that became an illustrative "point of degradation" was the NUUJ's coverage of an OSCE report which calls Ukraine, in the best traditions of "twisted reality," "Europe's leader in the number of the violations of journalists' rights" and says that what caused problems in our country is not the war with Russia but "the outbreak of aggression in Kyiv, which spread south-eastwards." In other words, a "battle of vocabularies" has begun.
We hit upon the idea of a roundtable in order to back the European Parliament's resolution. Den invited Serhii Tomilenko, NUUJ acting chairman; Oksana Romaniuk, executive director of the Mass Media Institute; and Natalia Lihachova, Detector Media editor, to attend this event, but they all refused to do so under all kinds of pretexts, which means that they are not prepared for a discussion. The NUUJ secretary Hlib Holovchenko represented his organization via Skype because he was in Mykolaiv at the time. And next to this article you will find the position of Igor Yakovenko, ex-secretary general of the Union of Russian Journalists (1998-2009) and Den's blogger, who also joined the debate.
In the end, the roundtable drew up an address to the National Union of Ukrainian Journalists and all of the media community. This will perhaps help people understand the necessity of forming an adequate media platform that meets Ukraine's needs in the conditions of information warfare. The responsibility of journalists for a warped reference frame, in which society lives, and the dominance of "collective Durantys" [Walter Duranty was a New York Times journalist who denied the 1932-33 manmade famine in Ukraine. – Ed.] was the debate's leitmotif.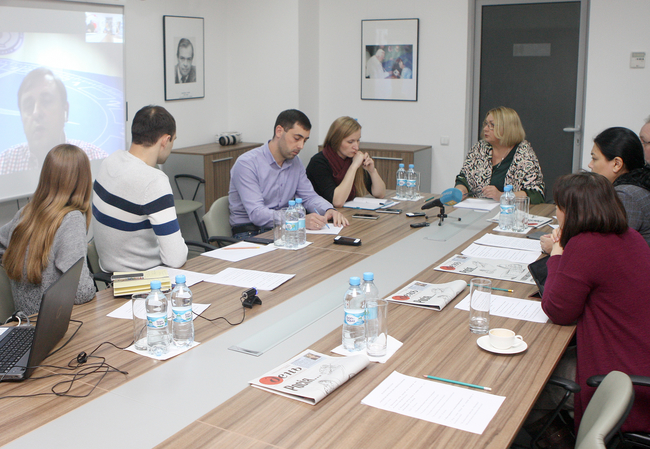 ROUNDTABLE PARTICIPANTS IN REALITY AND IN THE INTERNET / Photo by Mykola TYMCHENKO, The Day
"As a matter of fact, there is a division in Ukrainian politics between 'the party of resistance' and the 'party of collaboration.' In journalism, too, there are the same two 'camps,'" Den's editor-in-chief and roundtable moderator Larysa Ivshyna emphasized. "We should pull together the 'living,' healthy, segments of Ukrainian journalism and create new milieus."
Here are some "extracts" of the roundtable participants' opinions on the state of Ukrainian journalism.
"JOURNALISM MUST BECOME A FACTOR OF NATION FORMATION"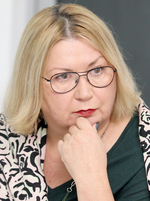 Larysa IVSHYNA, editor-in-chief, Den/The Day:
"As independence was restored, Ukrainian journalism began to turn into a powerful factor of nation formation. But it was put to a number of severe tests, and, as a result, what has in fact been left of journalism is 'slivers.' It failed to stand the test of the 1999 presidential elections, suffered a moral catastrophe after the murder of journalist Gongadze, and failed to find strength for 16 years to put the right questions. And the enemies took advantage of this. Ukrainian journalists, just for a few exceptions, pretended not to see the real risks and dangers. They were gradually sliding into a 'trap.' Now that we have a 'Hrybovychi landfill situation' in the media environment, it is difficult to speak about an ethic commission at all. The only way out is to find people who are outside this discourse and could form an ethic commission that will bring everybody to their senses. There are some honest things that must be said.
"In general, the media mirror the behavior of the Ukrainian state. If journalism cannot allow itself a voice of its own, what kind of voice can we allow ourselves in foreign policy? How can we be a subject [in international affairs] if we are afraid to speak about the most important things in our homeland? It is a life and death question."
"THE AWFUL PASSIVITY OF UKRAINIAN JOURNALISTS SCARES ME"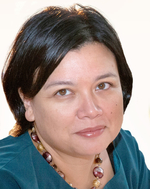 Natalia ISHCHENKO, information volunteer, media expert, observer:
"The problem is that the OSCE 'prescription' is based on a wrong diagnosis. The remedies they offer us are against a different kind of maladies. So, in my view, it is first necessary to make a diagnosis. It is on this point that the Ukrainian media community has conceptual differences – some journalists, media activists, and bloggers are convinced that this country is suffering from Russian aggression and there are some Kremlin-backed separatist enclaves on our territory, and so we must call things by their proper names – it is a war, not an anti-terrorist operation (ATO), whereas others do not accept this and are taking the attitude of 'pseudo-impartiality.' We not only have an armed conflict in the Donbas. We are also fighting at another front – in the information space and, accordingly, any individual who works in this milieu cannot stay out of the conflict. If you work in the media field, you are sure to be taking one of the sides.
"In a 'hybrid war,' our weapon is the word. Some sources are calling on us to disarm and are foisting on us the idea of a 'language of hostility.' This provokes a confrontation in Ukrainian journalism.
"The awful passivity of Ukrainian journalists scares me. Why are we indifferent about the fact that Shuster and Kiselyov, the citizens of other states, speak in European institutions on our behalf? This is a stinging indictment against Ukrainian journalists who are quiet as mice and afraid to defend their right of voice."
L.I.: "But the Ukrainian state is also to blame, for it has failed to lay the groundwork for information security and left the information space as a 'public waiting room.' There is sanitary control even in kitchens, while anybody can enter our media space without washing their hands.
"There is a crisis of vision in journalism. A large number of journalists do not care about what we are speaking about – state-formation, – for they consider it inessential for them. Instead, the care about gaining access to sources, to the pool of people who govern this country. All the rest is of no concern to them. This is why this country has an acute shortage of platforms, where people could say that they want to have a successful and viable country rather than to be a minister or an MP."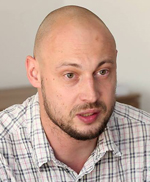 Valentyn TORBA, Den journalist, author of the book I Am an Eyewitness. Notes from the Occupied Luhansk:
"What remains undiscussed is the problem of Andrii Kulykov, chairman of the journalistic ethic commission, who freely traveled to Donetsk. It's a paradox that I, a Luhansk resident, cannot go to my hometown, while he can. Firstly, to what extent ethical is this? And how does this 'ethics' correspond with his appointment as chairman?"
"PUTTING UKRAINE'S POSITION ACROSS TO THE INTERNATIONAL COMMUNITY"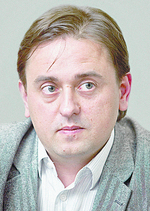 Hlib HOLOVCHENKO, secretary, National Union of Ukrainian Journalists; general producer, TAK TV channel:
"Ninety years ago journalists of the entire world rallied around a document on the principles and standards of professional journalism. The world has thus been adhering to these positions for 90 years. I am convinced that we must make use of the global experience. The Union is now often blamed for taking part in controversial events. We have heard discussions about the wrong behavior of our colleagues and even calls to withdraw from the NUUJ. We must not lose the Union, but I endorse the idea of a new quality.
"We can see today the way Russia is influencing our media environment, and I think we also need a plan of how not to quarrel with each other. Moreover, the Russian media are waging a war to kill Ukrainian journalism as such in order to present us as a conflict-torn and fragmented milieu without a common position. It is a hybrid war against fundamental – not only Ukrainian – journalism. Vectors get blurred eventually, but, for example, although we have heard Council of Europe executives say that a part of Ukraine was occupied, Ukrainian journalists still have to use the term 'ATO' which excluded the factor of war. I think journalists should rally together and, for example, in this case, finally clarify their position and decide on using the term 'war,' which will show that they are aware of the current realities."
L.I.: "Is there a chance now to work for an absolutely new quality of the Union? The textbook, the 'peaceful meeting' of the Ukrainian and Russian unions, is a major disorienting signal for society. Who authorized the NUUJ leadership to take part in collaborationist projects, such as the OSCE-sponsored 'Two Countries, One Profession?' Did you ask your organization's members?"
H.H.: "Yes, I fully support the idea of a new-quality Union. As for the second question, I said at an international meeting that Russian and Ukrainian journalists have different professions…"
"90-YEAR-OLD STANDARDS DON'T WORK"

Serhii MORUHIN, media communications expert:
"We are now in a situation that has never existed before. Yes, the standards of journalism were adopted 90 years ago, but we have entered the era of digital technologies and it turned out that it's all not so simple. This has brought about the problem of counteracting propaganda and public opinion manipulations. There are special structures that intervene in a free discourse and are doing their best to 'switch over' attention, soft-soap, and put certain idea into human minds. Europeans are trying to lead us down the road they passed themselves when they were doing away with totalitarian regimes. But we are living under different circumstances – we were injured long ago. Whenever they call us for the freedom of speech, we should understand that particular forces are working against Ukraine and trying to exercise 'diktat' over the information field."
"YOUNG JOURNALISTS NEED A GUIDE"

Olha LEN, editor-in-chief, NEWSru.ua; TV presenter; blogger:
"All these events – spreading information on the OSCE report, the project 'Two Countries, One Profession,' a low-quality material about Bosnia and Herzegovina on the Do TeBe TV channel – have spotlighted an important problem. Journalists, especially young or those in the regions, need a 'guide' – wise and competent help, an 'adult' position. They often lack experience to interpret correctly certain subtle points. It is important that experts should discuss and put across the crucial issues. It is bad when there is no 'guide,' but it is still worse when it is erroneous, as in the NUUJ case."
L.I.: "These roads were paved by trainings which set a wrong reference point. BBC standards are a very good thing, but the BBC was born from the spirit of Britain. We are sure to set our own standards, but, to start with, we must win the war. We must not vanish and become dependent on Russia, but, to do so, we must take a proper stand now."
"THE MEDIA DO NOT PUT ACROSS THE RIGHT INFORMATION"

Alla DUBROVYK-ROKHOVA, Den's economy section editor:
"A little more than three weeks ago, we held a roundtable, 'Three Years after the Maidan.' Asked why the Maidan failed to win, one of the participants expressed a striking and right opinion: 'We did not know our enemy. We thought that Yanukovych was the one to fight against and that if we overcame him, we would save ourselves.' If we apply this remark to journalists, we must say that people came out on the Maidan with the agenda the Ukrainian media has drawn up for them. The cause of many of our defeats is that Ukrainian journalism does not perform its principal function – to put across the right information."
Ivan KAPSAMUN, Den's politics section editor:
educated, particularly in the contemporary history of Ukraine, and be an active citizen. This is very important when the state is in the making. When journalists adhere to no principles and their position is unclear, they become easy prey to manipulations. A good illustration that allows one to judge about journalists' adherence to principles is the high-profile Gongadze-Podolsky case which Den/The Day has been consistently spotlighting for many years. The attitude of journalists to this case shows lack of consolidation as well as inconsistency and venality. I constantly attend court hearings of this case and can say in no uncertain terms that many journalists, including those of Ukrainska Pravda founded by Georgy Gongadze, ignore court sessions. The Gongadze-Podolsky case is a certain watershed in Ukraine's contemporary history, and the factors that caused the malady of present-day journalism, which became all the more acute when Russia began a war against Ukraine, are rooted in the 1990s, particularly as far as the attitude to this high-profile case is concerned. Therefore, professionalism, education, and position must be the main 'attributes' of a contemporary journalist."
ADDRESS
Participants in the roundtable at the newspaper Den's editorial office and other like-minded people, who have set up the "Ukrainian Journalistic Platform," support the European Parliament's resolution of November 23, 2016, on counteracting Russian propaganda. This document says: "The Russian government is employing a wide range of tools and instruments… to challenge democratic values, divide Europe, gather domestic support and create the perception of failed states in the EU's eastern neighborhood."

What causes bewilderment in this situation is the position of the National Union of Ukrainian Journalists which considers it possible to take part in joint projects (under the aegis of OSCE) together with representatives of the Russian state-run media, which the European Parliament has classified as propaganda resources, under the guise of the necessity to seek ways to "reconciliation," "mutual understanding," and "condemnation of the language of hostility." In our opinion, this sows conformism in society, waters down values, and is in fact nothing but preparation of public opinion for capitulation.

We are therefore urging Ukrainian journalists to take a principled stand: to support the European Parliament's resolution, which unambiguously called Russian journalists "the instrument of a hybrid war against Europe," and to abandon participation in the projects that further promote Russian propaganda.

We are open to communication and cooperation only with the Russian journalists who have publicly condemned Russia's annexation of Crimea and armed aggression in the Donbas and prove their attitude with concrete actions.

We suggest that the National Union of Ukrainian Journalists and we begin a nationwide dialog aimed at qualitatively renewing the Union and finding ways to bring the development of the Ukrainian media community into line with European values and principles.

We recommend that this address be signed, spread, and discussed.

December 14, 2016

Den's editorial office (121-D, Prospekt Peremohy; Kyiv)

Contact Vadym LUBCHAK, Den's web and up-to-date media editor:
---
"Crimea is ours," but where is professional ethics?
By Igor YAKOVENKO, special to The Day, Moscow
May 2017 will see a three-year anniversary of the project "Two Countries, One Profession." It is a series of meetings between representatives of Ukraine's and Russia's journalist organizations under the aegis of OSCE. There have been nine roundtables at which leaders of the National Union of Ukrainian Journalists, the Independent Media Trade Union of Ukraine, and the Union of Russian Journalists passed all kinds of resolutions on how important it is to resist propaganda, not to involve journalists into informational wars, and, what is more, to carefully maintain professional standards and show loyalty to the profession.
The chief project manager, Dunja Mijatovic, OSCE Representative on Freedom of the Media, is very happy about the way her brainchild develops. All she is worried about is, in her own words, the media freedom situation in Ukraine in the past few years.
Representatives of the Union of Russian Journalists are also concerned about the situation in Ukraine. What particularly worries them is that filming crews of NTV, Russia 1, Life News, and other Russian media are being constantly expelled from this country. For this reason, on this union's initiative, joint resolutions include, for example, this kind of demands: "It is inadmissible to suppress the activities of journalists irrespective of the position of the media they represent."
The studios of Russian TV channels have heard for almost three years such statements as "Ukraine is a parody of a country," "there is no such a state as Ukraine," and "there is no such a nation as Ukrainians." In the studios of Russian TV channels, Ukrainian experts, who God knows why come there, are always humiliated on the basis of their ethnicity and nationality, and sometimes even beaten up. Moreover, manhandling foreign experts on Russian TV has been on the rise lately. In fact none of the political talk shows goes without saying that Ukraine will only be united when "DNR troops seize Kyiv and throw the Banderaite junta out of there."
The Russians have been watching and listening to this for almost three years now – about crucified boys, shot-down bullfinches, raped old women, the orgy of Nazism in Ukraine, about those killed for speaking Russian. This television was the main factor that unleashed and keeps up Russian aggression against Ukraine.
Here is a question to those who represent Ukraine in the project "Two Countries, One Profession" – Serhii Tomilenko, acting chairman of the National Union of Ukrainian Journalists, and Yurii Lukanov, ex-chairman of the Independent Media Trade Union of Ukraine. Do you really want Ukrainians to watch and listen to all this? Do you really oppose your country's efforts to cut short the acts of informational occupation which the Russian "informational troops" constantly commit on the territory of Ukraine?
Gentlemen, are you aware of who you conduct roundtable dialogs with in Vienna? The Union of Russian Journalists, a party to these talks, happily approved of the annexation of Crimea and Sevastopol and immediately began to "develop" the stolen territories by establishing its branches in Crimea and Sevastopol.
The rhetoric of this union's top executives differs very little from the parlance of, for example, the Russian Foreign Ministry Spokesperson Maria Zakharova. When the European Parliament was drawing up a resolution on countering Russian propaganda, Timur Shafir, secretary of the Union of Russian Journalists, reacted menacingly to this draft: "Naturally, we will not be standing aside. We will react." And he immediately concretized this threat, saying that this resolution "will sooner or later hit yourselves."
The very name of the project – "Two Countries, One Profession" – is wrong. Indeed, there are two countries, but the professions are different. There is journalism in Russia, but it is not at all in the media which the Union of Russian Journalists represents. There is no journalism on the federal TV channels, in Rossiyskaya Gazeta, Life News, Komsomolskaya Pravda, and in the vast majority of local newspapers and TV channels. We erroneously, by inertia, refer to all these offices as media and to the people who work as journalists. Taking advantage of this misplaced idea, the URJ and "useful idiots," such as OSCE's Dunja Mijatovic, demand that the norms the international community has established to protect freedom of the media and journalism be applied to these pseudo-media and pseudo-journalists. In reality, all these media organizations only serve the authorities and zombiefy the population of Russia as well as attempt, sometimes rather successfully, to fool citizens of other countries.
The Union of Russian Journalists, which Ukrainian journalist organizations conduct dialogs with, is an organization that has firmly sided with a fascist-type state in the past few years. The URJ may periodically pass resolutions in defense of some unjustly dismissed journalists or angrily condemn a new NTV film that denounces the Russian opposition. This allows it to look like an organization that has something to do with journalism. But, what is more, all these statements are totally safe because they have no impact on the addressees – journalists continue to be harassed and NTV goes on telling on the opposition.
The Union of Russian Journalists upholds the traditions of the Union of USSR Journalists established in the 1950s for the only purpose of representing the Cold-War-time USSR in the International Organization of Journalists, an entity that was supposed to counter the International Federation of Journalists that comprised the free world's media people. All the rest – contests, beer parties at the House of the Journalist, and other pleasures of the so-called "Party's helpers" – was a spin-off of the main goal of that-time union of journalists – to use the media for spreading communist propaganda worldwide.
After the collapse of the Soviet Union, the Union of Russian Journalists, which rose on the ruins of the Union of USSR Journalists, was trying for some time to protect the interests of journalists. It would organize thousands-strong rallies in defense of the NTV, with the elimination of which Putin began his first presidential term. Then, when it became clear that Putin had come to stay, the URJ regained its genetic memory, and its leadership reached out to the government with hugs and kisses. The government did not allow being hugged but let the union kiss just the sole of a boot. But URJ bosses were not too much proud – even this made them exult. Now they are doing a customary and favorite job of serving the authorities. Commenting recently on the intention of the BBC World Service to intensify its activities, URJ chairman Vsevolod Bogdanov expressed a hope that they would not fight with the Russian-language media and hastened to tell what wonderful foreign-language broadcasting we have.
"Our foreign-language broadcasting has always been competent and democratic," Bogdanov explained and added that he "could always be proud of the way our media worked in foreign languages." He meant the mendacious propagandistic machine – Russia Today and Sputnik – which has grossed out the whole world with its lies and which the world has at last begun to resist.
It does not befit me, a citizen of the country that annexed Crimea and occupied a part of eastern Ukraine, to give advice to citizens of this country. So I will confine myself to making a request to the leaders of Ukrainian journalist associations. If you need these meetings with URJ leaders in Vienna so much, if you need to discuss the problems of professional ethics with no other than them, please change at least the project's name. For when you read "two countries, one profession" and know who participates on the Russian side, you find it difficult to understand what profession is meant.