Oleh RYBACHUK, member of New Leaders' supervisory board, on civil society and the factor of oligarchs
17 May, 2018 - 10:58
We planned this interview long before the "New Leaders" show appeared, the Supervisory Board of which includes Center.UA and Oleh Rybachuk. His frank statements about the first and second Maidan protests, with which he recently began to appear on air, raised questions. Furthermore, after the Priamy TV channel broadcast a film denouncing Rybachuk as a KGB agent and using cliche techniques so common in Ukrainian politics, we had virtually no doubt left: he had to know something. And this something was likely to hit the whole system hard, were he to dare and speak out.
We met in our editorial office. The conversation lasted more than two hours. On several occasions, Rybachuk stipulated that his story was "not fit for print." But even what has got included in the material which he is ready to make public, is enough to make a media scandal.
We will publish now the first part of the interview, dealing with the "New Leaders" project, reforms and the NGO sector. The second, which will soon appear in The Day, deals with weekly meetings in the Kremlin before the first Maidan, the collapse of the Orange coalition, and gas trading as a scheme for corrupting Ukrainian politics.
"A YEAR AND A HALF AGO, SOME PROMINENT PEOPLE APPROACHED PINCHUK WITH THE IDEA OF THE 'NEW LEADERS'"
Would you, please, explain one detail about the "New Leaders" show, where you sit on the Supervisory Board. According to Svitlana Matviienko's latest interview with Dzerkalo Tyzhnia, it turns out that the logic of its emergence was as follows: an initiative group of 34 NGOs came up with a project that would launch "social lifts," show the public new leaders and then... that group gave its shared intellectual product away to a private TV channel, owned by a very affluent oligarch with a quite toxic background. Why did it happen?
"Your information is completely wrong. The NGO sector was offered a platform."
Aha! So, was it Viacheslav Bohutskyi who came forward with the idea? Or was it Pinchuk himself?
"Bohutskyi spoke to me."
And with whom did Pinchuk negotiate?
"No one. Fine. I can tell you a little more. I will not name people, because I learned it only after the fact. A year and a half ago, some prominent people approached Pinchuk with this idea. This group included politicians who were active in the NGO sector, and one person who was even a cabinet official... That is, it was not his idea. Where did it come from, I do not know. But I know for sure that it unfolded exactly in that way. I am 101 percent sure. Pinchuk summoned Bohutskyi and tasked him with it.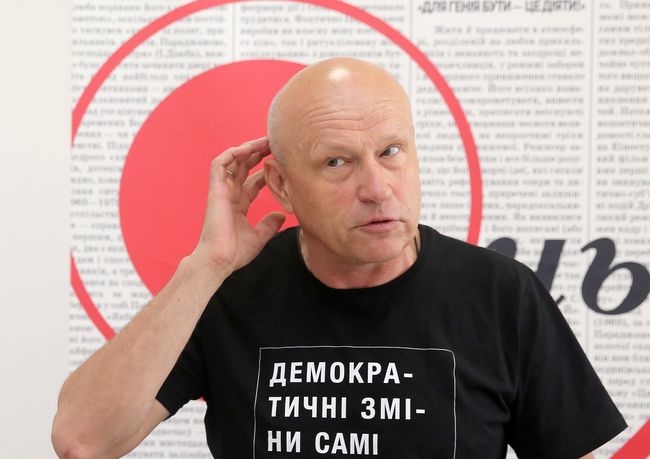 "Meanwhile, I have my own long-standing relationship with Bohutskyi. I have one with Pinchuk as well. It concerns the very culmination of the Maidan. I have already spoken a lot about it publicly. I opened the Yalta Conference in 2005. Then I asked VIP guests in 2008: 'Does the EU have no security issues, the Yalta Conference and all that are global in nature, your own nations are member countries of NATO, or do you think that the subject of security is not important to us?' Leonid Kuchma and Viktor Chernomyrdin were sitting there... They turned red. I was then a deputy prime minister."
Did you hint at Russia then?
"No, I hinted at security. But it was unpopular... They were afraid of Pinchuk. And I was the only one to make such statements. But I was not just citizen Rybachuk. I was the first deputy prime minister, effectively representing Viktor Yushchenko himself... I perfectly understood his [Pinchuk's. – Author] tactics and strategy. And so Yatseniuk's security forum appeared.
"Pinchuk called me in person three times. I went to his first Davos lunch. There were 30 to 40 of our people there. It is only now that it has turned into a mega event."
You said that you understood the tactics and strategy of Pinchuk as exemplified by the Yalta Forum idea; can you say what Pinchuk needs the "New Leaders" for?
"For Pinchuk, the most terrible days in his life are connected with Yulia Tymoshenko. He does not tell anyone about it, but for Olena Franchuk and for Pinchuk, nothing is more terrible than Tymoshenko. And what should they do?
"Another interesting point: Pinchuk told me at a 'New Leaders' event: 'You understand, I do not engage in politics.' To which I replied, 'I understand, it is not politics at all.'"
Stop now. What does it mean, "at a 'New Leaders' event"?
"Well, he was there. There was a meeting of the founders of the public Supervisory Board. It was the first meeting with Pinchuk in attendance. And there the key issue was making it impossible for him to influence the selection criteria. There were no questions addressed to Andrii Yermolaiev on that occasion.
"But the main issue was that the project had to have nothing to do with Pinchuk. And he was sitting there. And Bohutskyi responded to it. For me, this was a key issue, I mean the Pinchuk factor."
"PINCHUK AND VAKARCHUK HAVE FOUND A SHARED INTEREST"
Let us go to the prehistory of it all: I have lost the plot on the NGO-based Supervisory Board emerging at the "New Leaders" show... Pinchuk was offered the idea of a political project. He liked it. He tasked Bohutskyi with it, so what did the latter do? Did he call you?
"No. Time had passed. They consulted for more than six months. Then Bohutskyi called me. It is important for them that the project is successful. Moreover, it is important to understand that even if the Supervisory Board disappears, the project will still continue. They will not stop it.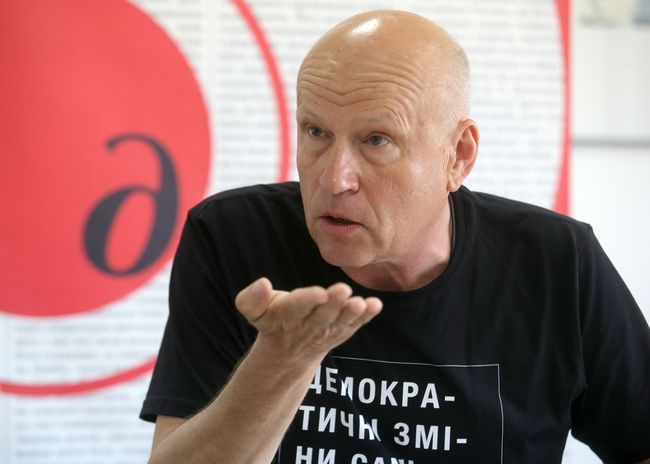 "Meanwhile, at that moment, the initial one, StarLightMedia had a natural question: how to remove the toxicity of the platform. Were the show to be broadcast by a Pinchuk-controlled channel, it would have had exactly zero public trust. That is why Pinchuk repeated a million times to a crowd of civil activists: 'You get a guaranteed PR platform, we guarantee quality work done by StarLightMedia, there are all the best managers there who worked with the best projects, and we have no influence whatsoever on the selection of candidates, on the criteria...'
"I had a question about e-voting, to which they replied that their system would be completely protected, 'we have already invested a lot of money in it,' and StarLightMedia guaranteed that there would be no fake votes.
"I had another question about Sviatoslav Vakarchuk, which I posed to Bohutskyi..."
And why did it occur to you?
"Because the world is a very small place."
Do you think that Vakarchuk is a Pinchuk project?
"They have found a shared interest. Vakarchuk, before entering politics in 2004, totally exhausted me. I spent hours with him. I am really patient. I always asked him: 'What do you need, what do you want?' He could not say anything meaningful: 'Some portrait, a big project, something like that...' 'Do you aim for a seat in the legislature?' – I asked. 'Well, probably no...' I just cannot convey what it was. In the end, my reaction was like this: 'Slava, I advise you against going into politics. I will not recommend you.' And he went through Ivan Vasiunyk. Having joined Our Ukraine, do you know how it ended? He left the party.
"Now, let me talk about AlfaJazz. My sister – I myself did not know that she was close friends with the organizers of that festival in Lviv – once dragged me to this festival, and I really liked it. The second time I was on a tour, and could not care less about the festival. And she called me, saying 'you should have been present at that meeting. The attendees included Pinchuk, Mikhail Fridman, a very narrow circle, and there was a seat reserved for you there. There were a dozen people there. There was Vakarchuk with his girlfriend. It was such a disgusting phenomenon,' said my sister, who did not know all this. And I told her: 'Why?' She replied, 'He groveled in front of them, we were even ashamed. Why did he bring his girlfriend as well?' And then his Stanford trip started, all sorts of shenanigans, including meetings, presentations, discussions... Then the name of Vakarchuk was inserted into opinion polls. People say that Ihor Hryniv did it.
"But at that 10th Yalta summit which I attended, we were entertained by Vakarchuk for three hours."
It was probably quite costly...
"He was already a partner of Pinchuk. This was 2013. And they were no longer hiding their connection. I have the logic and my personal knowledge of Vakarchuk to establish it.
"We then started a conversation with Bohutskyi about the criteria... There was Yaroslav Yurchyshyn there as well, and he believes that Okean Elzy can become a party of power. And so I told them that if it went that way, I would not participate in this project. I do not want to play these games. We produce key criteria, Vakarchuk should not be part of them. When the first presentation was ongoing, Yurchyshyn was a bit alarmed. But I stand for the purity of the criterion. I cannot imagine how Okean Elzy's fan club can be a party of power. Moreover, I cannot imagine how a person can fearlessly go for the presidency if they do not even know what it is.
"I effectively did the job of the president of Ukraine, so I know well what it is. I am not even talking about Pinchuk, because it is clear what opportunities open to him in a man who does not really know all this... It is a classical formula: 'we will help you.'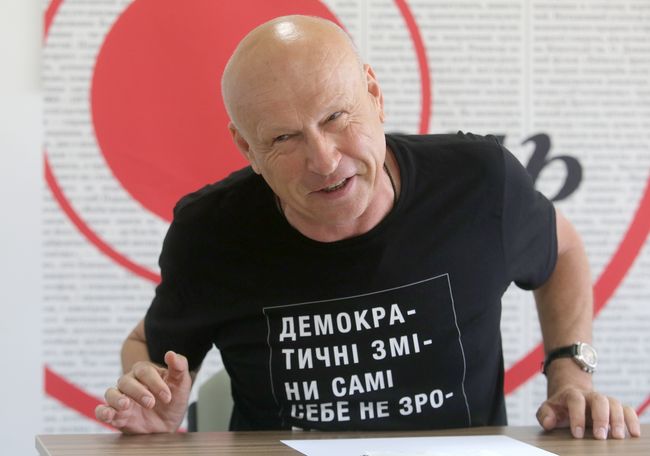 "And at that first meeting, Pinchuk was sitting in the front row, I was two rows behind, and Bohutskyi told me like five times, looking straight into my eyes, that some people had expressed concern that this project was Vakarchuk-led, so he wanted to say that Vakarchuk would not participate in this project. That is, it is obvious that this idea – to promote the Vakarchuk team and Vakarchuk himself – was originally entertained, but then it got ruled out."
"EACH POLITICIAN HAS THE RIGHT TO CHOOSE A SCENARIO OF POLITICAL SUICIDE"
Did not you say that you understood the logic of Pinchuk? What does Pinchuk want to obtain with this project?
"Obviously, he sees something in it. I told you about his greatest fear. Forty percent of voters can no longer be deceived. And if they see something in new leaders, they will rather vote for Anatolii Hrytsenko or someone else. This kind of voters will never vote for such politicians as Tymoshenko and Poroshenko. This is not necessarily a direct consequence, but it moves things. As far as I understand, this project can help Vakarchuk very much. Because I hope Vakarchuk will not enter the presidential election, avoiding such a disgrace. But he will definitely enter the legislative election. And he definitely needs to have a choice, and a team which is already recognizable. He is not a politician at all, and they are not either. If they present a completely new political force, who are they to recruit? Because today, let us look at our Euro-optimists – they are not politicians. They work in a format they have grown in."
Then why did they go there?
"There was public demand for people like them, and they were invited to embellish party lists. This is politics. Each politician has the right to choose a scenario of political suicide. This is what I said to Valentyn Nalyvaichenko when he teamed up with Tymoshenko. Pinchuk started the 'Tomorrow UA' project at the Leadership Academy. I spoke there, as did Yurchyshyn. The Pinchuk Foundation's management is very active in the Leadership Academy, where Pinchuk has invested some money. My son interned at the Yalta Summit with the Pinchuk Foundation...
"For a decade, Pinchuk has been expanding a database including thousands of people who have obtained Western higher education on his scholarships. This is a great asset.
"The 'New Leaders' project will make dozens of people prominent. There will still be a choice. I think it is a chance for them, and that is why Vakarchuk absolutely calmly delivers his less than profoundly meaningful poetic speeches, but he has the right instincts and desires. And in parliament, this risk is less than when you enter a presidential campaign.
"Therefore, I also feel it is important to me that a party appears out of it. And Vakarchuk with all these kids is a better option than Mikheil Saakashvili with his people."
Why are you doing this?
"I understand perfectly from my own experience that the electoral system reform is the magic bullet."
But who should be shot with that bullet?
"The election rules. Viktor Yanukovych's election laws are what they are, and accordingly, we see the absolutely dominant influence of the oligarchs. I really believe that we can only succeed when we have European election rules. And I know for sure that with such a composition of the parliament, which will come from single-member constituencies by half, while one-third of party list seats will be sold to Poroshenko or to the Kremlin – this will be the most dangerous moment for the country. The 'factor of Vladimir Putin' will play a role, as will the factor of a totally unmanageable people (we do have the public demand for justice, after all).
"For Pinchuk, the scenario 'Viktor Medvedchuk is our president,' under which Poroshenko gets a second term, his legitimacy falls to zero, and an uprising takes place – that scenario will be a total defeat for him."
(To be continued)