The Day visits an innovative Swedish children's bibliotheca
3 September, 2014 - 17:17
In a busy quarter of Stockholm, in its very heart, lies the art center Kulturhuset, with its unique children's library, much liked by the local residents and a magnet for tourists. Ergonomic, built according to iconic Swedish designs, this bibliotheca is indeed a wonderful place for any person aged 0 to 18, inspiring thirst for reading in anyone who sets foot across its threshold.
International journalists, invited to the library by the Swedish Embassy in Ukraine and the Swedish Institute, are requested to take off their shoes at the entrance: this area is meant for very young children as well, so everything must be clean, safe, and homelike.
The first rooms are for the youngest. The shelves are low. Mommies, daddies, and their toddlers are sitting on comfortable cushions. Of course, these kids are too young to be able to read, but as they crawl and play around with little, bright books, they are getting used to them. Meanwhile, the parents can read something on education: the books are conveniently placed in the same department.
Further we can see a very important room for children between 4 and 10 years old, the period when the child gets actually used to regular reading. Here the shelves and bookcases are made of oak. The design is unbelievably beautiful: nice stepladders lead to bookshelves, and the children find them fantastic. They can move some of the stepladders around to get the book they want. The books are not crammed full, so it is easier for a child to find the necessary tome. The books (including those by the world-famous Swedish children's authors) are decorated with bright illustrations.
"Our guests must feel at ease here, but we also want to bring in an element of intrigue, via the content of the books and the design of the library, which tempts you to find a snug place and plunge in reading," tells Olena Homer, the director and our guide. She   says that this room is reminiscent of the library at Hogwarts, with its quaint, wondrous atmosphere. Indeed, one feels like in a fairy-tale here. Every visitor can find a cozy, "secret" place for reading: a niche hidden behind the shelves, which allows the reader to stay face-to-face with the book. The literature is placed unconventionally: not in the alphabetical order, but according to children's logic. For instance, on the lowest shelves you can find books about underground animals or reptiles, on the top ones, books about birds.
The next room is for artists. A child can, on his own or with an artist's help, enjoy painting. There are easels and canvas for the purpose. It is no secret that reading is an inspiring process, so this inspiration can be expressed in a picture.
The next room is even more impressive: it is space for teenagers, where reading could be combined with all imaginable hobbies. In the center is a brightly colored tree, all covered in notes from children. Besides the books proper (modern and classical) and fantastic, bright-red multistoried reading constructions, where you can sit or lie, there are lots of other curiosities. Music lovers will find a corner with posters of legendary bands and music instruments. A stage with costumes is for those who would like to perform in a play. In another place you can see a screen version of the book you have just read. Even computers are allowed: here they are regarded only as a means of finding necessary information rather than a rival to the book. Swedish experts believe that in a library the child should not encounter any bans at all.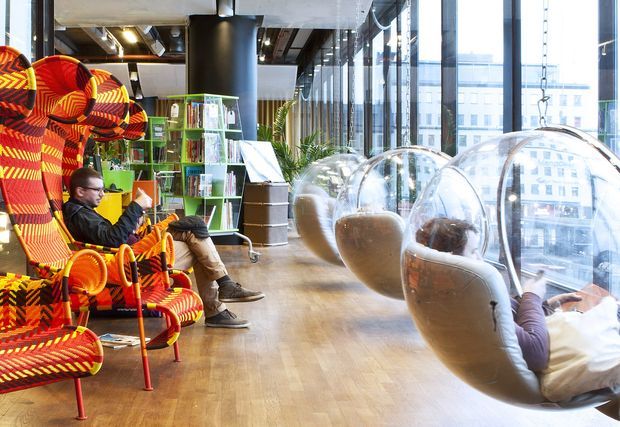 Suddenly you also find there a kitchen, with a long wooden table, fully furnished for making all sorts of delicacies. "In fact, most of the talking about literature and life takes place in the kitchen," say the staff members. By the way, the librarians are very kind and always eager to help. However, emphasizes the director, the staff never impose themselves on their young readers, a child can find a necessary book in the catalogue on his own. In case help is indispensable, a curator will come to rescue. Each of them wears an apron with a name tag at the child's eye level.
"Do you have such libraries also for adults?" a journalist is curious. Of course, the answer was affirmative. Yet it is particularly important to create such exciting places for children. For an adult a library is nothing but coziness and a comfortable interior, while for a child it means his path to the book.
Creation of innovative libraries is one of the government's priorities in Sweden. Despite very high living standards, the children tend to read less and less. Sweden is trying to counter this problem in all possible manners: there even is such a job as "reading ambassador." At the meeting with journalists the sitting reading ambassador, Johanna Lindbeck, gave a detailed account of her job: "My global mission is the promotion of reading among younger children and teens," she says. "In order to become an ambassador, you must be a writer. Teaching experience is also important. Notwithstanding my primary mission, in my daily work I mostly communicate with adults: teachers, librarians, journalists, and politicians. I travel a lot across the entire country, meet people from various regions, and draw their attention to the importance of the promotion of reading. We hold lively discussions on how advanced technology can coexist with the world of the book. Computers in Sweden have long become part of everyday life, children are used to working on them, most have smartphones as well. These are their main source of entertainment, while reading becomes less popular than it used to be. Boys are our particular concern, traditionally they read less than girls, and display more interest in gadgets. There are constant debates in society on how we should meet these challenges."
Meanwhile, the state develops a variety of strategies aimed at evoking interest in literature in children. These include online book catalogues, which attract children with their graphics and options, mobile libraries, literary competitions and exhibits. Since boys need particular attention, interesting experiments were introduced specially for them. For instance, combining reading with soccer. A book by well-known Swedish soccer player Zlatan Ibrahimovic I, Zlatan was insanely popular and all boys were instantly eager to read it. This prompted educators an unusual initiative: obligatory reading classes for members of soccer groups. And it proved successful.
No doubt, Swedish experts will offer a lot of smart ideas concerning the promotion of reading. No doubt, we should take them over, from creation of such libraries to public discussions about the role of the book for children. But most importantly, this should be done not for mere formality, but with a conscious feeling of social responsibility.