Russia began to occupy Crimea four years ago. Archbishop Klyment recalls the events and assesses the situation on the peninsula
22 February, 2018 - 10:32
On January 22, 2018, the Holy Synod of the Ukrainian Orthodox Church, Kyiv Patriarchate (UOC KP), presided over by Filaret, Patriarch of Kyiv and All Rus'-Ukraine, discussed the request of the Right Reverend Damian, Archbishop of Kherson and Taurica, to relieve him of his office on health and age grounds. The Synod relieved Damian of administering the eparchy and appointed the Right Reverend Klyment, Archbishop of Simferopol and Crimea, as Kherson Eparch.
Klyment (born Pavlo Kushch) is known for his pro-Ukrainian stand during the 2014 events in Crimea. Since Russia annexed the peninsula, there have been many changes that adversely affected the local UOC KP eparchy. The Day's interview with Archbishop Klyment focused on the situation with Ukrainian orthodoxy in Crimea, the harassment the church suffered on the part of the self-proclaimed authorities, and his activity in the new office.
Although it is the first interview of Klyment, as chief of the Kherson Eparchy, to a piece of the print media, the hierarch has known the newspaper Den for a very long time. As far back as 2000 he met Klara Gudzyk, a researcher and a longtime Den journalist who has unfortunately departed this life. Our conversation in fact began with this. "As soon as I became the Eparch of Crimea, I granted my first interview to Den, and I spoke to none other than Klara Gudzyk," the archbishop says. "She was the legend of Ukrainian journalism. Unfortunately, there are fewer and fewer professionals, and it seems to me sometimes that people like her no longer exist. Gudzyk was an active and highly-cultured citizen. Besides, she was just a marvelous lady. May the Lord rest her soul, and we will always keep eternal memory of her."
It is four years since Russia began an open phase of aggression against Ukraine. Let us recall those days. When did it become clear to you that Crimea was being occupied?
"I am a native Crimean. I have always had a feeling of war. I can remember the first tension in 2004, when it was written in blue on the walls after the Orange Revolution: 'The Russians are coming.' It was a warning. I spoke of this at the time. Ukrainian statehood was being systematically destroyed in Crimea. It was clear even in 1991. There were no Ukrainian schools or Ukrainian authorities in Crimea, and everything was being done to wipe out the UOC KP. It was a never-ending struggle, when we were forced to prove that we have equal rights. My heart aches for Crimea. It is a festering wound. It is thanks to God, the prayers of the Holiest Patriarch Filaret, and all those who pray for us that we have survived as eparchy, as a Ukrainian community.
"When the 2014 events began, I said to the faithful: do not lose faith, pray. The authorities may change, but God remains eternal. And what happened in Crimea is, partly, the result of fighting against God."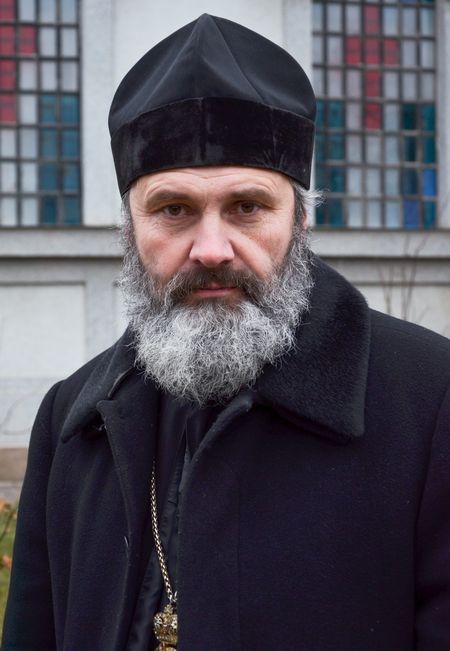 In March 2014 you stood up for a Ukrainian military unit in Perevalne. Would you tell us about that incident?
"On March 3, the Ukrainian community gathered near the Taras Shevchenko monument in Simferopol. We held a rally to celebrate the 200th anniversary of the poet's birth and to support peace efforts. By the way, I watched a video of that event the other day. If you look more closely, you will see and hear a cry from the heart: help and defend us in Crimea! It is important because it is often said today that the Crimeans themselves surrendered Crimea without any resistance. This idea is being imposed on society and falsifies the real events of those days.
"A priest called me from Perevalne and said that some soldiers without insignia were gathering near them. I went there with Anatolii Kovalskyi, a Crimean activist. There were a lot of militaries and pro-Russian civilians who blocked a Ukrainian military unit. I saw that they might beat me up, but I needed to make my way to our servicemen. I walked together with journalists so they could film and photograph if necessary. I reached our guys, blessed them, and stood by the gate. It was hard and terrible.
"Another horrible event of those days was the kidnapping of Anatolii Kovalskyi and Andrii Shchekun, leaders of the pro-Ukrainian movement, on March 9. They were interrogated and tortured in basements by the Russian FSB security service. They were questioned about funding a 'clandestine' Ukrainian organization. The interrogators did not believe that everything was done out of patriotic sentiments only and at the own cost. This perhaps shows a great difference between Ukrainian and Russian societies. We knit together at a time of trouble and stand our ground without losing hope."
What is the situation with the UOC KP in Crimea now compared to 2014?
"There were 50 registered and 20 active religious communities and about 15 priests in 2014. The priests were first to leave out of fear for their children. We faced the problem of the closure of Ukrainian classes. Our children spoke Ukrainian. In schools, other children showed aggression to and badgered them, while teachers claimed that nothing was happening.
"We have preserved nine communities which hold services in the temples located on the Crimean Eparchy's own premises. The premises we had rented or received from businessmen friends were either taken over by the local authorities or transferred to the owners who sold them and left Crimea. The premises were taken over because we are not registered as economic entity of Russia."
Is there any pressure on priests now?
"The situation has calmed down – now, four years later, we know our way around. We hold services, and people come to churches. But we are in a state of uncertainty. I am trying to focus on the congregation and churches. We cannot renovate the premises, for we don't know what awaits us tomorrow."
Were you personally threatened?
"You know, when your country house is burnt down and churches are taken away, when your friends are arrested before your eyes, when you are not allowed to enter the courtroom, what attitude are you expected to take to this? It is difficult psychologically. There is physical influence – when you can be apprehended, beaten up, and then released. But the pressure I am subjected to is perhaps even more complicated. This means you know that they have already given you a 'death sentence,' but you don't know when it will be carried out. And waiting for it is more terrible than the 'sentence' itself."
Did you turn to UOC, Moscow Patriarchate, priests for help? Maybe, some of them showed mercy?
"We maintain no contacts with Moscow Patriarchate representatives. When people obey no laws, what kind of mercy can they show?"
Last year you filed a suit to the European Court of Human Rights (ECHR). What is it about?
"We lost actions in Russian courts – from Crimea to the Supreme Court in Moscow – and the turned to the ECHR. The essence of this suit is that Kyiv Patriarchate believers are barred from religious activity in Crimea. It has clauses about churches in Sevastopol and Perevalne and a cathedral in Simferopol, persecution of priests, and destruction of property.
"We decided to appeal to the ECHR after Rostov court bailiffs, who are working now in Simferopol, had come to execute the decision of the local judge Sokolova on August 2017. She ruled that 112 sq. m. of the cathedral's ground floor, which our eparchy rents, should be withdrawn."
There have been many instances in Crimea of kidnapping, beating up, and otherwise repressing Crimean Tatar activists. Do you help them?
"The most terrible thing about these repressions is that I am powerless. This really depresses me because I am not allowed to be in direct contact. But I am trying to act with what little I have. When Volodymyr Balukh got into trouble, we stood up for him and his family, including in courts. I was not allowed to visit him at the pretrial jail. There were many absurd court rulings: Larysa Kytaiska, Mykola Semena, etc. We are trying to support, but we cannot disclose many things."
What must Ukraine do in order not only to regain the territory of Crimea, but also to win back the hearts and souls of Crimeans?
"First of all, the government of Ukraine must become Ukrainian. They must become statists. Cruel as it may sound, let us not forget that those in power now came to it on the blood of the ones we remember on February 18, 19, and 20. And they remain in power thanks to the guys who are defending Ukraine in the Donbas. If Ukraine ceases to exist, where will they [leadership. – Ed.] be? Billions have not yet saved at least one. Let us not forget that many people have suffered for Ukraine. We went through serfdom, famines, prison camps, wars, and persecutions. For all generations believed in this country.
"In Crimea, I cannot speak badly about all of Ukraine, for it is my fatherland which I love no matter what kind of government is in power. Besides, this would kill the hope there. Each must decide whether or not they love this country. Ukraine is loved in Crimea. They are comparing now the present with the past. Not all can admit their mistakes and repent. But many long for Ukraine deep in their hearts.
"Let us recall the Nakhimov Naval School cadets who sang the Anthem of Ukraine when the Russia flag was being raised or graduates in embroidered shirts. This is what the occupiers are afraid of. If Ukrainian 'shoots' can sprout in the conditions of destruction, they will blossom in the conditions of permission and support. It is one of the recommendations of what is to be done now."
What are your plans about Kherson oblast? Are you going to merge with the Crimean Eparchy?
"There are three main objectives, to begin with: administration of the eparchy, the beginning of the construction of a cathedral in Kherson, and the arrival of the Holy Patriarch Filaret in the fall of this year to lay the foundation stone of this cathedral. It is still being decided where it will be located.
"In religious terms, the main thing to do now is to preserve all that Archbishop of Kherson and Taurica Damian has done. And he has done very much: he created a strong eparchy in fact from scratch. I liked the clergy as I visited the oblast. These faithful people love their occupation. We will continue to work for expansion. The people in the Kherson region are very good. I'd like to thank Oblast Administration Chairman Andrii Hordieiev. He was the first to phone and ask what help he could offer. It is a real pleasure when you are supported instead of being beaten and harassed.
"The unification with the Crimean Eparchy is not on the agenda. These are different directions of work. I will continue to live and officiate in Crimea and deal with the local Orthodox Ukrainians. And I will also pray that God endows me with strength to work concurrently in Kherson."