A supreme intrigue
What should President Petro Poroshenko do to get a second term?
19 April, 18:14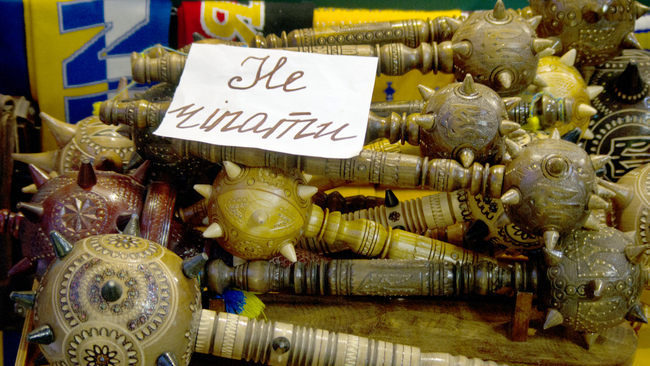 "Is there any doubt that Mr. Poroshenko will run for a second term? To my understanding, there is none. The president will run for a second term, and it is a terrible and great responsibility," the then leader of the pro-presidential Petro Poroshenko Bloc (PPB)'s faction MP Ihor Hryniv declared past summer, as reported by pravda.com.ua.
"Will Poroshenko run for a second term? Well, is there any alternative?" head of the Presidential Administration Ihor Rainin was quoted as saying by ukr.lb.ua.
"I am convinced that President Poroshenko will run for a second term and win it," the PPB's deputy faction leader Serhii Berezenko added, when asked by glavcom.ua.
The president himself made no clear statement on the matter. However, back in November 2015, he said in an interview with the Dutch newspaper NRC Handelsblad: "After my first or second term as president, I dream of becoming a Ukrainian member of the European Parliament." Poroshenko also suggested that this could happen in 2024. According to the Constitution of Ukraine, the next presidential election is scheduled for 2019.
Judging from the above statements, it appears that the current president plans to run for a second term after all. To date, Leonid Kuchma is the only president who managed to get reelected. However, this was done through "black political technologies" and fraud. That is, Kuchma and his team used the Russian-invented "red threat" technology in the 1999 campaign (it was Gennady Zyuganov against Boris Yeltsin in 1996 there and Petro Symonenko against Kuchma here).
"I served as chairman of the Commission on Electoral Law Compliance during the presidential election of 1999, so I can say that the 2004 election was much 'cleaner' than that of 1999. The 'Kuchma system' put many obstacles in the way of the emergence of new political forces and moral politicians," MP of the 2nd and 3rd convocations of the Verkhovna Rada Oleksandr Yeliashkevych said in an interview with Den/The Day (Den's No. 111, June 26, 2015).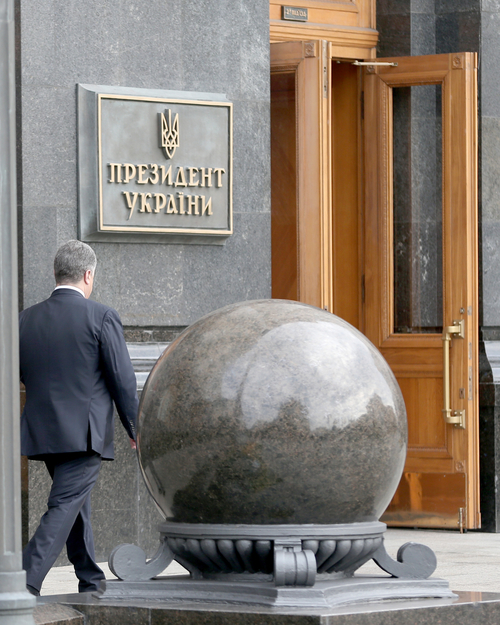 Photo by Ruslan KANIUKA, The Day
Let us recall that Poroshenko was elected in an early presidential election held in May 2014, when Russia was actively engaged in military aggression against Ukraine. It was one of the few occasions in modern Ukrainian history when our society demonstrated maturity and consolidation in a difficult time for the country, and elected a president in the first round of the voting (even though opinions differ in the hindsight regarding the appropriateness of that decision). Poroshenko got almost 55 percent of the vote then, winning in absolutely all regions of Ukraine.
Has he proven himself worthy of his people's trust? According to the latest poll, the current head of state still has 11.9 percent of the electorate supporting him (among those who intend to participate in the election). In comparison, Yulia Tymoshenko has 11.1 percent of the vote to Yurii Boiko's 8.4 percent, Anatolii Hrytsenko's 7.2 percent, Oleh Liashko's 6.1 percent, Vadym Rabinovych's 5.1 percent, Andrii Sadovyi's 4.5 percent, Volodymyr Hroisman's 4.2 percent, Nadia Savchenko's 2.7 percent, Arsenii Yatseniuk's 2.7 percent, Dmytro Yarosh's 2.1 percent, and Oleh Tiahnybok's 1.5 percent. The opinion survey was conducted in December 2016 by the Razumkov Center and the Democratic Initiatives Foundation.
So, given that the theme of Poroshenko's second term surfaces in political discourse every now and then, we asked MPs (incidentally, even though Ukraine is a parliamentary-presidential republic, the Verkhovna Rada has not become a body that would balance presidential power, because virtually all the key decisions are still taken on Bankova Street, the seat of the presidency) and experts whether Poroshenko was likely to get reelected. And if so, what should he do to make this happen?
"Poroshenko is well aware that to get a second term, he must achieve extraordinary results," Ihor Hryniv said in the abovementioned interview. "Trust in the authorities has ebbed, people have become more critical of the government's actions, and government responsibility is an increasingly popular issue... Without real reforms, without an open position, he will find it rather hard to get a monument built in his honor and enter the Ukrainian history."
"POROSHENKO MUST TELL THE PEOPLE WHAT HE HAS DONE OVER THE YEARS AND WHAT HE WILL DO NEXT"
Leonid KRAVCHUK, the first president of independent Ukraine:
"Poroshenko has to stand before the people and tell what he has done over the years and what he will do next. There are two possible ways to elect a president: through a popular vote or through MPs as representatives of the people. The second option requires a constitutional reform. But now is not the time. What we really need now is the president realizing that he should not meddle in other people's affairs. He has his duties to perform. For example, he appointed Natalia Korchak as head of the National Agency for the Prevention of Corruption. On what grounds? Where is it written in the Constitution that he has the right to appoint to this position? Accordingly, Korchak believes that Hroisman cannot demand anything from her. You cannot govern the country in this way. This is a big problem when the president is trying to subordinate everything and put his people in all possible positions. This way will not lead to development but will rather make the government a closed system. This impasse may cause a government crisis."
"THE PRESIDENT MUST TURN THE PAGE ON THE PAST"
Maksym ROZUMNYI, Doctor of Political Sciences:
"One should understand how politics is played in Ukraine. The key objective is to deploy political technologies to prevent the emergence of more attractive alternatives. This requires political technological tools, no matter how cynical it sounds. Unfortunately, there is no indication that politics in Ukraine will be played differently. This is what I have to say regarding the practical side of the issue. Talking about theory, I think that the president should recall his own campaign's main slogan: 'Living in a new way.' He needs to set an example, show that besides the post-Soviet values, there are new ones. That is, he has to turn the page on the past, to get rid of the baggage of the previous age. Poroshenko needs to show his willingness to enact new rules, particularly in politics. I mean valuing the common, public good over the private one. Poroshenko will be easily able to talk the talk, but will he be able to find and show a specific example of such transformation? A lot will depend on it, not just his second term, but the fate of the nation, too. This is his key task.
"The fact that the president fills the key positions with people from his inner circle is not damning in itself. Our political class is so entropic that it is difficult to find reliable people among them. Very often, one finds there double-dealing people who exhibit abnormal behavior. Another matter is, what are the objectives of the team that has been formed on the basis of personal trust, loyalty, and closeness to the president? If it is just another group that fights for resources, it will have negative consequences. Otherwise, if it strives to protect the national interests, it will only reinforce the cooperation effect. The president experiences some sort of harmful insularity. Despite his famous eloquence, he seems separated from society. This includes appointing people from his inner circle alone to key positions. This breaks his link with society, makes it impossible to explain clearly his intentions to the people and accordingly hear their response. He is not used to explaining his actions, and therefore is not perceived as someone who does his job earnestly. As a result, the public sees him as a skillful and professional person, but one with unknown intentions and interests. Getting rid of this image is very important for him, if he really desires to be reelected."
"HE NEEDS TO END THE WAR"
Artur PALATNYI, MP, the PPB faction:
"For Poroshenko to secure the votes, he needs to end the war. People are tired of it, of fighting, of constant reports of dead and wounded. The war affects economic crisis and tariff increases. Of course, until the Donbas is recovered, the war will not stop. The Donbas recovery strategy cannot be based on military operations. While Russian troops are there, we will achieve nothing through military means, since we face a very powerful aggressor army. Accordingly, the only effective way is that of diplomacy. Of course, we will have to make some concessions, which means talking to people we do not want to meet with."
"I WOULD ADVISE POROSHENKO TO STICK TO HONEST BUSINESS INSTEAD OF RUNNING FOR ANOTHER PRESIDENTIAL TERM"
Serhii VLASENKO, MP, the Fatherland faction:
"I do not see Poroshenko as a politician or statesman. He said himself that he had spent 20 years doing business. He has continued to do business while serving as president. Therefore, I would advise him to stick to honest business instead of running for another presidential term.
"Social networks are currently in uproar about Ukrainian singers performing in Russia. I certainly do not support these performances and believe that this practice should be condemned. On the other hand, how can we criticize or condemn singers, if the president himself has working businesses in Russia? We must start housecleaning at the top. It is more than just Lipetsk Confectionery Factory. Look at his tax returns, he owns dozens of companies that operate in Russia."
"THIS COUNTRY NEEDS A STRATEGY"
Yurii SHUKHEVYCH, MP, Oleh Liashko Radical Party faction:
"It is much too early to talk about the second presidential term for Poroshenko, because he may not finish the first one. The situation is complicated because an early parliamentary or early presidential election can happen at any moment. Poroshenko has had enough time to do something, but has done nothing. Corruption has become even worse than under Viktor Yanukovych. The Minsk II Agreements have got us into an impasse, but Poroshenko holds to them to the last. Do he and the cabinet have any national development program? Do they have a vision of resolving the situation in the occupied territories? The answer is 'No,' as we see them just talking. The president boasts of the agreement with the EU and visa-free travel. But what good are they for solving our problems? This country needs a strategy. No one, in Europe or elsewhere, will do our work for us. Unfortunately, the president goes with the flow. Take, for example, the story of the 'blockade.' He was against it, but has come to lead the 'blockade.' lately. This behavior exposes a lack of vision."
"WE SHOULD ENSURE THAT PRO-RUSSIAN FORCES DO NOT RETURN TO POWER"
Mykola KNIAZHYTSKYI, MP, the People's Front faction:
"People came to Independence Square demanding the return of the old Constitution, which effectively had to secure a parliamentary-presidential system for the country. We now live essentially in a presidential republic, although the Constitution has seemingly been amended. The president controls the pro-government faction and MPs are used to focusing on one person. I do not think that Poroshenko is our worst president, but I have a lot of issues with him now. We should ensure that pro-Russian forces do not return to power. If the presidential powers remain as broad as they are now, the next holder of that office will be able to turn Ukraine towards Russia. Therefore, it is necessary to amend the Constitution and transfer a significant part of these powers to parliament and cabinet."
"HE NEEDS TO DEAL WITH THE OLIGARCHS. LET THEM PAY A SURCHARGE FOR UNDERVALUED ASSETS"
Viktor CHUMAK, independent MP:
"The president must carry out a political reform. It is important that people see that the president does not think about his reelection, but rather about the nation. That is, that he sincerely cares about the legacy of his presidency. We need a law that will regulate the procedure for impeaching president. His duties ought to be shared with the Cabinet of Ministers, the National Bank of Ukraine, the Security Service of Ukraine, and other agencies. At the same time, it is the head of state that ought to be responsible for anti-corruption policy. He should not monopolize power and deal with everything. This negatively affects performance. The president needs to deal with the oligarchs as well. Let them pay a surcharge for undervalued assets which they acquired in a non-transparent manner in the time of voucher privatization, or let them transfer money from offshore accounts to Ukrainian banks at least. Then, the people will trust him."
***
Perhaps it would be easier to get elected today if one refrains from fundamentally changing the country (we mean real reform, which in any case is risk-laden, but still should be carried out, since there is no alternative). However, the country only loses from it. One may not keep doing cosmetic repairs and engaging in empty promises and PR efforts over the years while eliminating quality alternatives in many fields. If endless political scandals continue, the public will lose vigilance and abandon critical thinking, which is dangerous. The public needs clarity from the government, including the issue of the second term for Poroshenko who has already passed the midpoint of his presidency, and it needs a vision of the national development strategy as well.