Iryna Kliuchkovska on the 70th anniversary of the deportation of Ukrainians to Kazakhstan
13 November, 2017 - 17:48
The Ukrainians are marking several sorrowful dates in 2017, including the 70th anniversary of Operation Vistula, the 80th anniversary of the beginning of mass executions in the Sandarmokh forest massif, the 85th anniversary of the Holodomor, and the 70th anniversary of the deportation of Ukrainians to Kazakhstan. There are a lot of sore points in Ukraine, and each of them must be spoken of at all levels.
A large Ukrainian delegation left for Kazakhstan in October to frankly discuss long-standing worries and pressing problems with Kazakh academics and the Ukrainian community in that country. The Pastorate and Migration Department of the Ukrainian Greek Catholic Church, with support from Ukraine's Embassy in Kazakhstan, organized a series of events to mark the 70th anniversary of the deportation of Ukrainians to Kazakhstan. In particular, that country hosted a forum of Ukrainians, "Spiritual and Cultural Identity of Ethnic Ukrainians in Eastern Europe, the Middle East, and Asia: Yesterday, Today, Tomorrow," and the workshop "Deportation of Peoples in the Epoch of Totalitarianism: Historical Lessons."
The Day spoke with Iryna KLIUCHKOVSKA, director of the International Institute of Education, Culture, and Diaspora Relations at the Lviv Polytechnic National University, who spent five days in Kazakhstan as part of the Ukrainian delegation, about the way the repressed were honored and the migrants were consolidated.
 "THE DEPORTATION OF UKRAINIANS TO KAZAKHSTAN IS INSUFFICIENTLY EXPLORED IN UKRAINE"
Ms. Kliuchkovska, we know that, in addition to being a professional and civic duty, this visit was also of a personal nature to you.
"Yes, it was a special journey for me – from the professional viewpoint, as you aptly noted, and because I myself come from a deported family. The Karaganda events were held to mark the 70th anniversary of the deportation. This mass-scale action, codenamed Operation West, included a forced resettlement of almost 180,000 Ukrainians from Western Ukraine in 1947, a true ethno-demographic disaster for the region which was being 'cleansed' of OUN and UPA members and their families. Speaking at the workshop that focused on the 1947 events, I pointed out that it was only one of the waves of deportation. My family had come under repression in the previous waves. My grandfather Fedir Kuzyk, an OUN member, was arrested and sent to a Karaganda prison camp in 1939. My grandmother and two children were deported in April 1940. They found themselves in Pavlodar oblast – the opposite part of Kazakhstan. Families were thus torn apart so that family members could not stay in touch with one another.
"In Kazakhstan, mum's brother Ihor was first arrested in the village of Maikain, Bayanaul district. He was tortured but then freed when he came of age. We still keep his portrait charcoaled on a piece of cloth by his cellmate. After he turned 18, he was arrested again. My grandmother had to walk almost 200 kilometers in a hope to see him, but she was told: 'The prisoner has no right to correspond and was sent to coalmines.' There was some information later that he was in Zhezkazgan and, maybe, took part in the 1954 Kengir uprising that was crushed with tanks. But I still failed to find any documentary proof of this. Grandfather was arrested again and died in Novosibirsk. I also failed to find the place of his burial. I will still go on trying to trace the ways of grandfather and uncle. So far I have very scarce information.
"Only my grandmother and mother survived after the deportation. They came back to Ukraine in 1946.
"Whenever I recall Kazakhstan, I seem to be speaking about one more member of my family. Ever since I became aware of myself, I've always remembered that our family had grandmother, mother, father, we – children – and… Kazakhstan. This is why I am grateful to the organizers for the opportunity to travel there and see the country, visit the places of former prison camps which thousands of people of different nationalities came through. That was not a tragedy for Ukrainians alone. Poles, Germans, Chechens, and representatives of many other nationalities were also deported. After all, Kazakhs were repressed, too.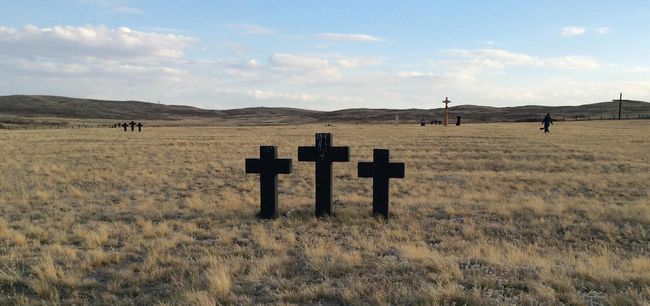 THE SPASSKOYE MEMORIAL CEMETERY, WHERE KARAGANDA LABOR CAMP PRISONERS LIE BURIED
"People from all over Europe should tour this place – they must not forget what the empire, which is now encroaching on our state, was and still is like. This would be a good warning to Europeans and could help them change their attitude to Ukraine and understand our current situation better."
The history of the Ukrainians deported to Kazakhstan has not been sufficiently studied. Can we expect progress in this matter in the near future?
"One of the complaints of Kazakh historians to their Ukrainian counterparts is that, although archives are open, the question of deportation to Kazakhstan is still not being studied sufficiently deeply and comprehensively in Ukraine. Their historians are not in a position to work with archival sources because there is a more-than-50-year moratorium in force. It is possible to get a reference note on the deported and arrested, but when I applied for one, I received no reliable information about my family. Admittedly, there are no adequate conditions for a profound and systemic exploration of the topic.
"It is important that historians from both sides have met and agreed on joint research. In particular, there was a proposal to request Kazakhstan's President Nursultan Nazatbayev to open a part of archives. I hope the conference will trigger fruitful cooperation between the two sides in order to make a joint intellectual historical product for the benefit of both nations."
"AN OUTRAGE AGAINST NOT ONLY THE DEPORTED, BUT ALSO THE KAZAKH LAND"
The repressive system committed an outrage against the deported… Did this tragedy leave scars on Kazakhstan itself?
"The vast territory of Kazakhstan was strewn with prison camps. But nobody asked the Kazakhs if they wanted their land to be turned into a torture chamber and a graveyard. It is a rich country. The Kazakhs say there is the entire Mendeleev's table beneath their feet. However, their land was turned into a continuous prison camp stacked with bones. When we were on the way to the memorial cemetery in the village of Spasskoye, we saw a man pick up an object that turned out to be a human bone. It was an outrage against not only the dignity of the deported people, but also the Kazakh land and people.
"There, in Kazakhstan, I understood one thing very well: we must speak about all of our sore points. You remain alive as long as it hurts. We will only heal up and undergo a catharsis if we go through all of our sore spots."
The deported were people of different ethnicities and denominations. What do you think of the cooperation of churches in the Kazakh context?
"I'd like to emphasize the ecumenical cooperation of churches. Indeed, there were people of different faiths and denominations there. But there were no conflicts between them.
"For example, among the deported were the Germans who were asking for permission to build a Roman Catholic temple in Karaganda for 20 years. They were rehabilitated in 1957, but it was not until 1977 that they were granted permission. This Roman Catholic temple was built with the help of and used by people of various faiths, including Orthodox and Greek Catholic Christians. The Greek Catholics were given time for divine services there until they built a church of their own.
"We were highly pleased to see in the Greek Catholic church not only the Greek Catholic clergy, but also a Roman Catholic nuncio who took part in the service for both the dead and the survivors. The nuncio went on to pray together with our people in Spasskoye. These things are of great symbolic value. I think it is a positive signal when people stop quarreling, choose spirituality as a model, and leave no place for interdenominational conflicts.
"Also symbolic was the construction of a monument to the deported Ukrainians to mark the 70th anniversary of their deportation to Kazakhstan. It was unveiled on the territory of a Ukrainian church in Karaganda. It is not only a sign of remembering those who drained the cup of woe, but also a sign of Ukrainian presence.
"It is important to me personally that there were a lot of divine liturgies: requiem services were performed for all those who departed this life in the terrible conditions of prison camps. I came back to Ukraine with a certain feeling of relief."
"A STRONG IMPETUS TO STIR UP UKRAINIANS IN KAZAKHSTAN TO ACTIVITY"
How did the Ukrainian community in Kazakhstan react to the forum's initiative? How does the community fare?
"The forum gathered Ukrainians from many regions of Kazakhstan. An estimated 300,000 ethnic Ukrainians are living there – they include descendants of the deported as well as those who moved there under other circumstances. Unfortunately, they are undergoing noticeable assimilation. It was believed before we gained independence that there were 900,000 Ukrainians in Kazakhstan. Where are the remaining 600,000? A considerable part of them have assimilated and many are moving to Russia.
"Kazakhstan is a country to which very few people are migrating today. As a result, the community is short of 'fresh blood' and reinforcement. Do not forget that migration is always double-sided. On the one hand, it is an outflow of people from Ukraine. Experts are speaking of a demographic catastrophe caused by major outflows of people, which poses a threat to Ukraine's national security. On the other hand, this greatly reinforces the communities that reside outside Ukraine. Given a proper strategy, these communities could become an effective instrument for achieving our various goals, including those in foreign policy.
"Preservation of national identity is a matter of serious concern for the Ukrainian community. Father Vasyl Hovera, Apostolic Delegate for Greek Catholics in Kazakhstan and Central Asia, has been addressing this problem for 20 years. We have a lot of jointly-conceived projects. Particularly, our teachers have been traveling there for four years to conduct summer classes with the children Father Hovera gathered all over Kazakhstan. If we manage to raise enough funds, we will organize a trip of these children to Ukraine. This person is not only a clergyman – he works hard to consolidate the Ukrainian community and make it preserve its Ukrainian identity.
"It is important that the forum was held the day we remembered this tragic page of our history. It prompted many people to reenter the Ukrainian milieu. This occurred right before my eyes. For example, a gentleman read an announcement of the forum and came just to listen. As he lived in Kazakhstan, he forgot the native language. Nor do his children speak Ukrainian. He said to me after participating in the events: 'Well, I want to be in the community. I want to regain my language. I want my children to know where they come from.' Undoubtedly, these events were very important not only to those who came from Ukraine, but also to the locals.
"Incidentally, Kazakhstan has favorable conditions for ethnic minorities. Ukrainian communities have free-of-charge premises in their Houses of Friendship, where they can gather and hold their events. True, there are not many Ukrainian schools – they are mostly in the shape of Saturday or Sunday institutions. But the root cause is that Ukrainians do not reside compactly in Kazakhstan. Yet they do have conditions for community development. Very much depends on the activity of people themselves – whether or not they want to deal with things Ukrainian.
"What took place in Kazakhstan were not just pro-forma events. They pursued concrete goals. Naturally, it was the 70th anniversary of the deportation. At the same time, it is also about the consolidation of the Ukrainian community in Kazakhstan. It was a strong impetus to stir up Ukrainians in Kazakhstan to activity. But, to be successful, this endeavor needs not only favorable conditions, but also such an important thing as continuous joint efforts and interrelationship between the state of Ukraine and the community."