Viktor BOGORAD discusses his new award and the current Russian authorities' attitude to the caricature art
11 April, 2018 - 15:53
Our long-standing contributor, well-known Russian caricaturist Viktor Bogorad, whose ironic-philosophical style is well-known and loved by many of our readers, won a new award in his native city of St. Petersburg. He became the winner in the category "For Contribution to the Development of Journalism" at the Golden Pen Competition. In addition, as noted by the lenizdat.ru publication, "prizes in this category usually go to leading authorities of St. Petersburg journalism, whose words and deeds have enjoyed general recognition in the professional milieu. However, this year's prize did not go to a journalist." In this connection, Bogorad's colleague and friend Viacheslav Shilov wrote on Facebook: "We caricaturists have long tried to convey to the organizers of the competition that the caricature art deserves to be nominated, that this genre needs fortitude, courage, and honesty..."
 The Day contacted Bogorad to congratulate him and at the same time ask about his attitude to this award. After all, the contest can be said to be state-sponsored, and it recognized the caricaturist whose work, whether you want it or not, stands opposed to any government.
"This is an award of the Union of Journalists of St. Petersburg, I emphasize. This is not a purely state award," Bogorad clarified at once. "Of course, the Union of Journalists has a certain connection to this state, but still, it is an award of the Union of Journalists as an NGO.
"I have won this award, but I treat it as a 'long service distinction.' It is so given that my first publication was in 1973, when the city was still called Leningrad, and almost all journalists know both me and my work. I was nominated for the Golden Pen Grand Prix in 2015 as well. Now, they decided to finally recognize my contribution to journalism with this prize. Of course, people delivered speeches there which made me say that I felt an elder, an Egyptian pyramid."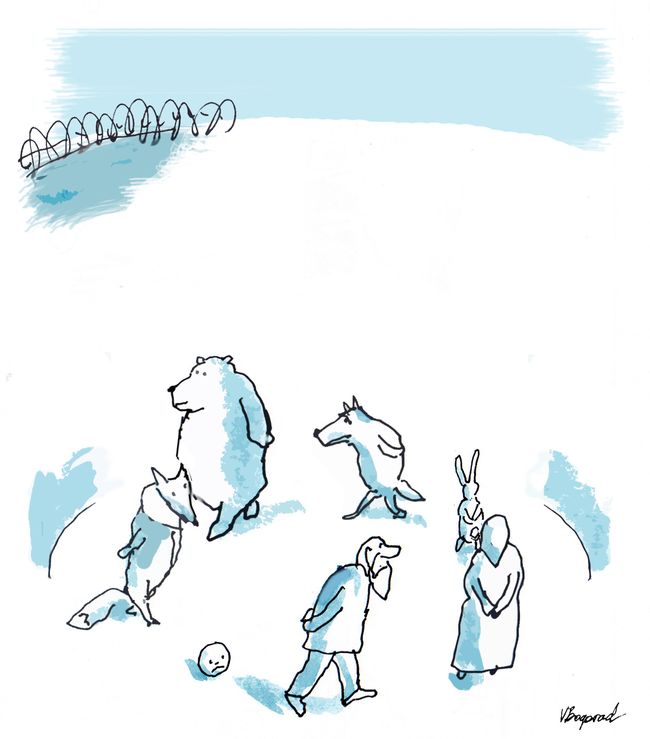 Sketch by Viktor BOGORAD
 In our previous conversation, we talked about the success of the project Je Suis Dog, Je Suis Cat [I Am a Dog, I Am a Cat. Let us recall that this is an album of caricatures featuring pictures of dogs and cats side by side, which was financed by crowdfunding. – Author]. Do you already have new ideas, perchance? What book projects are you currently working on?
"It was a very successful project. Myself and Shilov [co-author of the project. – Ed.] have got invited to go to a book fair in France next year with this project. That is, we will need to print more copies, because we have not a single one left.
"A new book by Leonid Pesk, which I have designed, should come out soon. It is very interesting, and its title is And Where Is the Parachute Ring? This is a collection of ironic essays, featuring a symbiosis between verbal and visual text. That is, his text is verbal, and mine is visual. It is such a combination. A very interesting experiment.
"And secondly, a philosophy-themed book from the series 'ABC of Concepts,' which is published by the European University in St. Petersburg, will be released this May. This will be the sixth book in the series, called 'The State.' It discusses what the state is in terms of philosophy, and offers a general approach to the very concept. Prior to this, there were books in the series on what democracy is, what authority is, what history is, and so on. This is a very interesting project, and I am happy to work for it. I translate these most philosophical notions into pictures."
 The caricature art continues to be popular in the world media. Now, what is the place of genuine, propaganda-free caricature in the Russian cultural space? Is not your victory in the Golden Pen's category a sign that its scope is expanding?
"Overall, this is a very strange story. I am not a member of the Union of Journalists, I am not a member of the Union of Artists either. I am absolutely on my own. And this is a very important point. Despite this, yes, I have won a prize from the Union of Journalists, and last year I received an honorary academician degree from the Russian Academy of Arts. That too, as they say, is terribly weird, and surely so for me. As I now joke, I now have a reason to argue with the customer by citing my status as an authority.
"Speaking frankly, I mock the state, and the state gives me prizes. And I think that both the state and I feel awkwardly when doing so."
 And what can you say about the existence of the true caricature art now in general? As before, a large segment of it is, of course, propaganda, is not it? Does the ratio change?
"Big segment is made up of propaganda. Moreover, since caricatures related to propaganda are usually made by people of rather average talent, all attempts to unite it somehow, to create a magazine or something have failed, ending with money spent in vain. After all, in order to do a good caricature, one should not be a propagandist. And in order to get a successful project going, good caricatures are needed. This is incompatible.
"Therefore, caricatures are very few in Russian publications today. They are, of course, present on the Internet. There are ones made for the RIA Novosti news agency, and they are propaganda. There is Sergey Elkin, who publishes his works on the Deutsche Welle's website. There are good works that caricaturists do on the Internet. But in print media, caricatures are going extinct, or have gone already. I was asked recently: 'Has someone caricatured our governor Georgy Poltavchenko?' I proudly said: 'Yes, I caricatured him five years ago, at the request of a newspaper which decided to expand its audience by commissioning it.' It was kind enough. That is, ironic, but not vicious. And they printed it on the front page: here you go, we are the first to publish a caricature of our governor. Five years have passed, and nobody has printed anything like that again. That is, I made history five years ago, and so it remained.
"As for everything else, I can only envy Ukraine. You have many very fine caricaturists. They get published a lot and it is great. This is what we had in the 1990s, after Boris Yeltsin was told that he should not be offended by caricatures of him, and everything was fine.
"Now the editor will think twice before publishing some caricature, because some lunatic will believe that it offended their personal feelings, and will sue. And our government likes to overblow things, because low-ranking officials need to make a career out of something. That is, the caricature art has become a pretext to feel offended. You drew a policeman, therefore, you offended a policeman. If you drew a priest, it is even worse, as you offended all religious feelings. I do not understand at all why we cannot offend non-religious feelings of an atheist. Probably because an atheist is no longer seen as a human being. (Smiling.) But this attitude is weird: they say that the caricature does not laugh, does not ridicule. No, it offends.
"I repeat, for me it is a strange moment that I get awards from semi-governmental bodies. It feels that I give them a slap, and they give me a prize for it, or shake my hand. It is some kind of masochism, of course."