Celebrating Bulgakov's name day on Andriivsky
From Archangel Michael to The Heart of a Dog
25 November, 17:41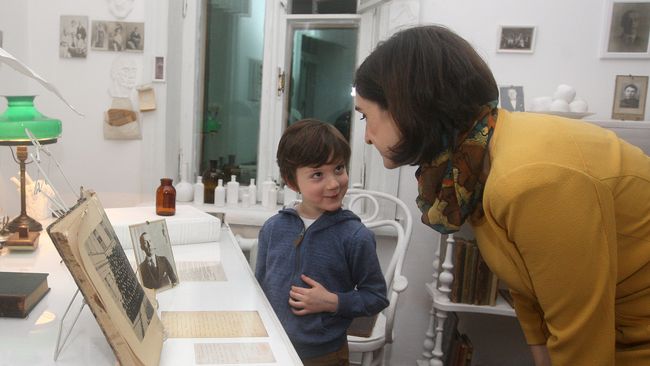 A museum in Ukraine is a conservative concept, quite fitting the conventional view of a strictly hierarchic institution, where an exhibit dominates an individual, while ideology dominates the exhibit, and where distance (temporal, spatial or social) is an underlying principle.
Worldwide, this has long been different. Hierarchy is being ousted by interactivity. At a contemporary museum, the exposition speaks to visitors in dozens of ways, turning visiting into a thrilling, multilevel intellectual game.
One of the few Ukrainian museums run exactly on this principle is the Mikhail Bulgakov Literary Memorial Museum on Andriivsky Uzviz, also known as the Turbin's Home. In fact, it is a home, with its cozy, domestic atmosphere, which is nevertheless loaded with intense intellectual work.
Past Saturday, the Museum saw a celebration of Mikhail Bulgakov's name day, traditionally held on St. Michael's day (Archangel Michael is Kyiv's patron saint). The festival was themed around The Heart of a Dog, a novel written exactly 90 years ago. This biting sci-fi satire tells the story of a failed attempt at creating a "New Soviet Man," with a likeable stray Sharik gradually transforming into a Bolshevik churl Sharikov. The Soviet censorship prohibited to publish the novel; in particular, an OGPU (secret police) agent, present at the reading of the manuscript at a literary meeting on Gazetny Lane, described it as follows: "Such things, read in Moscow's most brilliant literary society, are much more dangerous than the futile and harmless speeches of the mediocre literati at the sittings of the All-Russian Poets' Union." As a result, The Heart of a Dog was only published in the USSR in 1987, and the authorities launched a persecution campaign against the writer.

RARITIES: THESE ARE BULGAKOV'S SKETCHES OF HIMSELF AND HIS COUSIN KOSTIA. THEY ARE STORED IN THE MUSEUM'S ARCHIVE AND ONLY EXHIBITED TWICE A YEAR: ON MAY 15, BULGAKOV'S BIRTHDAY, AND NOVEMBER 21, HIS NAME DAY / Photo replica by Mykola TYMCHENKO, The Day
Those and other circumstances related to the history of the novel were shared during a presentation made by Kira Pitoieva, the museum's co-founder and brain behind its academic background. In her gripping historical lecture she made a special digression to mention Bulgakov's uncle, gynecologist Nikolai Pokrovsky, who actually became protagonist for Professor Preobrazhensky in the novel. Also, new items in the permanent expositions were presented: original photographs of Pokrovsky and other members of Bulgakov's family.
The formal part was concluded with the screening of little known here, but quite a decent film version of the novel, Cuore di Cane by the Italian film director Alberto Lattuada (1976), where the image of Sharikov suddenly acquires some absolutely unexpected features.
It should also be mentioned that the museum's friends (this special public institute exists in all contemporary museums) were awarded special certificates, including two of The Day's journalists, Tetiana Polishchuk and your author.