Maestro Nicolas Krauze (France) plans to hold a Vasyl Slipak Open International Memorial Music Marathon with his counterparts from Lviv
7 March, 2017 - 11:24
The renowned conductor performed together with the Kyiv Chamber Orchestra at the National Philharmonic Society. The program included masterpieces of world classics and the premiere of a piece by contemporary French composer Pierre Thilloy in memoriam Vasyl Slipak, an opera singer and Hero of Ukraine.
It turns out that Krauze and Slipak were friends, and it was the French composer who came up with the idea of writing the piece and premiering it in Kyiv. The Day met Nicolas KRAUZE, who told about himself, the concert, and his deceased Ukrainian friend.
"BACH'S MUSIC IS LIKE ASPIRIN"
 You came to Kyiv to take part in a concert from the cycle "Bach, Our Contemporary."
"Bach is my favorite composer. For me his work is a music universe, it is genial and contemporary. You can listen to one piece a thousand times, and each time it will sound in a new way. This is a very rare feature in a composer. Such composers are Bach, Mozart, Tchaikovsky. For me it is total art. Even if I have a headache, Bach's music is like aspirin.
"I often visit Poland (my wife is Polish, and I myself have Polish legacy). I have my own chamber orchestra. Once in Szczecin, and another time in Paris maestro Mykola Diadiura visited my concerts. It was him who offered me to go to Kyiv on a tour."
 You began as a violinist, didn't you?
"Yes I did! In 1991 I enrolled at the Gnessin Institute. I received a state scholarship from France. Later in Poland I was able to improve my skills of chamber music making, and that is there that I began to conduct orchestras. Later I continued training as a conductor in France."
 Why did you prefer conducting?
"You know, I have played a lot with orchestras. As a student, this was my way of making a living, and back then I followed conductors closely. I tried to understand why the maestro is leading the orchestra in that particular manner, and not another. Later, in France, I played at an operetta, and once the conductor asked me to fill in for him. I tried it, and I felt that it was absolutely my thing. Actually, I am quite a good violinist, but a solo performance was always a stress for me. But conducting was not. I took up conducting quite late, when I was between 22 and 25 years old."
 Who do you consider your most important teachers?
"In conducting, it is the renowned German conductor Christoph Eschenbach. He has had enormous influence on me."
Please tell us about your Nouvelle Europe orchestra.
"The Orchestre de Chambre Nouvelle Europe was organized a decade ago. At the beginning we got some assistance from the European Commission in Brussels: some money to set up a Paris-based orchestra made up of musicians with various ethnic background. Back then, the average age of the musicians was between 20 and 25, but all of them were professionals. At present half of them are French, the rest are performers from various countries, including Ukraine. We perform some 30 concert programs per season. Our rehearsal base is not far from Paris. We perform mostly in France. We have also toured Italy, Belgium, Switzerland, and Germany, and we have been to Brazil twice. In total, we have given more than 400 concerts."
 Do you play classical or contemporary music?
"I must say that contemporary music is challenging, because broad public cannot stand it longer than 10 minutes. Nevertheless, I try to perform contemporary pieces as well. We have no state support, we are a privately run concert enterprise, that is why we always have to invent something new and come up with interesting ideas to attract the public. Also, I get invitations to perform with other orchestras. In particular, from the Arena di Verona and Palermo in Italy, opera houses, symphony orchestras, in Poland from Wroclaw, Szczecin, and Warsaw. For some time I was a guest conductor at the Philharmonic Society of Kazakhstan. Now I have an invitation to conduct an orchestra in China, in Nanning, a huge megalopolis with 12 million inhabitants. There is also a project with the St. Petersburg Mikhailovsky Opera."
 Did you hear our Kyiv chamber orchestra before?
"No, it is my first encounter with the orchestra from Kyiv. The concert hall of the Philharmonic has stunning acoustics, virtually perfect for a chamber orchestra."
"IN FRANCE, MANY HARDLY KNEW ANYTHING ABOUT UKRAINE BEFORE THE MAIDAN EVENTS"
 Did you yourself choose the concert program? It includes Bach, Tchaikovsky, Bartok, and contemporary French composer Pierre Thilloy. What do all those pieces have in common?
"We have just talked about Bach and modernity. Bartok appeals to me as a composer, and his Divertissement is a genuine masterpiece. Besides, it is a very sophisticated piece, yet a highly professional band like the Kyiv chamber orchestra is able to cope with it.
"I was also offered to choose a well-known piece. I thought it should be Serenade by Tchaikovsky, who is widely known and loved.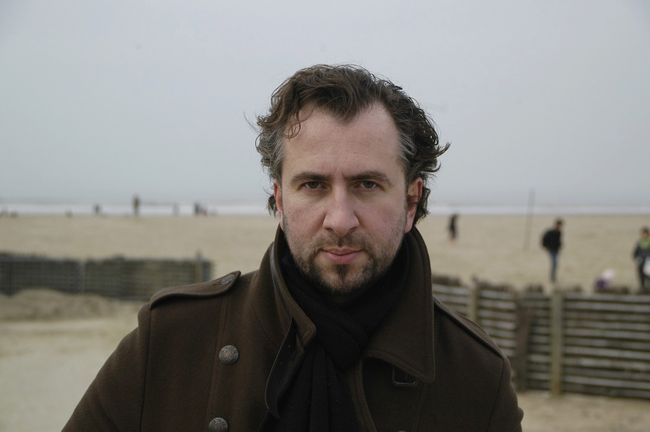 VASYL SLIPAK, AN OPERA SINGER, TOOK PART IN THE WAR IN THE EAST OF UKRAINE AND WAS KILLED BY A SHARPSHOOTER ON JUNE 29, 2016. HE WAS AWARDED HERO OF UKRAINE POSTHUMOUSLY /  Photo courtesy of Orest SLIPAK
"Also I wanted to let the public hear some contemporary music. Then I said to Vasyl's brother Orest Slipak that it would be fine to play some new piece to add a new sense to this program."
 How did Derniere chevauchee, dedicated to Slipak, come into existence?
"I told about Vasyl to French composer Pierre Thilloy, my good acquaintance, and offered him to write a small piece. He creates music which is easy to listen to, and he agreed immediately and said he would like to visit the premiere. His trip to Ukraine was facilitated by the Embassy of the French Republic and the French Institute in Ukraine."
 Did Thilloy know Slipak personally?
"No, he did not."
 You mean he only knew Slipak from your memories and impressions?
"Exactly. He also saw his videos and photos and read newspapers. I would like to say that many French people from various walks of life hardly knew anything about Ukraine before the events on Maidan. Thanks to Vasyl Slipak, an opera singer, they became interested in your country, they watched televised reports. There also was an extensive publication about him in France's most popular daily Le Monde, which awoke a wide response."
 In our country Derniere chevauchee was translated as The Last Cavalcade.
"Something of the kind. But in French the word chevauchee is rather polysemantic. Cavalcade, or a procession of riders, is a direct translation. But the composer must have meant the last period in this man's life."
 The author of the music, who was not acquainted with the person he dedicated his work to, ought to have been concerned with the issue. He must have been impressed by a successful singer, who began as a countertenor and became a bass-baritone in France (a unique occurrence!), suddenly decided to return to his fatherland to fight for Ukraine's independence and right to exist. The composer was impressed, wasn't he?
"He was, no doubt. Pierre even said that he would like to develop the theme further, for instance, he dreams of writing an opera. The composer wants to learn more about the country which inspired a successful opera singer, free to choose his artistic and personal priorities, to take such a heroic step."
"IN ABOUT FIVE YEARS VASYL WOULD HAVE BECOME A HUGELY FAMOUS SINGER"
 How did you meet Slipak?
"It was some seven or eight years ago. We were acquainted by my friend, an interesting composer Yevhen Halperin (his father comes from Kyiv), a friend of Vasyl. They lived in the same house in Paris, but on different floors. At a party at Halperin's place he said, 'This guy has a unique voice, just listen.' I was impressed by Vasyl's talent and offered him to take part in our concerts. We performed Requiems by Verdi and Mozart back then, later we had some 10 to 15 programs together. We had successful opera gala evenings, and we were planning to perform Beethoven's Symphony No. 9, but it wasn't to be."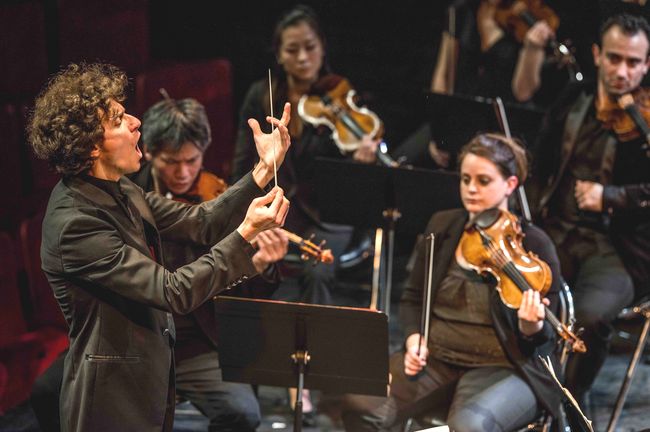 NICOLAS KRAUZE PERFORMING /  Photo from the website I.YTIMG.COM
 Was Slipak well-known in France as an opera star?
"He was really successful, he had very many concerts in Paris. In music circles everyone knew him. I believe that in about five years he would have become a hugely famous singer, because he was getting more and more invitations as an artist."
 What did you find attractive about Slipak?
"I never saw him in a bad mood, he radiated positive emotions even if things were not going best. Meanwhile, it was not always easy for him, there were various situations concerning his career or money. When we were working on concert programs, he acted very professionally. We had a great relationship as colleagues. We knew and sensed each other well. Also, sometimes we had very personal conversations.
"Looking for talents is my priority, so I listen and search a lot, and make acquaintance with young people. Vasyl was supposed to become my vocal adviser in my future project. For three years Slipak was a soloist at the Grand Opera. He got solo parts, but he also wanted to have concert practice, that is why he chose a sort of freelance. Mind you, when the war in the east of Ukraine broke out, his vocal career was on the rise. Characteristically, Vasyl did not give up his career, he would be active as a volunteer, then he would return from Ukraine to France to give concerts and appear in performances, and then again he would go to Ukraine, which he loved above all. And then again more concerts, and again back to the front.
"You know, in his last six months Vasyl had changed a lot. Many tried to talk him out of going to the war, but he was adamant. All his money and all his energy he gave to the cause of the new Ukraine. It was his motivation in life. What a shame that a sharpshooter's bullet took the life of terrific vocalist and patriot.
"Our duty is to remember Vasyl Slipak. I want to join my Ukrainian colleagues to discuss some future art projects. We already had a meeting with Volodymyr Syvokhip, director of the Lviv Philharmonic Society, and we plan to hold a Vasyl Slipak Open International Memorial Music Marathon in Lviv from June 29 till July 1."