Kyiv Reinhold Gliere Institute of Music Pro-Rector Yurii Zilberman tells The Day about how they managed to bypass "reefs" and not to let this country's most prestigious music competition "sink"
20 April, 2016 - 18:14
STARS AND STARLETS
Yurii Zilberman, president of the International Vladimir Horowitz Charitable Foundation and director general of the International Competition of Young Pianists in Memory of Vladimir Horowitz, has said that, due to a difficult situation in Ukraine in 2014-15, the Horowitz Competition was postponed twice and it was even discussed whether or not this prestigious competition should be further held in this country (this contest has been Ukraine's only member, since 2004, of the World Federation of International Music Competitions (WFIMC) which is on a par with such organizations as the Olympic Committee, FIFA, UNESCO, and WHO). We can say today that black days are behind. The competition's board has decided to hold the 11th International Competition of Young Pianists in Memory of Vladimir Horowitz (Horowitz Debut, Junior and Intermediate groups) from April 20 to May 4. Seventy seven pianists from 10 countries were selected from about 200 applicants. The entire Ukrainian piano school will be widely represented by young talents. The musicians will compete at the House of Scientists' hall (acoustics are superb there), while the award ceremony and the final concert will be held at the National Philharmonic Society.
The juries will be headed by Oleksandr Zlotnyk, a well-known composer, Rector of the Kyiv Reinhold Gliere Institute of Music (Intermediate Group); and Valerii Kozlov, a professor of piano at the National Music Academy of Ukraine (Junior Group and Horowitz Debut). Zilberman says Horowitz Debut is his favorite competition because it brings forth new names, new little piano stars.
"At the age of 11-12, young musicians only begin to form their artistic 'ego,' they learn to perform to an audience, gain the experience of competition, hone the piano playing skills, and, what is more, the ingenuousness of young pianists can win all hearts," Zilberman says. "The competition will consist of three rounds. The best of the best (in the third round) will play with a symphony orchestra conducted by the well-known maestros Volodymyr Sirenko, Mykola Diadiura, and Vitalii Protasov.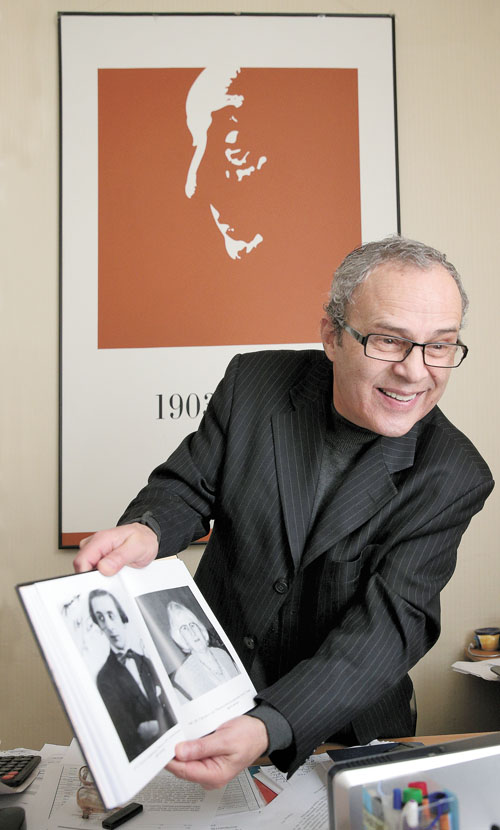 Photo by Ruslan KANIUKA, The Day
"Incidentally, in addition to earning a cash award ($5,000 and $2,000 for the first place in the Intermediate and Junior groups, respectively), winners will be able to perform in the most prestigious halls of Ukraine and other countries.
"The jurors just say 'yes' or 'no' in the first round, put down points in their notebooks in the second one, and then each of them passes their judgment as to whether or not the competitor qualifies for the third round. Incidentally, jury members do not discuss the participants, and no strangers are allowed to approach the jury during the competition. Finally, the third round is followed by a minute mathematical calculation of points (on the basis of the Provision on Competition), and everybody votes to name prize and diploma winners.
"The Horowitz Debut winner will perform together with the National Philharmonic's symphony orchestra on April 25. He or she will be followed by Antonii Baryshevsky, now a Philharmonic soloist, the winner of many prestigious international competitions, who embarked on his starry path at our place."
On May 2, Junior Group pianists will be playing with the National Symphony Orchestra of Ukraine (conducted by Sirenko), and Intermediate Group competitors will perform with the Philharmonic's orchestra (conducted by Diadiura) on May 3-4. The newspaper Den will be the competition's information partner.
"HOROWITZ WAS LIKE A BROTHER TO ME…"
Zilberman knows almost everything about Horowitz. He is the author of six books on the legendary musician's life and oeuvre. The Kliaksa publishing house put out a novelty the other day – "Horowitz Was Like a Brother to Me." Nathan Milstein's Letters to Vladimir Horowitz: from Everyday Life to Art. This monograph discovers the world of the 20th century's two outstanding musicians, a violinist and a pianist, whose friendship lasted for 68 years.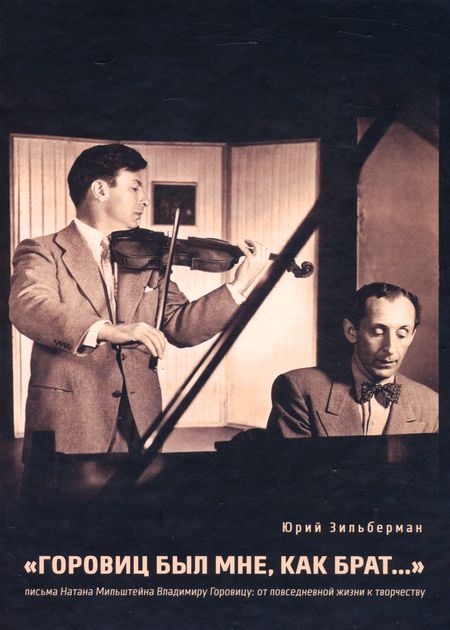 "Yale University keeps an archive of America's great musicians," Zilberman says. "Among the letters sent to Vladimir Horowitz (Volodya), there are 18 rarities from Nathan Milstein (10 letters, 7 telegrams, and one postcard). I have long wished to see these materials. Incidentally, to get to this archive, you must present two letters of recommendation from some well-known US citizens. You can photocopy all that you need, and this does not cost much. The two celebrities' years-long friendship aroused my interest. They met in 1921 in Kyiv (10 Velyka Zhytomyrska St.). On that day, the Horowitz family received the legendary musicians Sergei Tarnowsky, Felix Blumenfeld, and Heinrich Neuhaus. After supper, when children went to bed, Volodya began to play the piano, which 'triggered a chemical reaction between us,' to quote Milstein. This brought about friendship and affection. Then they staged joint concerts in Ukraine, Russia, Byelorussia, and Georgia for four years (1922-25). They enjoyed great success everywhere. Volodya and Nathan remained friends until Horowitz died in 1989.
"I will remind you that Volodya was a child prodigy. He entered the conservatoire when he was… ten. He was taking the first steps in music together with his mother who thought that her son would become a composer or a music teacher (his brothers and sister chose this road). Volodya was admitted to Vladimir Pukhalsky's class and would sit at the instrument for hours on end.
"Volodya began to give concerts at the age of 20. He made a triumphal debut in 1922 in Kharkiv. His virtuosic play enchanted audiences. Then he toured the cities of Soviet Russia with the violinist Milstein. Incidentally, Milstein is considered one of the best representatives of the 20th century's classic violin school. He mastered a perfect technique of playing, felt the form and style very well, and managed to make the violin sound particularly warm and sincere. As for Horowitz, music critics began to call him 'a new Liszt.' It seemed to listeners that the pianist was not just playing but breathing with music. The audience applauded, and the press wrote that a new star had risen (the review 'Musicians of the Revolution' in Izvestia dated December 12, 1922, was written by A. Uglov – the pen name of the People's Commissar for Education Anatoly Lunacharsky).
"You know, when I was studying the documents, I gained an impression that Wanda Toscanini Horowitz, the pianist's wife, had destroyed absolutely everything that she thought might diminish the grandeur of 'the 20th century's last romanticist.' We know from Milstein's reminiscences that Vladimir not only corresponded with, but also helped financially and sent parcels to his close relatives. There is no information about Vladimir meeting his father in Paris. The point is that Horowitz's brother Grigory was arrested in 1930 and languished in Solovki for three years. Vladimir's mother, Sofia Horowitz, died in the same year. But there is not a single line about this in the archive! There are concert prospectuses, photographs, letters to the impresario, even hotel bills, but nothing about the family tragedy…
"So, I decided to scrutinize the documents more minutely and comment on Milstein's letters to Horowitz. This is the way this book was born. I went several times to Odesa and found some interesting archival information on Nathan and his mentors. I also found out that both Volodya and Nathan had changed their birth dates in order to dodge the draft. We had known this about the pianist (a copy of his birth certificate, published as long ago as 1990, showed 1903, not 1904), but Milstein contrived to add even two years (as is known, he was born in 1902).
"Staying in Washington in 1942, Milstein sent a letter to Volodya, in which he shared his impressions of Dmitry Shostakovich's Seventh Symphony (conducted by Arturo Toscanini) and suggested that Horowitz give a concert together with Sergey Rachmaninoff to raise funds for the army, as the Second World War was still raging. The charitable concert was held on April 23, 1943, at Carnegie Hall and grossed 10,941,000 dollars! You can see a New York Times advertisement in my book. Can you fancy raising such a colossal amount (it's almost a billion today)? This had never happened in history before! Incidentally, Horowitz also played together with Toscanini (Rachmaninoff had died by that time).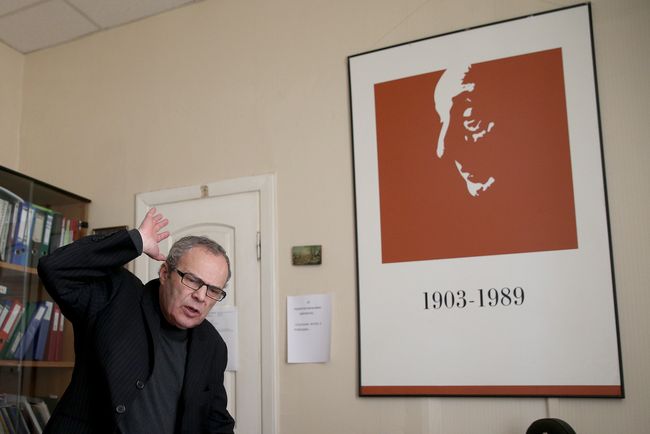 "This is the way the book 'Horowitz Was Like a Brother to Me…' saw the light of day, although I think the main work is the monograph Seven Essays on Vladimir Horowitz published in 2011. You know, it is important for me that information about the maestro should not be distorted. I will remind you that three English-language monographs were written about Horowitz: Biography of Vladimir Horowitz by Glenn Plaskin (1981), Horowitz: His Life and Music by Harold Schonberg (1992), and Evenings with Horowitz: A Personal Portrait by David Dubal (1991). Incidentally, the latter visited Kyiv in 2001 and was on our competition's jury. My book can be called a return to the truth and a correction of mistakes. You can see in it some unique photographs which have not been published before: Horowitz's family, his wife, daughter, father-in-law, and colleagues; Nathan Milstein's family, birth certificates of his brothers and sister, the personal dossier of 'student N. Milstein,' etc."
"THE TIME HAS NOT STOPPED FOR HOROWITZ"
"He is back!" Newspapers also carried screaming headlines of this kind in 1965, when Horowitz's spokesman announced that the pianist would come out on stage again. People stood in a line for tickets all day and night long, for they did not forget him in the years of silence. "The time has not stopped for Horowitz in the 12 years since his last public performance," a New York magazine's critic wrote. "The blinding flash of his technique, the unsurpassable vigor and intensity of playing, fantasy, and a multicolored palette – all this has remained intact. But, at the same time, a new dimension, so to speak, has emerged in his play. It can be called musical maturity."
It will be recalled that Horowitz had recorded his last disc a few days before he died. He passed away on November 5, 1989. The musician found his last refuge at the Toscanini family crypt in Milan. That was the end of the great musician's almost 70-year-long musical marathon. His name was tabooed in the USSR for five decades. He came back to his people in 1995, when an international competition of young pianists in memory of the famous maestro was organized in Kyiv, his homeland.