Arkadii Nepytaliuk, director of comedy Pryputni, on what was happening off-screen, and on the set
9 October, 2017 - 16:37
[Plot:] Pryputni is the name of a village in Chernihiv oblast. On the occasion of the Savior of the Apple Feast Day [a.k.a. Savior on the Hill], a corpulent and business-minded old lady known as Baba Zina [baba literally means granny, it's a popular form of address to any middle-aged woman in the post-Soviet rural areas. – Ed.] is expecting guests: Liudmyla, a loud-mouthed street market woman, and her daughter Svitlana. Living next door to her is an old man, locally known as Stanislavovych, with his crippled, mentally unbalanced son Slavik. Liudmyla and her daughter Svitlana are on their way to Baba Zina's in a taxi driven by a young man Yurko who is hopelessly in love with Khrystia, a high school teacher in Nizhyn. Then comes the moment when all plot lines cross, resulting if not in an explosion, then in a fire, body injuries, and other fateful consequences.
Pryputni has every hallmark of a blockbuster. The film director, Arkadii Nepytaliuk, is keenly aware of the atmosphere in our rural areas:  ruin, fear, and anger. He succeeded in finding an angle from which to portray this endless scandal as a comedy. He doesn't see his characters with their antics and surzhyk [Ukrainian-Russian patois] as anything exotic. Each character is absolutely true to life, nothing out of the ordinary in an ordinary, easily recognizable environment. Each has his/her pluses and minuses, true to the old adage about different folks having different strokes. All told, this is a very good production, including director of photography Oleksandr Roshchyn's masterful performance, excellent cast, juicy dialogs, and above all, the comedy genre. Arkadii Nepytaliuk has made a first-rate character comedy, something never seen before in today's Ukrainian cinematography.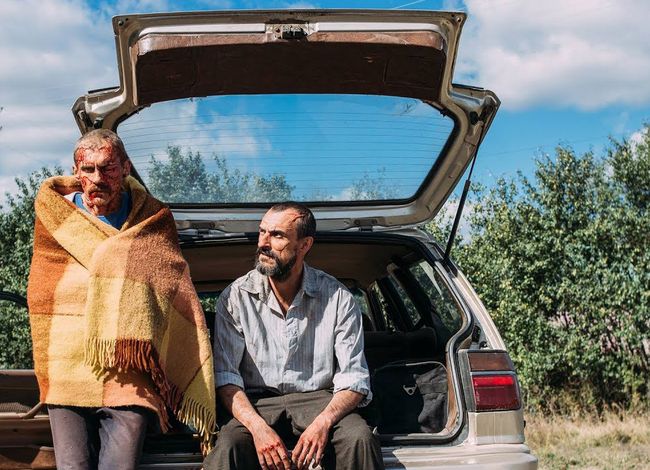 Arkadii Nepytaliuk was born September 27, 1967, in the village of Lekhnivka, Khmelnytskyi oblast. He studied at the drama faculty (1991) and graduated from the television director faculty of the Karpenko-Kary Drama Art Institute of Kyiv (1996, under Prof. Viktor Kisin's able guidance), spent some time as an intern at RNTC (Hilversum, Netherlands, 1993) and at the State Academy of Fine Arts in Stuttgart (1995), then worked for a television company.
In 2016, he made his debut as a film director with two feature films, using his own scripts: a short entitled Krovianka and the full-length comedy Pryputni. Krovianka won the 46th Molodist Film Festival and Pryputni was awarded a prize in a film festival in Odesa.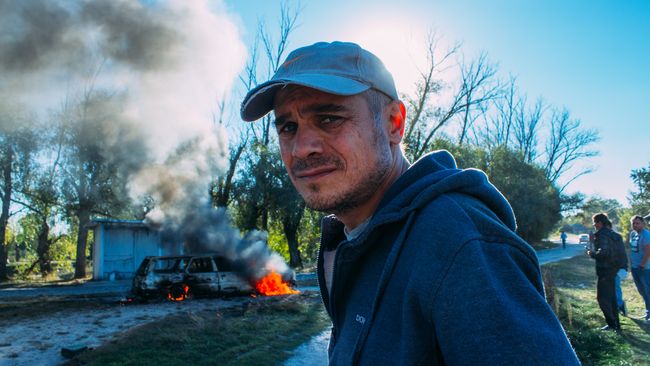 Kudos apart, Pryputni is good news for both Ukrainian cinematography and for all Ukrainian film directors, considering the long drought during the depression in the Ukrainian filmmaking industry two decades back...
GETTING THERE
Arkadii, how did you start as a filmmaker?
"Being an actor was my cherished dream. In 1988, I enrolled in the drama department [of the Karpenko-Kary Institute], but a year later I realized I didn't want to study there; I didn't like the Stanislavsky system that was being enforced on the students – it deprived me of the joy of creativity. I spent some time trying to figure out which way to go. I wrote poems and prose, then I decided to make movies instead of playing in movies. It was then I found myself under the able guidance of Prof. Kisin at the institute's film direction chair. My first student films were also first for the cameramen, Serhii Mykhalchuk and Yaroslav Pilunskyi [destined to become prominent Ukrainian directors of photography. – Author]."
It was quite some time before you started as a film director after graduation. Why?
"No one was making any movies [in Ukraine] at the time, save for those who had contacts dating back to Soviet times. The young filmmakers had no such contacts, so television was the only option. Our television was just taking shape, so I chose that option, considering that television was where I could put my drama institute training to good use. I worked there for 15 years, until 2012, doing everything, including programs and serials."
PRYPUTNI
How did you conceive the Pryputni idea?
"It began after I'd quit television and was teaching film directing at Karpenko-Kary, when the government started financing the national filmmaking industry. I had a script for a full-length movie based on Vira Makova's play Buna. I was told that a short would be best for my debut as a film director. I remembered Roman Horbyk's play Center from the Topical Play Week [competition] and quickly wrote a short script. It didn't pass muster. Later, browsing the Internet, I spotted producer Yurii Minzyanov who was looking for short thriller scripts. I emailed mine. He replied it wouldn't do as a thriller, but that it was interesting. We met and agreed on a full-length one. I redid my script five times and the last version was found to be good enough for funding."
The title. Where does it come from?
"I was looking for abandoned villages in Chernihiv oblast and used their names as tentative project titles. Then I came across the village of Pryputni and found out that the name actually is that of a wild pigeon species [pryputni literally means road companions in Ukrainian. – Ed.]. These pigeons live where people do. This gave me a big idea. My characters are like these pigeons; they live with other people, be it in a dorm or rented flat. Their life is unstable, they don't know what will happen tomorrow, they aren't happy."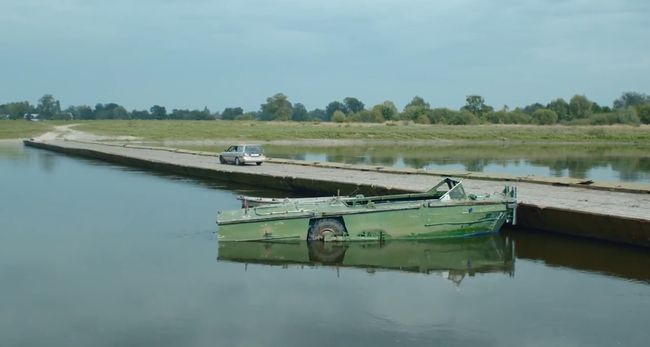 Your rural scenes are brutally realistic, very much contrary to our rural filmmaking tradition.
"I couldn't have done this any other way. I was born and grew up in a small village, in Khmelnytskyi oblast, so I know all about rural life, its good and bad aspects, about neighbors, friends, and parents... I've been away from that lifestyle long enough to develop an estranged approach, but this allows me to take a look from outside, using my insight. That's why I didn't want to tell any lies. Any idyllic countryside scenes would make me sick – except maybe to mock the existing cliches. I know the prototypes of my characters, so I show them for what they are worth, with their cruel and humorous traits, but they are carriers of the Ukrainian folk tradition, even if subconsciously. I remember my dad who would recite jokes when finding himself in an embarrassing situation. I remember calling him, after learning that my elder brother had taken to the bottle. I asked how this could happen, considering that he had been coded [an alternative method of treatment of alcoholism. – Ed.]. My dad said: 'This coding is as good for him as a handful of ash to rub your ass clean after taking a shit.' For my father the entire situation was a tragedy, yet he tried to find some humor in it. What I mean is I tried to show my characters the way they would be in real life, but with a touch of humor, because humor is part of their nature. There is also baby talk, a modern tale about Lady Fate bringing Yurii and Svitlana together. The antics they pull off in the countryside are absolutely fantastic! Well, there are enough such antics and more in the big cities. Come to think of it, the place where it happens doesn't really matter."
CAST
Do you have a casting method of your own?
"I look for certain types. I want my actors to resemble their script prototypes – I want them to look and act like them. When I find ones, I discuss their roles with them, explaining the circumstances that caused them to act in a certain way. I also want to hear their opinion and their own life stories. When it comes to screen tests, I don't tell them how they should impersonate their characters. It's their business. They look like my script characters, they act like them, so I just watch them without giving any directions. I trust them and this is my key film director's technique. Of course, when they start using drama company or TV serial cliches, I ask them to stop shouting and waving hands and focus on their true emotions."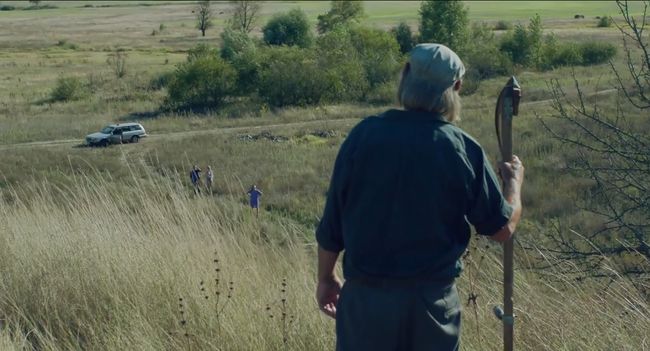 Sounds simple enough.
"After my years of training at the drama faculty, after working in the filmmaking industry, I don't believe that there is a difference between a professional actor who has worked for a drama company and a rookie who comes stumbling and sweating for the first screen test. Pryputni stars Dmytro Khomiak. He isn't a professional actor. I think that being an actor is part of human nature. Some develop it and others let it die."
Do you allow your actors to improvise?
"I do when it is necessary, but I write my script so that every line is important and should be voiced the way I want it. If I feel that something should be changed, I do it, right there and then. I told them to act the way they feel during the brawl scene."
I think that your characters are very true to life, thanks to the actors' play.
"I appreciate your opinion as a viewer. I paid serious attention to how they enacted their parts. My distributor watched the draft and said it was like a sequel to another reality show."
DEBUT, WHAT'S NEXT?
You made your debut being 50. Didn't this sadden you?
"I had no choice. I don't know what would happen back in the 1990s, if I had an opportunity to make a full-length movie. It could've been much worse. I have my life experience and this is very important for a film director. Today I know everything about every character in every script. Add here professional experience. This makes me choose between what is most and least important when working with the cast. I think I've accumulated enough experience, so I can have a more or less unbiased view on what I'm doing. I believe I started making movies at the right age."
What other movies do you have in mind?
"There are several stories, with one script nearing completion. It was inspired by something I'd read on Facebook. By the way, I prefer stories from ordinary people rather than literary works. That Facebook story will make a movie about Kyiv, namely about its Troieshchyna Development District. It will be based on real events. It will be tragic and comic. I won't tell you anything else, just that I'll try to make this movie even more expressive than all my previous productions. It will be more on the game side, on the side of Aki Kaurismaki and Coen Brothers. These film directors are very close to me. Of course, I won't try to copy them. I'll try to work the way they do."
STANDARD QUESTION
Anything you're fond of apart from filmmaking?
"You mean hobbies and I think that they are all products of urban culture. I come from the countryside. Although I have lived long in the urban areas, watching cucumbers and tomatoes grow, patting my doggie, putting my arms round my kid is more than enough for me outside of my filmmaking."