On grandes dames, sailors, sellers of shawarma, and other characters you can see at the exhibit of the famous dynasty of artists
23 November, 2016 - 18:03
Lyricism and irony, the enchanting spectacle of emotions and gracious restraint are the variety of moods revealed by the Isupovs' works. The pictures and ceramic works by Volodymyr, Nelli, and their sons Serhii and Illia are currently on display at the Khlibnia Gallery at the National Preserve "Sophia of Kyiv." The exhibit "Art Dynasty of the Isupovs" is being held within the framework of the culture project "ART Families," organized by the Sophia of Kyiv Preserve and the Light Art Foundation.
"I'M A WORKER OF LIGHT"
Nelli Isupova's works are known in many countries. Her majolica is very well recognized and very life-asserting. Birds, noble ladies, miraculous plants, or all of these combined in a kind of a chimerical image – they are joyous and rainbow-like, and they embody the author's love to life.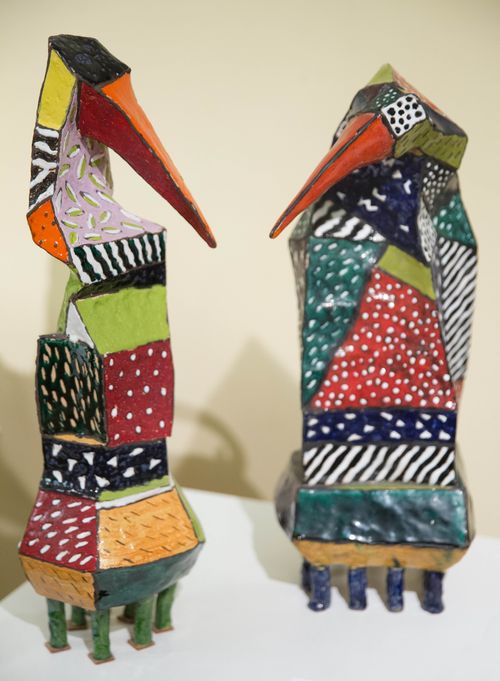 "Generally I am a joyous person. I am positive. I am a worker of light. This means that I need to bring my light energy via my creative work to space and people," Nelli Isupova says. "I take my ideas from everywhere, from the fashion magazines, from fairytales, some meetings, and other interesting ceramic works. I travel a lot – I cannot say I take the ideas from the travels, but they can influence my creative work. Recently I have been to Spain and I thought that I needed to create a ceramic work based on the image of infanta from Velasquez's work. I have already done some sketches."
Some time ago Nelli dreamt to paint fabrics. But such subject was not taught at the Hrekov Art School where she studied, so she chose the department of ceramics. There she studied the painting of porcelain – which in certain ways resembles fabric painting, but you need to cover the entire space of the object.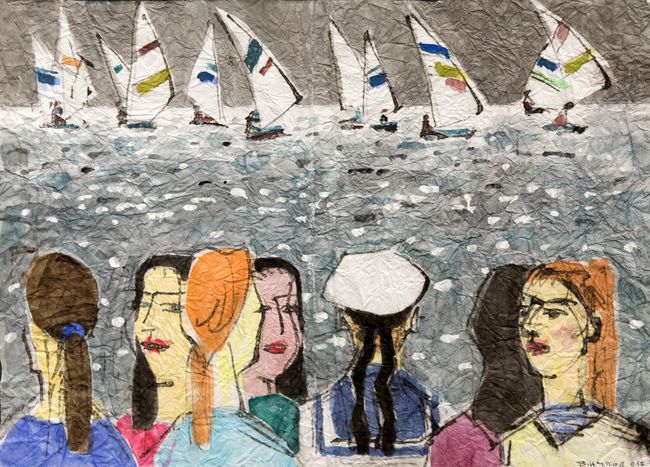 "I have my favorite ceramic works that very much resemble the painting on fabric or patchwork – they seem to be created from different patches," the artist says.
"IN MY TECHNIQUE YOU NEED TO WORK FAST"
Volodymyr Isupov's pictures are very gentle. With his technique the author makes the color change in different shades. The artist likes to create series of works. "In my case I need to work fast. At first I use ink, then watercolors. When you take ink with a pen, one tiniest stop results in a stain. So I need to paint fast and create many pictures. When I work, I sort them at once, getting rid of some and covering others with watercolors," Volodymyr Isupov explains, "Then I rumple the works, after that I iron them or hold under press, then I finish them with watercolors. That is how I create my pictures."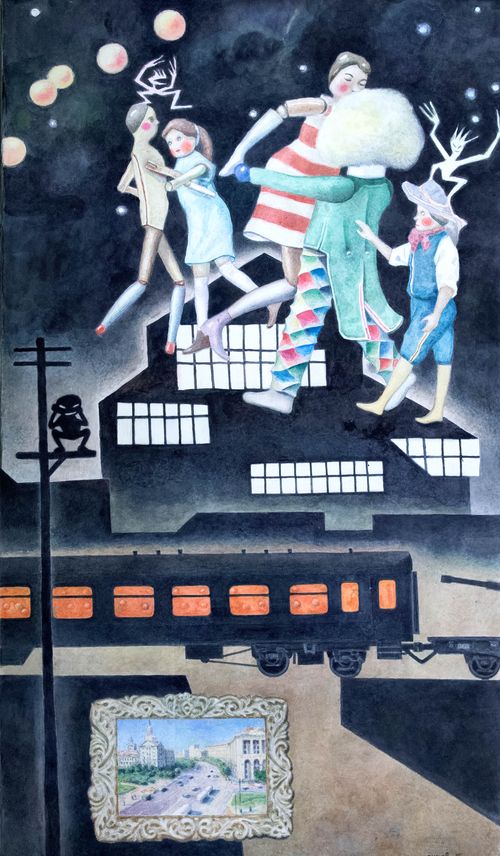 Owing to the ability of the paper to rumble, hollows and bulging are created on the works. "The same paint at the same light gives several tones. For example, pink becomes dark-red in shadow, light pink in the light. The result is very rich in colors, especially if you lighten the works from the side," Volodymyr adds.
Beach scenes and still lifes – everything the artist creates is full of vitality and movement. Most of the works presented at the Khlibnia exhibit are new creations, but there are also the ones dated the 1960s and 1970s. This year's series is called "Black Sea Sailors." Volodymyr tells the story of its creation, "For five years I have studied in Odesa, but I haven't painted sailors not even once. And suddenly a musician said that she wanted to perform the works of a French composer who had marine themes. She asked whether I could paint a sailor or something like that. I started to, but the idea wasn't realized. Suddenly I thought, "Over my five-year residence in Odesa I haven't painted any sailors. I started to paint and got immersed. You can see the result."
"WE ARE ABSOLUTELY DIFFERENT"
Illia Isupov's works, like Shawarma are ironic, but there are also philosophical ones, like Prayer. "Have you ever dreamt of becoming someone else, but an artist? I think so. I have tried my hand in different occupations," Illia says. "The situation is not quite favorable, when you're stuck in the environment you were born in. My brother and I were lucky, because no one exerted any pressure on us. Everything developed in a very natural way. I cannot say our parents influenced Serhii and me with their creative work – it was rather their tastes influenced us. But they never told us how to paint."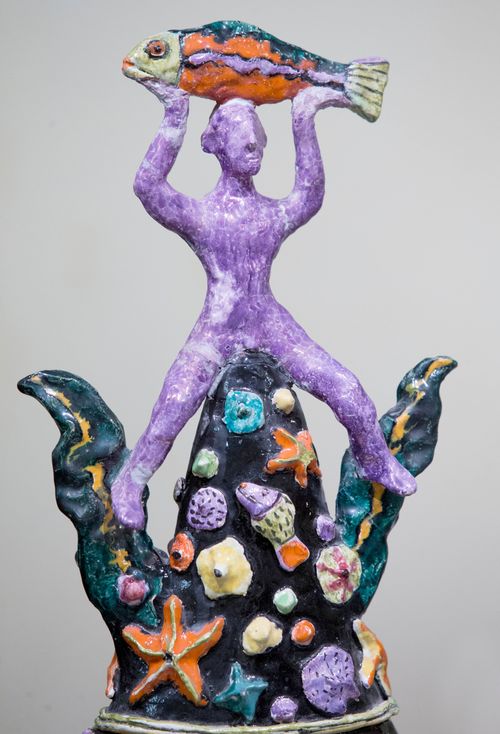 This is the second family exhibit of the Isupovs, but the previous one took place long time ago. "In our family everyone is so strong and self-sufficient, with a world outlook of their own. We don't influence one another, which is very good," Nelli Isupova contemplated, "We are very different. Every one of us created in the way s/he sees the world."
The exhibit "Art Dynasty of the Isupovs" will be open at the Khlibnia Gallery at the Sophia of Kyiv Preserve till December 4.