The capital's Ya Gallery art center is hosting exhibition "Made in Kyiv" displaying works by artist Natalia Lialiuk
8 September, 2015 - 11:58
Homecoming is always a thrilling event. People worry about the way they will be welcomed back. They are also curious to see how things have changed during their absence. Natalia Lialiuk first presented her works in Pavlo Hudimov's exhibition space 12 years ago. Soon afterwards, the artist moved to Toronto, and went on to take part in solo and collective exhibitions in Canada, Germany, and the US. Now, finally, she came with a solo project to Kyiv, for the first time in her years of exile.
The artist created a series of paintings this year in the six weeks she spent working in the capital. Green fences, morning joggers, the radio tower, street dogs – these seemingly everyday elements make up a story of love for something close to the painter's heart, for the city which she has long felt to be her relative. "Street dogs walk along their usual routes. When our eyes meet, I read wonder in their eyes. They seem to know that I am not completely local. I see things that I saw many times before. However, they have now moved into the focus of my perspective, as if on a rotating stage, and spotlights are on them. I perceive every pillar like a true monument now," Lialiuk wrote in the exhibition description she composed herself.
Several works portray the artist's mother. She is depicted brewing coffee, cooking, showing off a colorful dress she made herself. "My paintings' subjects come from life. On my arrival in Kyiv, I first worked at home and began to portray my mother," Lialiuk revealed. "Shortly afterwards, a friend suggested using an unfinished house on Mount Shchekavytsia as a studio. I felt subjects seen around the mountain filling up my mind soon. Having gone to fetch some water, I returned with four different ideas of future artworks. Ideas began to bombard me! I saw so many interesting things, as the Soviet legacy and new life, complete with a mosque and green fences, shared the urban space."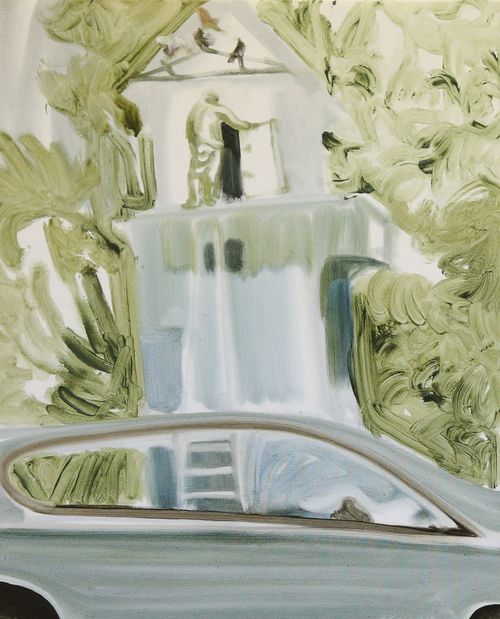 NEW SUBJECTS "ATTACKED" LIALIUK IN KYIV. "HAVING GONE TO FETCH SOME WATER, I RETURNED WITH FOUR DIFFERENT IDEAS OF FUTURE ARTWORKS," THE ARTIST TOLD US
The project was a challenge of sorts for the artist. Founder of the Ya Gallery Hudimov told us how they went about preparing the exhibition: "Past year, when Lialiuk came to Kyiv, we decided together that she should never stop artistic dialog with Ukraine. She lives far away, holds exhibitions in Germany, the US, and Canada, while her native Ukraine did not see her for 12 years. I told Lialiuk that she should come and work here, and she agreed. Until recently, though, the artist offered to hold something like a small-scale closed presentation. She is afraid of re-entering the public space of Ukraine for some reason. But I do not want to hold backroom presentations. I want to show that Lialiuk has returned and is interested in the themes that exist in Ukraine. After all, her works depict us."
The artist wanted to leave some space for the audience's thinking on her paintings. Each work conveys a process, makes it possible to invent complementary images in one's mind. "Since her previous exhibition in the Ya Gallery, Lialiuk has lost some of her attention for detail. Her earlier paintings involved some superfluous efforts put into painting detailed images. She returned with easier brush. Lialiuk is rough and sensitive, attentive and inattentive at the same time. She is made out of nerve alone! I am glad to be involved in her homecoming," Hudimov said.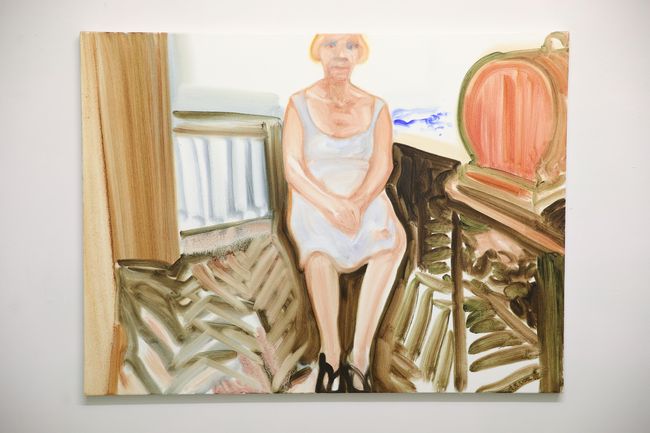 SOME PAINTINGS PORTRAY THE ARTIST'S MOTHER, LIKE THIS, ENTITLED TETIANA AND HER SEWING MACHINE
Interestingly, Lialiuk was an inspiration behind Hudimov's decision to establish the Ya Gallery. "Natalia influenced my interest in exhibitions," the gallery owner admitted. "I did not give a thought to their internal workings before. One of my first exhibitions displayed her works. It made me realize that, apart from music and design, I was excited with the artistic community, and it was the first impetus to start working in the arts. Passion for organizing exhibitions and my favorite themes came later. It was Lialiuk, indeed, who sparked my curatorial ambitions."
Lialiuk's exhibition "Made in Kyiv" will last at the Ya Gallery art center in Kyiv until September 21.