Kyiv hosts the world premiere of a French composer's opus in memory of a Ukrainian opera singer on February 11
9 February, 2017 - 11:17
The soiree will take place at the National Philharmonic Society of Ukraine. The Kyiv Chamber Orchestra will be conducted by French maestro Nicolas Krauze. The program includes such classical masterpieces as Brandenburg Concertos by Johann Sebastian Bach, Divertimento for String Orchestra by Bela Bartok, and Serenade for Strings by Peter Tchaikovsky. Our music lovers will also hear for the first time La Derniere Chevauchee (The Last Cavalcade), Op. 221, by contemporary composer Pierre Thilloy. This world premiere is dedicated to Vasyl Slipak, a well-known Ukrainian patriot, opera singer, ex-soloist at the Paris National Opera, who took part in eastern Ukraine hostilities. Slipak fought as a volunteer with nom de guerre Myth. He was killed by a sniper on June 29, 2016.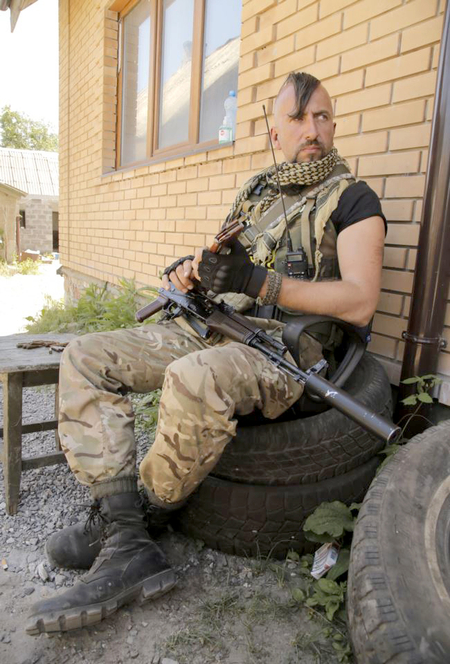 Photo from website RADIOSVOBODA.ORG
"There are strong people in the world, who stand up for ideas by means of their talent. They are artists or craftsmen, writers or farmers, who are proud of their history, their past, present, and future. They switch from one art to another, forgetting that there is no otherworldliness on Earth and that human stupidity is a very complicated art which can only be appraised in the course of time and in silence. The same also applies to Vasyl Slipak – we in the West call an exalted voice like his the 'voice from the Don' because of its profundity and strength. This time it is about his last cry of freedom. This opus is not aimed at glorifying those who are 'for' or 'against.' I want to explain by means of this opus that, whatever the case, people must not die in the 21st century, sacrificing themselves on the altar of the god of war. The truth is hidden deep in the heart, and while peace protects it, war destroys it. So let me remember Vasyl Slipak as a friend who had no enemies and whose superb voice carried love for humanity," the opus's author Pierre Thilloy wrote in Facebook.
The soiree will be held with support from the Embassy of France in Ukraine and the French Institute in Ukraine.