An interview with ArtVilnius fair director Diana Stomiene
4 June, 2018 - 17:57
ArtVilnius is the only contemporary art fair in Lithuania and the largest art fair in Eastern Europe. ArtVilnius was first held in 2009, when it was one of the most important events in the "Vilnius – European Capital of Culture" project. Over the past eight years the art fair has expanded and become firmly established on the local and international art scene, as well as on the list of must-visit events for art lovers. This is also confirmed by statistics. Every year ArtVilnius receives over 20,000 visitors, with about 60 art galleries from dozens of countries participating (Belgium, Germany, Estona, Latvia, Poland, Ukraine, Lithuania, Belarus, the Netherlands, Italy, France, et al.). Applications are examined by a jury consisting of art critics and experts, which ensures professionalism of the galleries at the fair.
The main objectives of ArtVilnius are not limited to stimulating the art market in Eastern Europe, as well as presenting the panorama of contemporary art trends. The fair's organizers have integrated Vilnius into a system of the most important centers of contemporary art in Europe and helped it become a bridge between East and West.
ArtVilnius is held annually in one of the best exhibition spaces in Lithuania – LITEXPO Exhibition and Congress Centre. This 12,000 sq. m. exposition space makes it possible to hold all the necessary events. The fair's architecture has been repeatedly altered in the past few years by a team of architects.
Last year ArtVilnius presented some of the best-known Polish art institutions (Krakow Museum of Contemporary Art and Center of Contemporary Art in Gdansk), as well as a program of contemporary video art, featuring VIDEONALE (Germany), one of the oldest video art festivals in Europe. The fair also comprised Takas ("Road"), a unique annual show of sculptures and installations, in which artists from Lithuanian, Latvia, Ukraine, the Netherlands, Poland, Portugal, Germany, Denmark, and elsewhere display their works.
Selecting the best gallery, artist, and works has become a traditional part of the program. A committee of art critics chooses winners in the following five categories: Best Artist, Best Gallery, Best Foreign Gallery, Best Installation, and Best Young Artist. In addition, visitors to the fair can vote for the artist and gallery they like the best. A sponsors' cash prize is awarded to the best young artist.
ArtVilnius is organized by the Lithuanian Art Gallerists' Association with Diana Stomiene at the head, who is also director of the fair.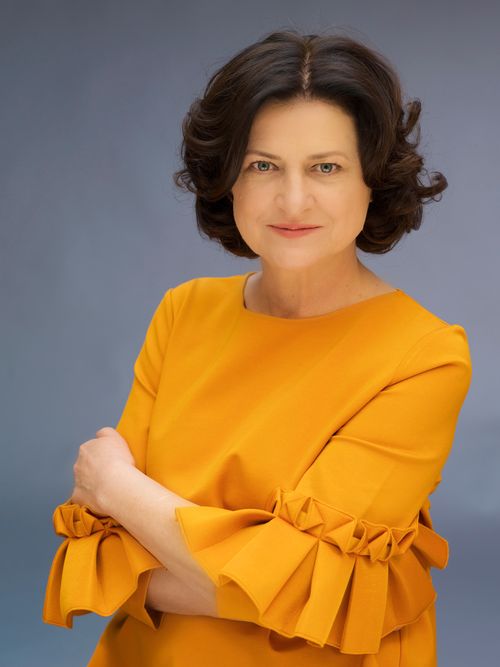 We met Ms. Stomiene at the recent Kyiv Art Week festival in the "Uzupis" section that focuses on Lithuanian artists.
Diana, how did ArtVilnius come about?
"The idea of it emerged a long time – 11 years – ago. We thought about how to raise the level of our art market which was rather weak, as anywhere else in Eastern Europe. Sales were poor, and galleries were not much patronized. We needed a major international event with an adequate communication and good advertising in order to attract more participants and spectators. Fortunately, Vilnius was proclaimed European Capital of Culture in 2009. This allowed us, among other things, to obtain funds."
I was going to ask about money in the next question.
"Yes, it is very difficult to get a budget without a major fest. We had this project approved, and we started with 100 galleries, including 5 from Ukraine. We are in touch all the time."
How did ArtVinius vary in the course of time?
"At first people did not buy art actively. They would come as if it were an exhibit. But now everybody knows that it is a four-day fair and you must quickly come, choose and buy a picture, while galleries and artists can see that ArtVilnius produces results. We have also attracted very many international companies. We are very glad, incidentally, that Kyiv hosts Art Weeks – maybe, organizers have learned something from us. And an ArtTbilisi opened last week. This process has a future."
But how did you picture all this in the beginning?
"We visited foreign fairs to see and learn the way it is done. We read about this and inquired about results. We understood that there would be no results if only galleries were taking part. This is why we drew up a big program in seven parts. It has a territory of projects, an area of education, and the 'Road' exhibit with conceptual works and large sculptures which are difficult to display in galleries. There are many opportunities for young artists – contests, prizes, other awards. Add to this all kinds of debates, presentations, meetings. The fair itself takes 12,000 square meters of the LITEXPO palace and an exhibition yard, where any formats can be applied. It will take at least two days to see everything."
I know that Ukraine was the fair's theme in 2015. How did it occur to you?
"It was bound to occur to us. We have also gone through this. We were worried very much over these events. I went to Kyiv, spoke to galleries, and invited them all free of charge. Very many of your galleries came to us. We support Ukraine, all of Lithuania does."
Are there your favorite artists and galleries here in Ukraine?
"Surely, there are many. For example, we stay in close touch with the TSEKH gallery. Last year we showed Roman Mykhailov's [b. in 1989, lives in Kharkiv. – Author] fire performance, which everybody liked. Mykyta Shaliony [b. in 1982, lives in Dnipro. – Author] put on a big installation in 2015. It was the festival's central attraction, and the Contemporary Art Museum in Krakow bought one of his works. In general, we annually send 6,000 invitations to curators, collectors, and museums. Then galleries sell the works owing to the contacts established during the fair. It is a fair of contacts."
The hall we are in now is called "Uzupis." Whence is this name?
"It is an exhibit of our best artists. As for the name, Uzupis is an old part of Vilnius. It used to be neglected and looked like Montmartre. It is the place where our bohemia – actors, artists, and stage directors – lived. They thought up an 'Uzupis Republic of Artists.' They have their own rules, constitution, end even foreign minister. They have annual holidays. It is very interesting and still going on."
What are your next plans?
"We are now focused on the Baltic region because Lithuania, Estonia, and Latvia celebrated the 100th anniversary of the restoration of independence. Next year we will hold the 10th fair focused on France. We have a lot of our well-wishers there. Of course, we will go off the limits of the LITEXPO palace. For there are also the Contemporary Art Center and the National Gallery in Vilnius, and we will get them involved, too. Besides, we will hold 'The Night of Galleries.' We have a lot of guides now. We must make efforts. People used to keep aside, for they had economic problems. But now everything is stable, and one must fill new niches. If done in good time, this will increase the number of collectors and fans. Incidentally, it is good that Kyivites are aware of this, although I know that the situation is more difficult here.
"We have funds. We submit projects to the Council of Culture which distributes them, and receive support from the City Hall. We can do many things thanks to funds."
State guarantees are important here.
"Yes, for nobody will ever buy such interdisciplinary art. Project materials also need funds. And it is not so easy to find private sponsors as long as you are unknown. You must develop, and your works will sell in 10 years' time. But it takes time and the guarantees you mentioned."
It follows from what you are saying that ArtVilnius is now an important component of city life.
"Yes, and we are included in the tourist network. But there has been a skeptical wait-and-see attitude before. It's always difficult in the beginning. But you must do things from the bottom of your heart, disregarding the obstacles, and there will be a good result. We have a very good team now, but only the two of us started the project. The main thing is to believe in your idea, and you will succeed – just to believe with all your might."
Do you have a hobby apart from art management?
"I like photography. I've been doing it very much before – and now only if I have time. And, strange as it may sound, I love nature and adore gardening. It's a real treat to grow flowers! Naturally, we go to the theater and try not to miss anything. But you can only relax if you are out in nature. In this case good thoughts and idea come on your mind. I also like cooking. Ideas also come when you are in the kitchen because you also create something there. But you can hardly concentrate in the office."