How we were presented with some of the "treasure chest" contents in Nahuievychi
1 November, 2016 - 11:03
We have already informed our readers that in the run-up to its 20th anniversary, Den has prepared original "chest of treasures" gained by our newspaper: reproductions of the best photos from our international photo exhibits, cartoons by Anatolii Kazanskyi, drawings, covers of Route No. 1 [Den's supplement. – Ed.], and our paper's most special pages. The "chest of treasures" also contains a mini-easel and a crowned pencil, and the cherry on the cake: a sachet with marigold seeds harvested this year, when we mark the 160th birthday anniversary of Ukraine's great poet Ivan Franko. ADEF-Ukraina Publishing House and Hanna Svyrydenko, activist of the Charitable Foundation in Support of the Newspaper Den's Initiatives and member of the Kyiv legislature, helped to realize this idea.
By the way, the participants of the Publishers' Forum in Lviv were the first to get acquainted with the first edition of the chest of treasures, but at that time ripe marigold seeds were still scarce. Now at last the marigolds outside Franko's house museum in the village of Nahuievychi (near Drohobych, Lviv oblast) are nicely ripe. Now we have enough for everyone. With great care the curators of the house museum in Nahuievychi harvested ripe seeds of "Franko's marigolds" for this project. According to Den's editor-in-chief Larysa Ivshyna, they will create a true energy of "Franko's marigold space" in Ukraine and beyond.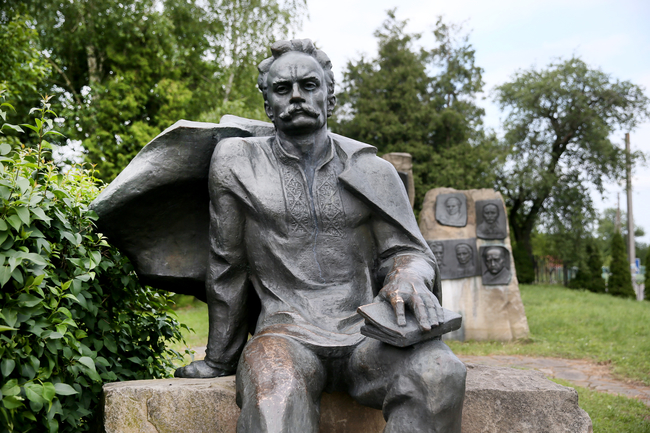 Photo by Ruslan KANIUKA, The Day
IMPRESSIONS
Oresta REZEKULOVA, acting director, National Historical and Cultural Reserve "Nahuievychi":
 "Thumbs up for Den for coming up with such a cordial, humane action as 'Franko's marigold space.' My heart melted with warmth and gratitude when I learned about it. Next year, marigolds from Ivan Franko's home village will bloom all over Ukraine – and maybe even beyond its borders, because I know that Den is available to international readers in English. By the Decree of the President of Ukraine, this year is announced the Year of Ivan Franko, due to the 160th birth anniversary of the great philosopher and poet. Your unconventional action is one of the most cordial and really unexpected.
 "Besides, this year has seen a bumper crop of marigolds! They pleased the eye with unusually mellow, glowing shades of yellow and orange. We have been sowing these flowers here, at Franko's home, for 16 years now, but never have we seen such gorgeous marigolds before!"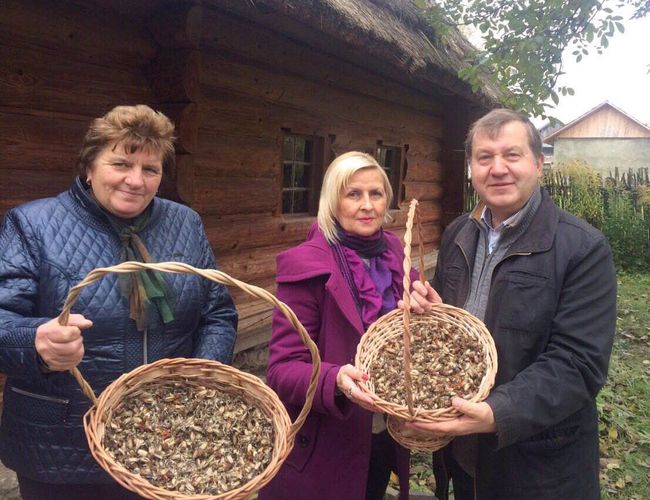 Photo by Mykola KOS   
Iryna SOPUTNYTSKA, manager, Ivan Franko Museum:
 "In the run-up to the Stone-Breaker's 160th birth anniversary we have updated the museum exposition, which had remained unchanged for a decade. We are pleased to have Den's 'chest of treasures' among the museum's gifts. You carried out a very important and topical action, even in terms of bringing our village once again to public attention. We should not complain about the numbers of our visitors, yet now, after standing in Den's limelight, I think we will receive even more of them."
Maria SHUTKO, senior research fellow, Ivan Franko Museum:
 "In commemoration of this anniversary, we have issued the Ivan Franko Memorial Medal. This is a replica of the medal which was minted for his centennial anniversary, marked at the decision of the World Peace Council. We are proud to present it to Den. Past summer we also held a master class in the painting of old bee-hives at the poet's house museum. They were painted by students of the Pidbuzka Art Academy. The young artists portrayed various characters and plots of Ivan Franko's works. Just like Den's action, it was a truly cordial move."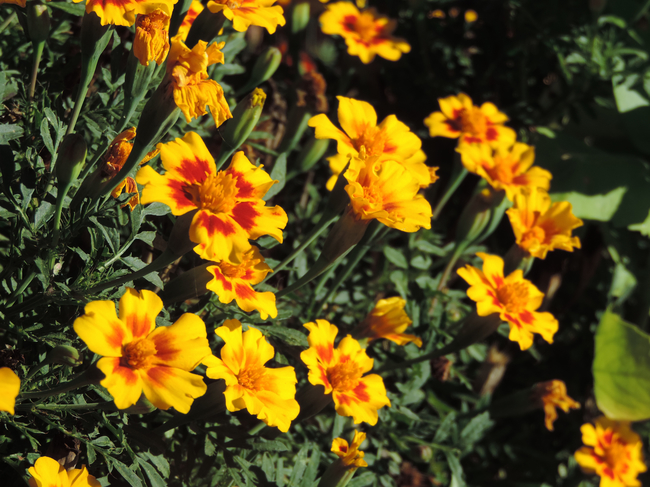 Photo by Veronika BORKOVSKA, The Day
 ***
After this exchange of gifts I headed home, loaded with two baskets of carefully harvested marigold seeds. It crossed my mind that it really takes so little to make something kind and cordial happen: a bit of benevolence, good intentions, and loyal supporters. Among these (besides the museum staff) are also Oleh Yavodchyk, director of the Drohobych Department of Culture, and Mykola Kos from Drohobych.
Mykola Hrytsenko is the president of the Charitable Foundation in Support of the Newspaper Den's Initiatives