Kharkiv artists conquer Peru
26 February, 2018 - 17:15
Serhii Petrov, cofounder of the Bob Basset art studio, and Hamlet Zinkivskyi, a street artist, have presented an art project in Lima for the first time. Their works – 6 masks and 23 drawings – were displayed at the NEGRO exhibit at the Monumental Callao art center.
It is the local artist Conrad Flores who invited the Kharkiv-based artists to Peru. This Peruvian painted a picture that depicts a character in a mask Petrov made. The latter accidentally came across it in Facebook, which triggered artistic cooperation between Ukraine and Peru. Interestingly, this emblematic mask was made for Sid Wilson of the US heavy metal group Slipknot.
"I presented Conrad with two masks, one of which looks like the one I made for Sid. Conrad painted them over in his own style, so now they are a unique example of Ukrainian-Peruvian art. Later, Conrad gave me the drawing that helped us meet as a birthday present," Serhii PETROV says. The two masks are also on display at the Monumental Callao exhibit. Incidentally, the Ukrainian artists were struck with its history – the "temple of contemporary art" was built in one of Lima's poorest areas. It was sort of an experiment to transform a locality by means of art. Now Peruvian artists exhibit, work, and live at Monumental Callao, and the streets around it are covered with graffiti which have already become "gems" of Lima. "You won't believe it, but a former cannibal, who paints political-protest pictures now, also lives and works here," Petrov says. "It is absolutely wrong to consider Peru a fringe of the world. Art is quite original here, but, by its level, it does not differ much from what I have seen in Europe. Of course, American Indian motifs add a unique coloring."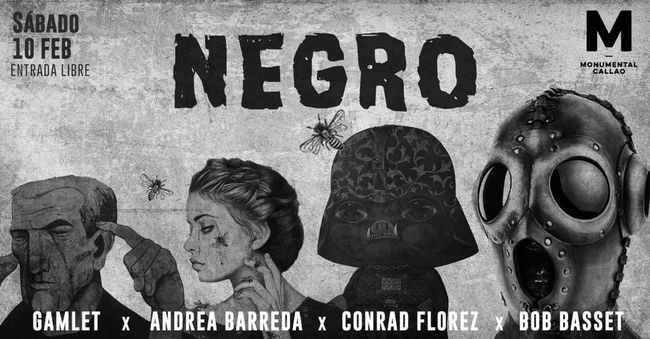 Apart from participating in the exhibit, the Ukrainian artists also created, together with their Peruvian colleague Salsa, the photo project "Carnaval." Hamlet Zinkivskyi says "carnaval" an annual February mass-scale fist fight, in which the local male population takes part. "It was an extravaganza at its best. Its participants gather on Sundays to beat one another with socks filled with stones," Hamlet explains. "We'll take a series of photographs with Bob Basset masks on these streets, with these guys in the role of models."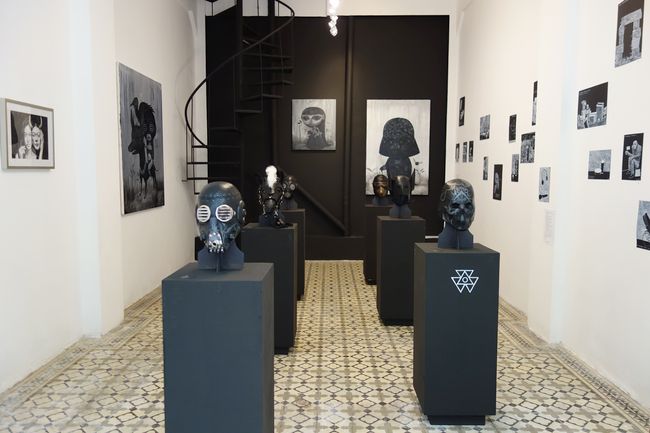 Zinkivskyi, a Kharkiv-based street artist, who presented to Peruvians a series of drawings named "Black," believes that Callao, which hosts the Ukrainian exhibit, is a graphic illustration of how culture can change people. "The area that consists of poor slums is all painted with graffiti. And in the middle of it stands a five-storey center of galleries and art studios. The local populace comes here to see exhibits, and kids watch films in the local hall. In other words, just imagine that the entire artistic hangout of your city, with all art studios and exposition halls, has been transferred to a depressive bedroom suburb and artists have painted over all the buildings. Of course, this would change the life of local people," the artist asserts.
After the Peruvian art expedition, the Ukrainians plan to invite Conrad Flores to Kharkiv. Petrov is sure this will be interesting experience for the Peruvian artist. "Lima astonished me – next to the slums, there is a five-star hotel, a 1,500-year-old pyramid, and the best park I've ever seen. I hope Ukraine will astonish Conrad. We have no pyramids, but we have artists," Petrov says.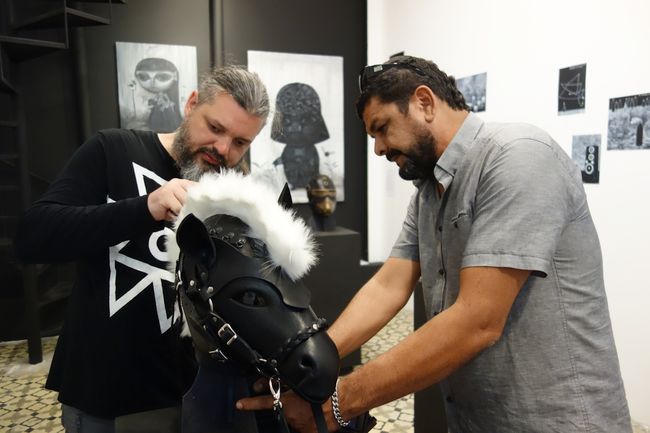 For Bob Basset and Hamlet, the exhibit in Peru is not the first joint art project abroad. In 2016, Paris saw their video collaboration "Secret Room" as part of the festival "Addiction a l'Oeuvre." In general, the geography of these Kharkiv artists' exhibits is very wide – from European counties to Asia and New York. But this is the first time they were invited to Peru, and they are glad to have opened contemporary Ukrainian art to one more country.