Musician and polyglot
Claudio Martinez on tradition, historical approach to rendition, and Kyiv
06 November, 00:00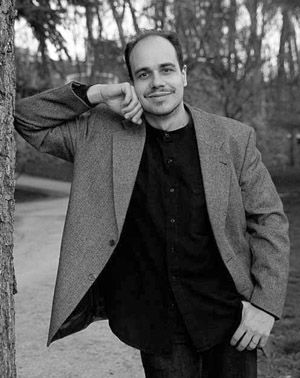 Claudio Martinez Mehner, a distinguished Spanish pianist, performed during the Chamber Art Music Festival recently held in Kyiv. Apart from his phenomenal musical talent, the man knows some seven languages. He was born in Germany, studied at the Escuela Superior de Musica Reina Sofia in Madrid, the Peabody Institute, the Moscow Conservatory, the Theo Lieven International Piano Foundation, and the Hochschule Musik Freiburg. In Kyiv, he performed with the Kyiv Soloists Chamber Ensemble, Collegium String Quartet, and conducted master classes for Kyiv Conservatory students.
What do you think is the most important aspect of rendition: style, concept or interpretation?
"Style isn't the main thing, and nor is interpretation in its traditional meaning. The main thing is what your music wants you to do. I mean the best possible understanding of every note, every beat. Style originates from the text, and I mean not what's written but what it actually means. One has to work hard, considering that there are many ways to interpret compositions. First, you have to realize what's behind the text, what the composer had in mind before writing the music, because the music that you can read offers little information."
In other words, one has to be a performer and historian?
"That's right. I don't mean style which is often associated with a certain image, intonation. I enjoy playing Johann Sebastian Bach, Friedrich Gulda, Sviatoslav Richter or Edwin Fischer's records. I'm fond of all these musicians. I'm also interested in historical ties. Where what came from and how. Music as a historical evolutionary phenomenon has long ceased to exist. The language of music is dead, like Latin or Old Greek. There is nothing you can do about the situation in principle."
There are compositions that allow the performer some freedom, just as there are compositions that forbid it.
"A keen apprehension of music depends on one's inner culture, and this understanding depends on contemporary culture. In other words, 20th-century music is closer to us than that of the late 18th century. Chopin's best interpretations belong to the 20th century."
Does this mean that the road to old music is closed?
"Baroque music is obviously on an upward curve. Its interpretations at the turn of the 20th century were motley, often unprofessional, so one has to start from scratch. There is the younger generation of musicians, people who are avid readers, whose knowledge is increasing. No one will play records with baroque renditions conducted by Herbert von Karajan these days, for example."
What makes you think that we in Ukraine can better understand modern music?
"You can, because the composers are still alive; because you can meet with them and ask them to explain their music. There are varying opinions concerning composition, music, and so on. There are composers who interest me, among them Gyorgy Ligeti, Olivier Messiaen, and Gyorgy Kurtag. They rely on tradition, I mean the kind of music written before. Others have tried to work out something absolutely new – I mean America's minimal music. You will hear Bach, Liszt, Chopin, and Debussy in Ligeti's music, along with minimal, even African tunes. An incredible palette! Bela Bartok is another good example. His compositions appear to embrace a 400-500-year creative legacy. The same is true of Brahms, Beethoven, and Bach. These composers synthesized everything created before, creating nothing new – or so it seemed. I'm mostly interested in cultural ties in the realm of music."
You play several instruments, including violin, viola, and harpsichord.
"I've spent several years mastering the French horn and have even given a small concert."
Does the mastery of these instruments help your understanding of music?
"It does, very much so. This is something I would recommend for every musician. Beethoven, Bach, and Mozart played various instruments."
The tradition of a musician playing a variety of instruments is an old one, although specialty appears to come first these days.
"I came to Moscow to specialize as a pianist. At the time I was a viola player. The decision to focus on the piano came recently, after my tutor told me that there are lots of pianists but few viola players. He wanted me to stay with the viola, so I took it along, but playing viola and mastering the piano turned out to be a difficult task, because the notion of specialty came first at the Moscow Conservatory. Today, I have no intention of making a viola-playing career. There is no time left for playing the violin. Off and on, I play the cello."
The piano comes first, doesn't it?
"Let's put it this way: I play the piano better than I do the cello. I'd rather describe this as coincidental. I used to play harpsichord and viola with symphony orchestras. Now you can get any kind of data [on the Internet] very quickly, compared to years you'd have to spend collecting such information previously. For example, if you want to learn the nuances of Bach's music, you look up his violin and cello concerto music, and figure out how to go about them playing the piano. I keep telling my students that an individual approach is the main point, rather than buying DVDs with classical renditions, memorizing them, saying this is the only correct approach. In fact, there is very little a music professor can do."
How do you visualize Kyiv?
"I remember my first visit 20 years ago. The city has changed, very much so. I see it as a place of intensive confrontations and contrasts. I mean your historical sites, ranging from St. Sophia, St. Michael's Cathedral, and the Motherland Memorial – they are vastly separated in time. I enjoy visiting Kyiv because I have friends, former students, colleagues, people I'm eager to meet with in your city. Pleasant memories. I gave a concert at the National Philharmonic Society about seven years back, so this must be my third performance in Kyiv."