OLEKSANDR TERESHCHENKO: Founder of Kyiv's Educational Institutions
06 June, 00:00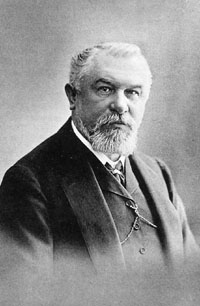 There is an ever-increasing number of publications reflecting interest in Ukraine's past, and many of them have devoted articles to the Tereshchenko family, the late nineteenth/early twentieth century sugar magnates and art patrons.
However, these articles usually deal with the "paterfamilias," Mykola Tereshchenko, tending to neglect the great philanthropic and art-loving achievements of Oleksandr Tereshchenko who made, in his time, a significant contribution to the development of national education.
Oleksandr, the second son of Mykola and Pelaheya Tereshchenko, was born January 7, 1856, in the town of Glukhov. After graduating from the Kleiman Classical Gymnasium in Moscow, he received his higher education at Moscow and Kyiv Universities. Oleksandr completed a complete law doctorate course at Kyiv's St. Volodymyr University. Then his short career of a military began. He voluntarily enlisted in the Grodno Life Guards Regiment, where he was awarded the grade of warrant-officer, but he had to resign the post after taking his commissioned-officer exams.
Round about this time Oleksandr began his active public work. He was confirmed as the honorary governor of Kyiv's Gymnasium No. 1. (This establishment was so prestigious that completing the full course there enabled one to enter Kyiv University without admission exams.) In May 1883, O. M. Tereshchenko was appointed honorary justice-of-the-peace and six months later he became a member of the Kyiv regional governors' Board of Children's Refuges in the care of Empress Maria.
Besides this, Oleksandr was a member of the committees of many provincial educational institutions and took an active part in the work of charitable associations. For example, he was member of the directorate, and then deputy president, of the Kyiv branch of the Russian Imperial Music Society for over 25 years.
Oleksandr was destined to closely cooperate with such well-known society members as M. Riegelmann, O. Vinogradsky, V. Pukhalsky, and other eminent composers, pianists, and professors. The society's Kyiv branch, founded in 1863 and maintained mostly through the contributions of private individuals, did a lot for the extension of musical culture and education. A music school was founded in 1868 (it became a conservatory in 1913). Among its graduates were composers R. Glier and L. Revutsky, pianist V. Gorovitz, singer M. Lytvynenko-Wolgemut, and a host of other well-known artists.
On January 1, 1906, O. M. Tereshchenko was granted the title of Official State Counselor for his extensive non-profit- making activities. At Kyiv Gymnasium No. 1 alone, Oleksandr Tereshchenko instituted the following scholarships granted to the most talented and diligent students:
1.The Aleksandr Pushkin Scholarship: 5,000 rubles (instituted in 1899)
2.The Nicolay Gogol Scholarship: 5,000 rubles (instituted in 1902)
3.The Privy Counselor Mykola Tereshchenko Scholarship: 1,500 rubles (instituted in 1904)
O. M. Tereshchenko used to donate 1,000 rubles to the gymnasium annually; he also paid for the education of several poorer students. He funded the construction of a holiday camp in 1905 on the Dnipro, intended for the summer vacations of Kyiv gymnasia students in poor health. Oleksandr Tereshchenko also helped upcoming artists, in particular, he would allocate his personal funds to pay for their foreign trips.
O. M. Tereshchenko died October 23, 1911, in St. Petersburg. He left a capital of 14 million rubles, two sugar plants, and manors in the Kyiv and Volyn regions. He was buried in Askold's Grave Cemetery, Kyiv.