The 83rd International PEN Congress has officially opened in Lviv, with its events including a production of Oleh Sentsov's Numbers
21 September, 2017 - 11:00
The prominent guests include the Nobel laureate Herta Muller (Romania-Germany), Adam Zagajewski (Poland) who has been repeatedly nominated for the award, Peter Pomerantsev (UK), Lyudmila Ulitskaya (Russia), Paul Auster (US), Ukrainian writers Yurii Andrukhovych, Andrey Kurkov, Serhii Zhadan, Olena Stiazhkina and 200 more most brilliant writers from all over the world. The theme of the respectable gathering is "Reclaiming Truth in Times of Propaganda."
The congress is held in a closed format: poets, playwrights, essayists, novelists, historians, publishers, and journalists come together to hold meetings and discuss important issues in the field of literature. At the same time, there is a public program, which can be attended by all comers.
In particular, the old tram depot already hosted an evening meeting in honor of Oleh Sentsov and other imprisoned writers. The program called Empty Chairs featured a theatrical production of the first act of Sentsov's play Numbers. Zhadan was the guest poet that evening, while the ethno-band DakhaBrakha pleased the audience with its music.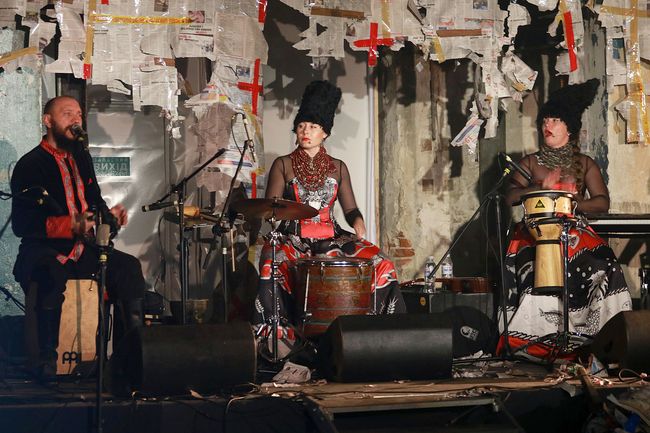 Ethno-band DakhaBrakha
Numbers was directed by head of the Lviv Stage Miniature Theater "Both People and Puppets" Oleksii Kravchuk (Oleksii Khoroshko acted as scenographer, while Nadia Krat translated the text into Ukrainian). The actors of the Lesia Ukrainka Lviv Theater were involved in the production, as were students of Franko National University (Department of Theater Studies and Acting).
"The topic of imprisoned intellectuals is very important in my life," Kravchuk told The Day. "I am personally very close with Professor Ihor Kozlovskyi, who is now imprisoned by the so-called 'Donetsk People's Republic.' He was a friend and teacher not only for me, but for almost all actors of the Kurbas Theater as well. When intellectuals are found behind bars, the country loses its ability to think. The creative ability follows, and the people become slaves. As for Sentsov, I will say frankly: at first I treated him simply as a person illegally sentenced in Crimea. However, having read his play, I realized that he was an incredibly talented playwright. Sentsov cares deeply about his works' subjects, and this connection is very important. His Numbers depicts people who do not have names. Even numbers are female, odd numbers are male, and all of them live beyond the rules. That is, this play reflects the model of our society which is very farcical and puppetlike. In my opinion, Numbers is relevant for any country which focuses on mechanisms instead of humans! As of today, when the Ukrainian society, unfortunately, has a very strong rationalist current that daftly divides people into slaves and some higher castes, that absolutely levels out all of us, it is a litmus test, which makes the play relevant."
After the first performance of the first act of the play took place specifically in the framework of the PEN congress in Lviv, do you plan to stage the full version of Numbers at the Lesia Ukrainka Lviv Theater?
"Yes, I want to offer this work to the new management of the theater, to be staged as a shared idea of the Lesia Ukrainka Theater and the Both People and Puppets Theater. In my opinion, this project needs to be implemented, because a lot of contemporary dramas just reflect the current state of Ukraine, be it the internally displaced persons issue or the war. However, Sentsov's play is a philosophical work as well, because the playwright shows where people should not go...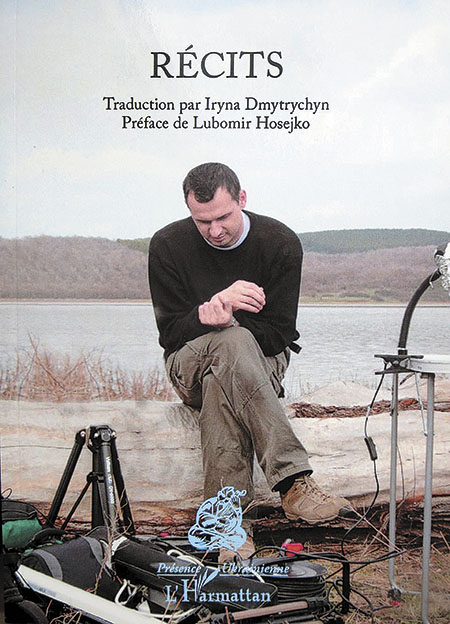 "The theater must get people thinking. We are now all suffering from too much reflection. At present, many thinking people are leaving this country, but the remaining ones need to be listened to, we must enter into dialog with them..."
You have had a rich acting and directing experience. Regarding Numbers, what has come to the fore there?
"One should talk about a triptych here. At the Both People and Puppets Theater, we are working on Hamlet (its premiere is scheduled for October 27). By the way: they have a Hamlet production in Ivano-Frankivsk, and soon there will be another one in Kyiv, featuring puppets, and also in Kharkiv. Our Hamlet is about a man who falls under the sway of passions (power, money, sex) and turns into a... puppet. Simultaneously, I and Khoroshko stage Albert Camus's Caligula at the Lesia Ukrainka Theater, where we play with dummies, that is, we show how artificial is claimed to be genuine, and genuine is claimed to be artificial. The third component is Sentsov's play, which shows the depersonalization of man. Consequently, one must teach people how to think, to enter into dialog, to speak, to reason, not to offend each other, to respect the views of another. In my opinion, it is precisely Sentsov's play that gives this motivation..."
***
Other public events of the 83rd International PEN Congress, including discussions, presentations, press conferences, literature workshops, poetry evenings, excursions, commemoration evenings, exhibitions, etc., which will last till the end of this week, will be covered in coming issues of The Day.