Den celebrated the 5th anniversary of its glossy supplement with a marathon of intellectual communication, its centerpiece being the evening party in an old courtyard in Andriivskyi Descent
30 May, 2017 - 11:51
For Den's team, this year has been full of project anniversaries, celebrating endeavors represented on our Project Tree: for instance, our glossy supplement Route No. 1 turns 5, and the Summer School of Journalism, which already accepts applications (the terms are covered in detail in the article "Your Chance," available online or in Den's No. 88-89 for May 26-27) turns 15 this year. On the occasion of these pleasant anniversaries, and also in keeping with a beautiful and useful tradition, the cozy historic courtyard in Andriivskyi Descent became the meeting place for supporters, friends, and partners of Den. The warm May rain calmed down the dust before the meeting, and one wanted to breathe in deeply to absorb the bubbling inspiration and fresh ideas of the event.
Before the meeting, Den hosted yet another intellectual marathon. On the occasion of Route No. 1's anniversary, the Internet TV channel UKRLIFE.TV offered us an unprecedented format of TV reception, featuring an online banquet during which the publication's creators communicated with partners and subjects of its contributions. Frankly, we had been worried, but are satisfied with result now. The interviews, held in an unprecedented format, took no less than six hours! We would also like to note that the number of online viewers steadily increased during this time.
The audience had the opportunity to learn about the platform of values and peculiarities of behind-the-scenes work in the glossy magazine which is unique in its kind. Also, one could learn about the secrets of tea ceremonies, fashion trends, the "sixth sense" of taste, backstage dealings in the construction market in Ukraine and many more. All this was revealed in conversations with long-term partners of the project, in cooperation with whom, we have discovered 55 prominent topics in the glossy magazine (you see, the lucky number "five" comes up again!). "We have a new format of communication, but stick to Den's old rule, calling for the maximum attention and respect for our reader, partner, viewer! We did it, and it was very exciting for me!" – such was Larysa Ivshyna's response to the experimental event; incidentally, she spoke on air about the origin of the idea and the publication's philosophy of "mixing the milieus."
Partners and guests were pleasantly surprised by the TV reception. One of them, the owner of the construction company Contact-Invest Yevhen Chernetskyi, noted that such a format of cooperation with the Internet TV was a route to the future. Just like other innovations in our magazine, in fact. Video record of the TV show can be accessed at UKRLIFE.TV's YouTube-channel or Den's website, in the article entitled "The TV Reception Was a Successful Experiment").
After the "intensive intellectual effort" of the telethon, it was a pleasure to dive into the informal atmosphere of meaningful communication with our supporters. A lot of sincere words were said, some of them tear-inducingly moving. It seems that such meetings are a source of strength and inspiration for everyone.
Impressions from the Spring Den were present all over Facebook as well. "Route No. 1 is a surprisingly effective and successful tool of making our common ethical and aesthetic space more complex. Personally, I am proud of having the opportunity to participate in this project two years ago, as it was an interesting and rewarding experience. Thus, I kindly envy colleagues who do this important work and wish them not to lose enthusiasm," remarked the scientist Yurii Kostiuchenko. For some, this meeting was personally important. Journalist from Donetsk Anna Khripunkova wrote: "It was a happy day next to the wonderful people with whom one sometimes does not even need to talk, because one understands their thinking. These looks, hands, this quiet. It was one of those nights in the heart of Kyiv when I felt completely at home."
"OUR BASIC RULE IS THAT OF ETHICAL SAFETY"
"It is nice to see so many of our friends in this beautiful courtyard that embodies the luxury of intact parts of Kyiv, which today breathes with an incredible freshness, just like all our ideas...," Den's editor-in-chief Larisa Ivshyna said in her greetings during the Spring Den event. "Our magazine Route No. 1 is an immediate reason for us to feel ourselves particularly solemn and festive, and so optimistic. On Den's Project Tree, which has been functioning for 20 years, it is a special product. When we were already running the newspaper, the two websites and many more projects, we decided that we had to create a comfortable magazine with great respect for our readers, so as to acquaint businesspeople with creative ideas, to mix these milieus. Having created over 50 issues of the magazine, I feel that we have succeeded. First and foremost, it is because earlier glossy magazines were modeled on foreign ones, usually Russian. Russians, meanwhile, modeled themselves after France. Standing on our own soil, we decided to strive for the 'global sky' of ideas without 'intermediaries.' I think it is the way to go for the whole of this country that needs to believe in itself.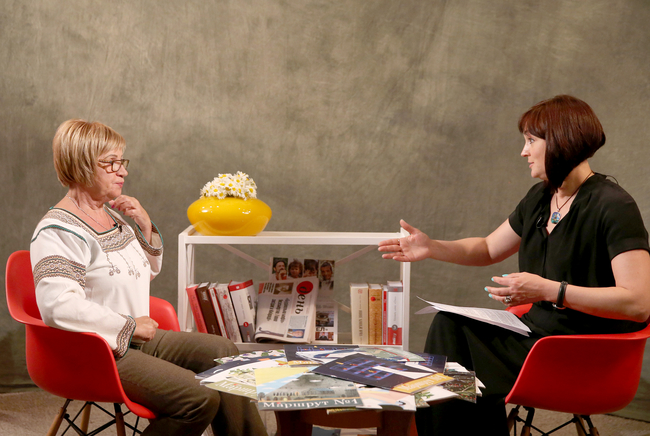 TETIANA YURKOVA, GENERAL MANAGER OF THE TRAVEL COMPANY AQUAVITA (LEFT), TOLD THE PRESENTER LIUDMYLA NEMYRIA DURING THE TV RECEPTION: "WHEN I FIRST CAME ACROSS THE NEWSPAPER DEN AT A NEWSSTAND, I SAW THAT IT DIFFERED FROM THE REST OF THE PRESS. IT DIFFERS IN THE INTELLECTUAL CONTENT THAT CAN LET US SAY THAT IT IS A PATRIOTIC PUBLICATION" / Photo by Mykola TYMCHENKO, The Day
"Everyone who works with our advertising department knows that our basic rule is that of ethical safety. Everyone who works with Den can be sure that not even one hryvnia will be spent in some other way than that agreed-upon, and that all the obligations will be met. By itself, this cooperation is a big luxury, since in our 'swampy' media environment, one needs some strong, reliable islands, which one can lean on and little-by-little force into retreat the 'dumping ground' of cyberspace, provide high-quality alternative, and show that we can create a quality product.
"I want you to not only look at our wonderful partners and good advertising in the latest issue of Route No. 1, but also to read people's thoughts about our cause and about themselves. Also, it features a collection of the magazine's covers, representing our ideas which have been fantastically well understood and displayed by the artist Anna Havryliuk. These works should find their way not only to museums, but also to every Ukrainian home" (by the way, fresh Route No. 1 is available from newsstands and can be ordered in Den's online store or by calling (044) 303 96 23).
"WE CAN ONLY COUNT ON OUR OWN INTELLECT AND FORCES"
Serhii BORSHCHEVSKYI, writer, translator, diplomat, expert at the Center for Russian Studies:
"I have been reading Den from the time of its foundation, albeit with some pauses. From 1994 till 1997 I worked in Cuba, and then I was on a mission abroad from 2000 till 2005, so there are unfortunately some gaps to fill. For instance, in Cuba we only got Ukrinform via telefax, and 'live' press was delivered from across the ocean with diplomatic couriers, but it only happened once in two months. I remember that I had a T-shirt with a print from Den's fifth anniversary, which was celebrated at the Ukrainian House.
"I have been Den's author for many years. In 1998, to mark Gabriel Garcia Marquez's birthday anniversary, Den dedicated a whole page in section Culture to my translation of his short story. Due to this, Den's readers were the first in Ukraine to read it.
"Den enables me to express my political considerations, in particular concerning Ukraine's foreign policy, and speak about measures which are worthy of taking but which no one takes.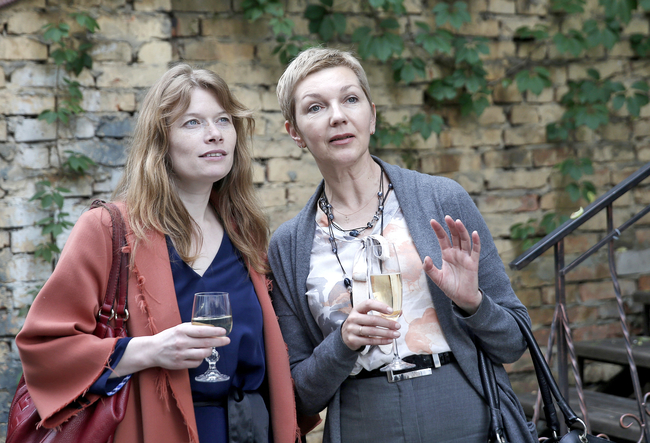 GUESTS OF THE SPRING DEN VIOLINIST BOHDANA PIVNENKO (LEFT) AND MUSICOLOGIST HALYNA BABII. "IT WOULD BE TOO SIMPLE TO SAY THAT THE PAPER IS ENGAGED IN SPREADING AWARENESS. DEN GIVES A GUIDING LIGHT…" BABII THINKS / Photo by Ruslan KANIUKA, The Day
"I am convinced that today we do not have to pay attention to what is being said about us. As Pavlo Tychyna, the poet, said, 'we must do what we must.' We can only count on our intellect and forces. The war which is going on for over three years has proven this. Our international partners demand that we respect some people's rights while forgetting about the war raging in our country. And they forget that it is not a domestic, civil war, but an imperialist war on the part of Russia and a national-liberation war for Ukraine.
"In my opinion, today the media must use all forms and cater for a broad audience, for all age groups and tastes. This is exactly why I support the new formats which Den employs, in particular, Route No. 1. This is an important niche and I would hate to see a stranger occupy it in Ukraine. To me this project looks very interesting and promising. Den is our newspaper and it must expand."
"THE STYLE AND ABILITY TO WRITE ABOUT THE FUTURE"
Anna KHRIPUNKOVA, journalist, Den's author:
"I have known Den since the 1990s. It seems to me, since 1999 (when I entered university) I have been writing. My Ph.D. thesis was based first on Den, then I added more media from Donbas, and I have never seen it as the newspaper about the past. On the contrary, even if it carried an article about ancient history, I saw it as a projection into the future (not even into the present). It seems that papers must write about the developments of yesterday or days long passed. And in Den you read about how it happened, but you do not see that past, you do not feel any misplaced nostalgia. It is always something about the future. Also, Den can write in such a way that if you read a Christmas issue in the summer, you feel Christmas. You just cannot distract your attention from it. By the way, the same goes for Route No. 1: if you read it, you are 'then and there': on the spot, in that weather, in that time. And I have always loved it, it has drawn me. Later, when I had a chance, of course I worked [for Den]. It seems to me I did not really fit because I wrote about what is happening now, not about the future events; I was not able to forecast. Maybe that was the reason we parted. But now I already feel I am strong enough to do something like this.
"What I like both in this newspaper and in the magazine Route No. 1 is their style. I do not mean the appearance, colors or something like this. This reminds me of a charismatic person's style: no matter what kind of person it is and how they dress, you simply follow them and listen with an open mouth. This is the way this newspaper and magazine speak to me. I sense it in every line. This is the style and the ability to write about the future. Whatever the authors write, it either comes true, or you think some five years later: oh, I have already read about it in Den, this is how it should be indeed."
"YOU PROVIDE READERS WITH GOOD REFERENCE POINTS"
Mykola KNIAZHYTSKYI, Ukrainian MP:
"I am certain that the format of an intellectual glossy, which Route No. 1 represents, is in great demand today. Nowadays it is easy to lose your way in the flow of impressions and information on the internet, on television, and in the press. Den and Route No. 1 help avoid this and provide their readers with good reference points. Sometimes the reader needs instructions: what to pay attention to, where to go and so on. It is very important to get advice from someone you trust. That is why what Den does is so important. Sadly, in Ukraine the press mostly remains unprofitable, and most media are financed from Russia. Obviously, their reactions are not adequate and profit the customer. Adequate reactions are badly needed, that is why Den's projects and those of your publisher are very important."
"DEN IS THE MOST CONSISTENT PERIODICAL IN UKRAINE"
Anton HERASHCHENKO, MP, adviser to the minister of internal affairs of Ukraine:
"Den has made a very big contribution to the development of Ukrainian state. This is a paper which has always openly written about the drawbacks state has. And it does not merely criticize, but also offers the ways of fixing them. Den is also the most consistent periodical in Ukraine. Sometimes, when I read Den's materials about the outcome of the investigation in the Gongadze case, I get an impression that Den was where he actually worked.
"I am very thankful to Den's staff for your outstanding contribution to the development of democracy and independence of Ukrainian state. I congratulate all the present on having such periodicals in our country, which independently and unbiasedly cover the Ukrainian reality, no matter how difficult it is to do it in our conditions. My congratulations to the newspaper on its fruitful contribution."
"YOU ARE SYSTEMATICALLY PAVING THE WAY INTO THE BETTER FUTURE"
Halyna BABII, musicologist, radio and TV presenter:
"I have a long-time preference for this newspaper. Den performs a messianic function, it is a guiding light. It would be too simple to say that the paper is engaged in spreading awareness. Den gives a guiding light, leads from darkness and information trash away towards something valuable. What I value most is that it does not pursue cheap sensations, but seeks to have a long-lasting effect on society, strategically calculated for years to come, and is systematically paving the way into the better future. I adore Larysa Ivshyna, who guides, plays the first fiddle and sets the example, teaching and leading the entire staff. Good job, Larysa! And well done for those who understand this and flock together under her lead.
"My favorite project is the Summer School of Journalism, because it is the passing of the baton, caring for the future of Ukrainian journalism, and instilling the sense of beauty, taste, and professionalism in the youth all at once."
***
Each such reunion of Den's supporters, friends, and partners is an effective step towards the mixing of environments and creating one, intellectual environment, and we are all engaged in this process. So we keep laying the intellectual Route No. 1!