To combine Myroslav Skoryk, Yevhen Stankovych, and Valentyn Sylvestrov in one project was an act of extraordinary courage, and even a provocation of sorts
16 November, 2017 - 11:35
Legendary composers Myroslav Skoryk, Yevhen Stankovych and Valentyn Sylvestrov are now the pride not only of Ukrainian, but also of world culture! Each maestro is unique, inimitable, ingenious, crowned with the highest titles and awards. To combine these three completely different artists in one project was an act of extraordinary courage, and even a provocation of sorts. At the same time, it was a very successful PR move, supported by a competent and effective advertising campaign.
This art project took place without any government support, not even from the Ministry of Culture of Ukraine, and it sent no one to attend the performance either!
Let us recall that "Three S: Skoryk-Stankovych-Sylvestrov" was an entirely new format of promoting the best achievements of contemporary Ukrainian musical art that was conducted on an impressive scale (concerts took place across Ukraine in 2016-17). One can confidently say that our national music classics have reached a very wide audience with it. And, as a matter of fact, this is not purely commercial, but above all a socially oriented project with a well-targeted musical-educational messaging program. This is so since presenting music of the outstanding national composers in Ukraine enables formation of a new audience as well as broadens the geographical appeal of the Ukrainian classics and shapes a good taste.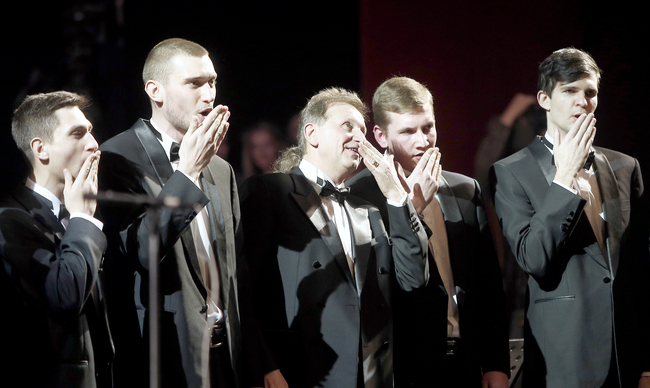 THE KYIV MUNICIPAL CHOIR IS PERFORMING UNDER THE GUIDANCE OF MYKOLA HOBDYCH
"And still, this art project took place without any government support, not even from the Ministry of Culture of Ukraine, and it sent no one to attend the performance either! Of course, the Kyiv Opera celebrated a major anniversary on November 8, and all the officials were there. That is, we were made to understand that attending the Opera every other day, even for a completely different program, is too hard for the ministry's officials. Moreover, they consider this project a commercial one, because one of its important and significant achievements is getting support from donors and socially responsible businesses, which, despite the lack of a law on charitable activities (which the Ministry of Culture should have drafted and pushed through the legislature long ago), continue to support the NATIONAL culture and its giants, or try to. In the present case, it meant supporting Skoryk, Stankovych, Sylvestrov and the art of music.
"Despite everything, the project exists. We greatly respect all who worked on it: the initiator, producer, and cellist Oleksandr Piriiev and his team," Olha Stelmashevska wrote on Facebook.
The National Opera of Ukraine's auditorium was sold out. The audience was most diverse, including famous cultural figures as well as diplomats and businesspeople... However, no one was disappointed: each work caused a flurry of applause and a real storm of ovation. Still, this, too, was to some extent predictable: first-class musicians performed works that had been repeatedly approved by performers and the public: songs by Skoryk and Stankovych sounded before as part of festival productions. Sylvestrov's works were also performed during the recent anniversary celebrations held on the master's 80th birthday. The numbers alternated on the principle of contrast, but this kaleidoscope surprisingly shaped up as a single dramatic whole.
Very spectacular, festive symphonic miniature Chanukah by Stankovych opened the evening; it was performed by the Symphony Orchestra of the National Radio under the direction of conductor Volodymyr Sheiko, who created a transparent, delicate show featuring a palette of "pure timbres."
Two Caprices, coming from the eponymous cycle of Skoryk and done in his witty orchestration, were perceived as miraculously modern, like frames taken out of a newsreel. Meanwhile, Dmytro Tkachenko performed Concerto No. 2 for Violin with Orchestra (this piece was dedicated to the prominent virtuoso) simply heart-breakingly – his violin spoke so tragically and emotionally that one just could not hold back the tears.
In the second division, the renowned Kyiv Chamber Choir, which is led by Mykola Hobdych, took the stage. They performed fragments from Sylvestrov's cycle Maidan-2014 and two choruses by Stankovych: the philosophical psalm How Lovely Are Thy Dwellings and the fiery Dance – a true fiery theatrical performance. Exquisite Quiet Music by Sylvestrov, which sounded transparent and melancholic, charmed the audience with its delicate melodic qualities and elegance. The program was crowned with a dynamic, full of recognizable intonations Concerto No. 2 for Cello, inspiringly played by Piriiev (this piece was dedicated to him).
The listeners' excitement was boundless, the musicians were greeted with a standing ovation. Therefore, the hit Melody by Skoryk, played by Piriiev in an encore, became a convincing high endpoint of this outstanding musical event, which deservedly qualifies for the title of a landmark show and will become an ornament of the National Radio's collection of records!