Ukrainian well-known journalist and photographer Yurii Rost on magic of the great Italian's personality and friendship with him, the life of intelligentsia in the former Soviet Union, and about Ukraine
23 March, 2015 - 18:19
Pyotr Vail has a book The Genius of Place. It is amazing. A devoted traveler, Vail in a simple and enchanting way proves that the connection of a person with the city, the locality where they live is mysterious, but evident. It is undeniable, but mysterious. Los Angeles and Charlie Chaplin, San Francisco and Jack London, Munich and Wagner, Paris and Dumas, Istanbul and Brodsky, Milan and Visconti, Rimini and Fellini.
If one tries to find an association with months and names of people leaving their trace on earth (admit it, it is interesting too and does not seem to be plagiarism), March would be the time of Tonino Guerra. An outstanding Italian screenwriter, writer, winner of three Oscar awards, and seven Golden Palm awards was born on March 16, 1920 in a small village of Santarcangelo di Romagna not far from Rimini and lived in this locality for his entire life, till March 21, 2012. He was buried in Pennabilli; the urn with his ashes was immured at the highest point of the garden, in the wall that has remained from the older times and protected the palace of Pandolfo Malatesta.
I came up with this comparison, because for half a year now I have been keeping an interview with our famous fellow countryman, photographer, journalist, writer, TV host, and even a bit an author, Yurii Rost in my archives. In 2013 he arrived in his hometown at the invitation of a group of enthusiasts who created the project "A Journey with Tonino." They, without any connection to concrete dates, decided to make the Kyiv audience familiar with the Guerra's creative work, arranged a retrospective of the films based on the screenplays written by the brilliant Italian, a vernissage of his graphic works, an exhibit of Yurii Rost's photos "The Rainbow of Tonino Guerra." They also held several interesting workshops – ceramic and xylography master classes with craftsmen from Italy, and a culinary master class using the recipes from Tonino's restaurant.
Clearly, the project was original and many-sided, but personally I, not very much familiar with Tonino Guerra's creative work, wanted to communicate more with Rost. We have been acquainted for 20 years, but do not see each other as often as we would like to, so it would be a pity to miss the chance we were granted. We spent several days together, talking about everything old friends usually talk about: friends, traveling, books, cinema, and recipes of Yurii's famous home-made liquors. And, of course, about politics. It was really interesting for me to hear what Rost thinks about Ukraine and Russia, Khodorkovsky and Pussy Riot (they were in prison then), what the difference between our countries was, what his forecasts concerning their future were. I asked for his permission not to switch off the recording device. Still we didn't have enough time to talk. We decided to finish this conditional interview in a month, wander across the favorite places of Rost's Kyiv – Yurii was going to attend the closing evening of the Days of Tonino Guerra.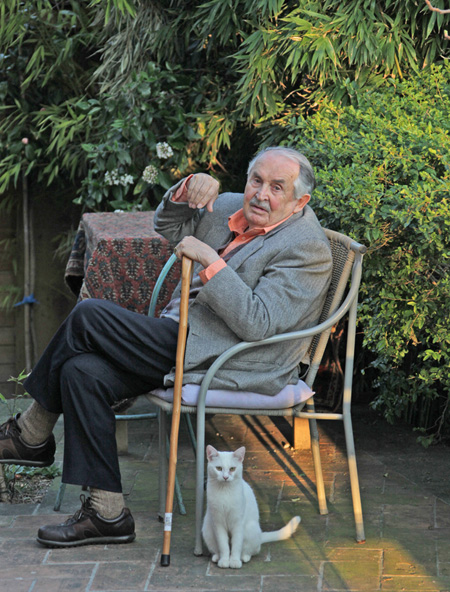 Photo by Yurii ROST
Rost did not have an opportunity to come. "The Journey with Tonino" ended without him. Several days later Maidan events began. Khodorkovsky and Pussy Riot were released from prison. People started to use the neologism "Krymnash" (Crimea is ours). The reports from the war in the east of Ukraine have become a painful routine. Boris Nemtsov was killed in Russia. A different life has begun. We haven't seen each other in this new life. We haven't phoned each another. I was missing him, but I was afraid to dial Rost's phone number. Even on his recent birthday, an anniversary. I didn't know what words to find, understanding that Yurii is probably feeling worse than any of us. An intelligent and talented Kyivite, who loves freedom on genetic level and who has been living for many decades in Russia, generously giving his life and his amazing world – the world of wonderful, honest people who have doubts and who haven't learned the words "betrayal," "meanness," and "war" – to this country. I haven't received any news from him either.
Recently I have read an article by Yurii Rost in Novaya Gazeta. It was called, "Make a mistake, Gogi!" The crossheading: "We are reading the letter to a brother written in the time of Georgian war during the Ukrainian war." Rost hasn't added a coma in this text, which not even a text, but a cry of despair and misunderstanding. Except for the afterword. I will cite a fragment, "I was born in Kyiv, where my father, a participant of the World War II wounded in a battle near Moscow, and my brother are buried. I love Odesa, where my friend Borys Lytvak, an outstanding townsman who built the Center for Free Treatment of Disabled Children, is buried. I have become fond of the village Bolotnia in Chornobyl where my dear Prymachenkos, the naive artist Maria and her amazing son, a ploughman, smith, and artist Fedor, are buried.
"They are not alive, but my relatives and friends are alive, such as my sister Iryna Hrytsiuk, Edik Cherniaiev, Myshko Reva, Lionia Borysenko, Ira Hordiichuk, Edik Blinshtein, Serhii Syrotin, Sasha Pavlov, Serhii Proskurnia, and Katia Prymachenko.
"I don't want to receive letters from them. I want to receive letters about them even less.
"I want them to live."
Now I can call him and say, "We do live. With hope. With faith. With love. Glory to Ukraine!" I can ask whether he hasn't change his mind to organize an exhibit of his photo works in Kyiv? He can try – this is about time. To ask what he is reading these days. How is canary Zhorik doing? To simply talk. About small things, which are not small at all. All the more so spring has come. March, the month of Tonino Guerra. An outstanding and joyful person who was friends with Yurii Rost.
Tonino Guerra is a legendary personality. He worked and was friends with Federico Fellini, Michelangelo Antonioni, Luchino Visconti, Damiano Damiani, Gabriel Garcia Marquez, Luciano Pavarotti, and Yves Montand. He was well-received in the circle of the Soviet (and later post-Soviet) intelligentsia: Sergei Parajanov, Giorgi Danelia, Yurii Luibimov, Bella Akhmadulina, Andrei Tarkovsky were considered his best friends. I even was lucky to see him: one day Tonino with his Russian wife Lora came to the festival of animated films KROK. What was your first meeting with the maestro?
"Like a person does not remember their birth (becomes conscious of himself at the age of four), I cannot say when I met Tonino for the first time. In spite of the fact that Moscow is a megalopolis, in fact, it is not a big town. The circle of people you communicate with is quite narrow. I have heard a lot about Guerra from my acquaintances, but at first I did not even know who he was. Later, I think Danelia told me he was a screenwriter. I opened a cinema vocabulary and saw that Guerra's filmography included over 80 films at that time. That he was a poet. Besides, it turned out he was married to the cousin of my friend, a brilliant surgeon and writer Yulik Krelin. In our company they often said, 'Soon Tonino and Lora will come, we will gather.'
"We got acquainted during one of such visits. Lora was a very beautiful woman. I think she wouldn't have spoiled the landscape of the Trukhaniv Island in the old time, if she got there tanned and having little clothes on her (chuckling). I understand Tonino: a red-haired woman with green eyes. She did not know a word in Italian, but it did not mean anything. Tonino fell in love with her and took Lora to Italy. They didn't want to let her leave the Soviet Union. Marriages with foreigners were not so popular at that time. Some friends from the milieu of filmmakers took Guerra to see one important minister who listened to the frank arguments of the vigorous Italian – and they were allowed to marry. The marriage took place in Moscow. Tonino and Lora lived for 37 or 38 years. Maybe they are still together. At least I think so.
"At that time in the 1970s Lora was working as an editor at a film studio, and brilliant and sociable Tonino immediately became the favorite of her friends. They most frequently gathered I guess in Boris Messerer's studio. That was a kind of a club uniting extremely interesting people who were not yet called dissidents, because this word appeared much later. I think it was Andropov who invented it. Dissidence appeared I think when a new feeling of the world emerged. During the war, or after it ended – when the trophy films and jazz appeared. In spite of everything we were living a good and joyful life at that time. Another thing is that the circle of people who could make us happy was narrow. Akhmadulina was the last first poet of Russia, Liubimov, no matter what your attitude to him is, was an unusual figure that breaks the barriers, Vladimir Vysotsky, Vladimir Voinovich, Zhenia Popov. I won't list every one. That was an absolutely well-outlined milieu which existed along with the system and the regime. Of course, the regime had only little affect on us. In this background the emergence of Tonino was very appropriate. Clearly, during those years in the former Soviet Union there were lots of talented people, filmmakers, artists, who were still part of the system, but Guerra did not communicate with them. Not because of political disgust to such types. They simply were not in the circle of people he liked – Tonino chose whoever he wanted. He was a spontaneous democrat in his affection (chuckling).
"How else would you describe Tonino Guerra? To say that I felt comfortable with him is to say nothing. He was an extremely well-disposed, sympathetic man without boundaries you needed to cross. Except for being talented, he had a combination of incredible qualities, of a European intellectual and a peasant from Romagna. He was communicating with people simply and easily. He has never pretended to be a different person. He was living naturally. I think he didn't lie much. I feel envious as I say this. Tonino didn't have to lie, because he invented incredible stories (these are different things), lived them through in a different life and offered for others to live through.
"Many of our common friends went to Tonino's birthday parties to Italy, to Pennabilli. One day they invited me as well, but I didn't dare go. Maybe I   thought at that time I didn't have any right to go. We got closer in an interesting way. One day before the New Year I     was supposed to convey a prize on someone in a Moscow theater. Suddenly I received a call from Gosha Kutsenko, who at that time hosted an analogical, only more glamorous ceremony in Metropol: 'Yurii Mikhailovich, you must be here in half an hour. You are a winner of the prize founded by Tonino Guerra and Federico Fellini. This is the Amarcord medal. ' Of course, I left everything and rushed to Metropol."
I've never heard about it. What are they giving this prize for?
"The story of the medal is as follows. Sergei Parajanov, when he was staying in the Luhansk prison, from time to time received either milk, or kefir due to the state of his health. Older people remember that the bottles at that time had a foil covering. Parajanov took them away accurately, flattened them and pressed out reliefs on the foil. The plots were mostly from the Bible. The Mother of God, Jesus Christ, the faces of the saints. He had about seven reliefs I think and I think one day he sent them to Guerra. Tonino came to Fellini, who was healthy at that time, and suggested founding a prize based on the reliefs created by Parajanov. Sergey had no idea about that. They found a master who molded seven models of silver. Guerra and Fellini entitled it Amarcord and decided to convey it to the person they wanted. Danelia was the first winner of this medal in Russia. For his film Cheer Up. Tonino and Federico liked the film very much. And Danelia still considers this award the most precious."
Danelia got the prize for the film Cheer Up. What did Yurii Rost do to get it?
"Danelia received the prize because of love, me – because of my friendly connections (chuckling). Tonino gave me the medal with words and said, 'Yurii, you have created so many wonderful texts and photos that we want to award you with Amarcord. Fellini is no longer alive, but he would have approved this.' We hugged, kissed, and I went to visit my friends. I was boasting, showed the prize to everyone. When I came home and opened the box, the medal was no more there. I told Danelia that he was still the only winner of the Amarcord medal in Russia. He got upset, because he is a real friend, not only of mine, but also of Tonino's. Three months later Guerra called me and invited for his performance in the House of Actor and said that I must be there. I had heard his life stories for five or seven times, but Tonino was a wonderful narrator, and every time toned them with a new color, gave new details, and it seemed that you were listening to him for the first time. That was a sheer pleasure.
"After the Tonino's performance he said in a crowded hall to me, 'I've learned about the unpleasant thing that has happened to you. I've molded another medal, you deserve it.' I was so glad that it gave me shivers. Tonino opened the wallet, but there was no medal in it. He asked, 'Lora, where is the medal?' Lora looked in her purse, but there was no medal. I said, 'Tonino, Amarcord does not want me to be its owner. But I am touched, thank you.'
"But since Tonino Guerra is a fairytale teller, the fairytale should have a good ending. In the evening he and Lora found the medal at home, we celebrated this event in Koniushnia [Yurii Rost's studio. – Author] with friends, I put it in a frame and never after took it out of there."
You said that after winning the Amarcord medal you understood that you were close to Tonino Guerra. What did this understanding mean?
"We saw each other often, didn't part for long. I offered to write a book Geography of Tonino, went to Italy, we traveled across the country together. I recorded some things. Here, listen, this is from the essay A Journey across Italy, 'In a village tavern with whitened walls there was a huge table covered with a starched tablecloth. In the chest there were Tonino's books with autographs. The adjacent room, where Tonino brought me, was adorned with blue window frames decorated with a most subtle still life.
- Open it.
- I opened. There was no window. The other side of window frame was painted over too.
- This is a work by Romano dal Fiume. He is an extraordinary artist. Romano uses old things for his pictures. But he works as a wine technologist at a winery. And his wine is as good as this picture.
'The room was soon filled with Tonino's village friends. They sat at a table, drank some amazing wine, which was created probably with Romano's help, and started to talk. Actually, Tonino was talking. They were laughing and serious, they took part and communicated.
'He and they were in the place where time can be stopped.
'Look.
'An honorary member of many academies, a winner of the highest European poetic prizes and American Oscar, respected on the Apennines Peninsula by everyone representing the modern culture from Sophia Loren to Claudio Abbado, pure and bright, with a village resident's habit to work – the brilliant 80-year-old child – is sitting in a simple village dining room, drinks village wine, eats village food, talks to his fellow countrymen, their children called by parents, and he is happy.
'And he fits anywhere where the living blood is throbbing, because he is the heart that pushes it along the veins of his people.'
"I can recall many different nice stories. Nothing serious. The greatest drama I had with Tonino was the world football championship, when Italy lost to Germany. He was terribly nervous and upset. He went to his room and didn't appear even in the evening. Only in the morning, when during the race Giro d'Italia, one cyclist from Romagna came 28th out of 170 he said with satisfaction, 'This is real victory!' (chuckling)
"I want to note the interest I saw in Kyiv for Tonino's personality, to Italy in all manifestations. This is a normal, but unique phenomenon. Really. It proves that my hometown is a living culture organism, a growing organism. There is an expression, 'There are many so-called, but few selected.' Thank you, the selected of Tonino Guerra."
L'Avventura (directed by Michelangelo Antonioni, 1960)
L'Eclisse (directed by Michelangelo Antonioni, 1962)
Matrimonio all'italiana (directed by Vittorio De Sica, 1964)
Blowup (directed by Michelangelo Antonioni, 1966)
Amarcord (directed by Federico Fellini, 1973)
E la nave va (directed by Federico Fellini, 1983)
Nostalghia (directed by Andrei Tarkovsky, 1983)
Ginger and Fred (directed by Federico Fellini, 1985)