Two kilos of music history
The fund of Kyiv archive-museum has been replenished by documents of well-known Polish conductor Roman Rewakowicz
15 October, 17:26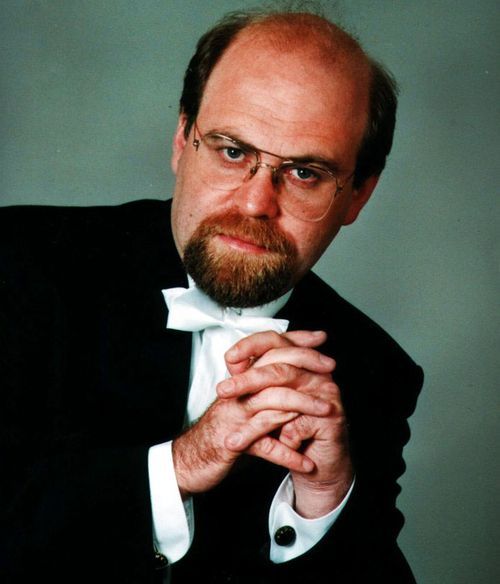 A creative meeting with Polish conductor of Ukrainian origin Roman Rewakowicz, dedicated to the launch of his personal fund in our capital, (within the framework of the literary-music project "Artistic Meetings in the Archive-Museum") has taken place in the Central State Archive-Museum of Literature and Art of Ukraine.
It will be recalled that Rewakowicz's nearly 30-year-long activity, above all, tours, are connected with Ukraine. Over this time he has accumulated many materials about various Polish-Ukrainian projects: billboards, booklets, concert programs, critical reviews, etc. So, the Kyiv archive offered and Roman Rewakowicz agreed that everything should be stored in one place. At the moment over 100 documents weighing nearly two kilograms have been given to the museum. They include the programs of the concerts of male choir "Zhuravli," which has been conducted by maestro for nearly 10 years; booklets of four festivals "Days of Ukrainian Music in Warsaw," project "Between Word and Sound," with the participation of Ukrainian grant-holders of the program "Gaude Polonia," a cycle of concerts in Ukraine, where the works by Witold Lutoslawski, Karol Szymanowski, Wojciech Kilar were performed, and concerts with the National Symphony Orchestra of Ukraine, choir "Dumka," performances at the International Lviv Festival "Contrasts."
Clearly, these documents present not just personal story of the Polish conductor, who could be a Ukrainian conductor, be it not for historical events, in particular, the Operation Vistula, which had an effect on his parents and partially his life. These materials are able to show the part of life on one person, as a fragment of new Polish-Ukrainian music history: establishment, dynamics, personalities, and routes. One day a book, and probably more than one, will be written about this. And today Roman Rewakowicz says: "In my work I always try to make an emphasis on the Ukrainian culture in the cultural map of the world, in this case, neighboring Poland, where I was born and where I was learning about the not simple Polish-Ukrainian neighborhood. I'm glad that we have lived till the point of time, when this neighborhood has given way to close European relations."
After Roman Rewakowicz told a short self-biography and explained how he started to take interest in Ukrainian music, music records were played. These were works or fragments of works he has conducted, and which are symbolical in his creative biography. At first there were two songs performed by the choir "Zhuravli" – "Golden sun has started to shine" (lyrics by Serhii Pylypenko, music by Ivan Nedilsky) and "When you were dying" (lyrics and music by Roman Kupchynsky) – a record of the concert in Lviv which took place in April 1990. After them it became clear what Rewakowicz meant when he was telling about the meaning of this band for raising the national spirit in Ukraine before the Ukrainian independence was officially declared. Further went "Complaint of Sloe" by Yurii Laniuk to the poem by Bohdan-Ihor Antonych for soprano and symphony orchestra, the works which actually launched in Lviv the festival "Contrasts" (recording for music disk in Poland in 1998). Finally, there was the play by modern Ukrainian composer Zoltan Almashi to the lyrics by Czeslaw Milosz which was performed within the framework of the Polish-Ukrainian project "Between Word and Sound" (recording from the concert in Warsaw in April 2009).
A logical continuation of the music part became the performances of Roman Rewakowicz's Ukrainian colleagues and friends: composers Ihor Shcherbakov and Oleksandr Shymko, music critics Olena Taranchenko and Natalia Semenenko, conductor Ivan Hamkalo. It turned out that Rewakowicz's role in the life of each of them boils down to discovery of something unknown, some unknown music context, as well as themselves. Apparently, the new Polish-Ukrainian music history is above all the mutual broadening of information horizons.