Her sketches of traditional garments are exhibited in Lviv
27 September, 2017 - 17:01
"Here in 1938-67 lived and worked traditional artist Olena Kulchytska," reads a memorial plaque at the entrance to an inconspicuous home. This building has for nearly half a century housed a memorial museum of a female artist who shook the male-dominated artistic world of Lviv over a century ago, becoming the first woman to receive artistic academic education in Galicia. She was Olena Kulchytska, Ukrainian graphic artist, illustrator, master of applied art, educator and public figure, as well as author of more than 4,000 works of art.
Liubov KOST, director of the museum, provided The Day with comprehensive information on the exhibit commemorating Kulchytska's 140th birth anniversary: "Each year we hold exhibits here, dedicated to particular aspects of Kulchytska's artistic career. She was very versatile and worked in different genres of painting, drawing, and decorative and applied art. Her versatility allows us to hold exhibits on a yearly basis, where we present individual aspects of her artistic gift.
"This exhibit is the result of our research into an extensive series of traditional garments, created by Kulchytska in 1910-53 and including water colors and pencil sketches on which she had been working for a long time. This collection is preserved at the Lviv National Museum. Kulchytska bequeathed all her works to what is now known as the Andrei Sheptytsky National Museum. We singled out her works dedicated to the folk costume from the bulk of her heritage.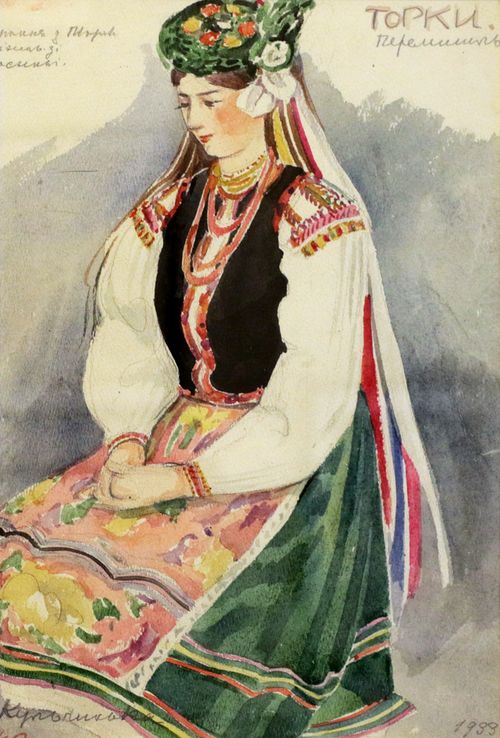 BRIDE WEARING A BRIDAL CROWN (TORKI, PRZEMYSL COUNTY, SUBCARPATHIAN VOIVODESHIP, NOW IN POLAND), 1933
"All the exhibits represent regions as classified by Kulchytska self: Lemkivshchyna, Volhynia, Podillia, the Lviv region, and the Hutsul region. The artist covered all western Ukrainian ethnographic areas, presenting various types and samples of folk costumes: male and female, winter and summer, everyday and festive. These drawings are priceless because we can both see ancient examples of garments and the hand of Kulchytska the water color painter. Looking through her works, we see not only traditional garments, but in general the portrait of the contemporary young Ukrainian woman.
"This exhibit is part of a larger album project, which we have been creating for two years.
"In 1959 Kulchytska published an album titled Folk Costume in the Western Oblasts of Ukraine, which included 74 entries made on the basis of sketches of the 1920s-1930s. The complete series includes 426 items.
"The project we are now working on is partly a reprint of the 1959 album, and also all supplements from our storage. This will be the second part of the album. Part One Graphic Art. Painting. Applied Art was printed by Apriori Publishing House in 2013. If we succeed in realizing our project, it will be of great help to scholars. We hope to see it published by the end of this year."
The opening of the exhibit attracted a big crowd, some of the visitors even had to line up at the entrance to the exhibition room. Among the guests was painter Daria Tumanova, who shared her feelings with us: "I am really impressed. I myself graduated from the Ivan Trush College of Decorative and Applied Art, but in fact we never got to see a lot of material. All of this is new and extremely fascinating to me. We must never lose this traditional culture. These are very interesting works both from historical and artistic perspectives."
The exhibit is open at the Olena Kulchytska Art Memorial Museum in Lviv through November 30.