Yurii POHORETSKY: If classical music is left only to specialists, it will be the beginning of the end
Musicians of the Collegium quartet tell about the festival held for the fourth time in Kyiv
18 October, 00:00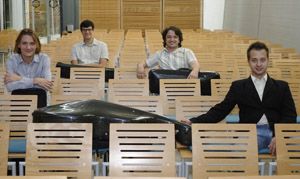 International Festival of Classical Music "ChamberArtMusic" will be held in Kyiv from October 18 through 22. Traditionally, Ukrainian and European leading soloists and chamber ensembles perform within the framework of the festival, and authoritative European musicians give charity master classes for Ukrainian students.
For example, besides the string quartet "Collegium" and the National Chamber Ensemble "Kyiv Soloists," the first festival included performances of the Kazakh quartet named after Gaziza Zhubanova, one of the best chamber ensembles in Central Asia, and also a soloist from Switzerland Denis Severin (cello) and the son of legendary conductor Vladimir Ashkenazy – Dmitri Ashkenazy (clarinet). The second festival featured the old music ensemble "Soloists of Switzerland" – one of the most famous groups performing baroque music in an authentic manner, and among the soloists – the world-renowned violist Michael Kugel. The third festival "ChamberArtMusic" was special because of the presence of the famous violinist Sergey Ostrovsky.
The soloists who take part in this year's festival include Claudio Martinez Mener (piano) from Spain, Sefen Reti (flute) from France, already known to Kyiv audience from previous festivals cellist Denis Severin from Switzerland, young trumpet player, soloist of the Bolshoi Theater of Russia Mikhail Gaiduk, and also young Ukrainian musicians that play chamber music. The chamber ensemble "Kyiv Soloists" and regular partner of the festival and the host of the festival – quartet "Collegium" consisting of Maksym Hrinchenko (violin), Taras Yaropud (violin), Ihor Zavhorodnii (viola), and Yurii Pohoretsky (cello) will also perform at the festival.
What is special about this year's festival?
Yurii POHORETSKY: "We organized three previous festivals, giving a certain name to each one and trying to follow certain style. There has been romantic, baroque, classic music, as well as some contemporary pieces. This year we decided to skip an overall program and instead we wanted to have a festival of thematic concerts. For example, we continue the tradition of monographic projects: last year we had Joseph Haydn project, the year before that it was a concert dedicated to Antonio Vivaldi, and this year it will be a Wolfgang Mozart project. 'Kyiv Soloists' will perform without a conductor. It is not because they want to show that an orchestra does not need a conductor, but because they want to recreate the ensemble play without a conductor the way it was in the time of Mozart.
"We managed to get an art patron Ihor Voronov interested in the project and he expressed a desire to give us a cello of the European master as a gift. In order to make the event more intriguing and exciting, we decided to hold a competitive audition at the Department of String Instruments at the National Music Academy among student cellists. It is unfortunate that there were not many participants playing, but, after all, there was only one instrument. We have chosen the most promising, in our opinion, young musician. She will receive the cello and, hopefully, will play on it at the final concert of the festival.
"This year we will have two brass soloists – flutist Stefen Reti from France and fine young trumpeter from Moscow Mikhail Gaiduk. He will play two concerts: one by Georg Telemann and another one by Johann Hummel. Stefen Reti will perform together with Claudio Martinez Mener. Mener will participate in the concert 'Romantic Quintet,' in which the audience will hear two masterpieces of romantic music – quintets by Johannes Brahms and Franz Schubert. Brahms wrote a piano quintet and Schubert had a quintet for two cellos. Interestingly, by its form the quintet by Brahms is very similar to Schubert's quintet, it actually served as a model for Brahms."
In you opinion, who are exactly your audience?
Taras YAROPUD: "I have noticed that a very wide range of people come to listen to the concerts of Collegium. These are not only musicians, it becomes obvious when people start applauding between the parts of a musical piece, so, an average listener is an average person. Personally for me it is very important and it pleases me greatly. If they want to applaud we have nothing against it and can wait a little."
Yurii POHORETSKY: "It is interesting that the audience knows the classical music well. They can draw an analogy, compare one piece with another, and choose from a number of different works the ones they like the most. They are also able to distinguish between interesting and charismatic performer and a bad performance, etc. It is very important. One does not need to be an expert to love films or, let's say, books. The same is here. The most important thing is not to lose the connection between the art, classical music and people, the audience. If classical music is left only to specialists, it will be the beginning of the end.
"Overall for me one of the most important results of the festival 'ChamberArtMusic' is the exchange of experience, adopting European traditions of performing classical music, which in Soviet times was often kept in the shade, by Ukrainian musicians. Our task today is to change this situation. Particularly for young people it is a great chance to have free courses, because not everyone can afford to go to a workshop worth 500 euros abroad. Live communication with interesting musicians, even for a short time can give a lot on the emotional level."