Empress Michiko is 82. Happy birthday!
20 October, 2016 - 11:32
Over the decades, media coverage of her marriage has included disparaging descriptions, such as "Japanese Cinderella," "miller's daughter," "girl from the wrong circle," and "commoner."
In fact, Michiko's family was part of the Japanese elite society. Among the members of the Shoda clan were noted industrialists and researchers, and they enjoyed public respect. Her grandfather and father ran the thriving Nisshin Flour Milling Company. Her paternal uncle Kenjiro Shoda was a distinguished mathematician and President of Osaka University; another uncle was a professor of geology at Tokyo University. Two Shoda clan members were conferred the Order of Culture, the most prestigious Japanese award for outstanding contributions to science, technology, and culture.
Formally speaking, the origin of Empress Michiko could be described as that of a commoner, considering that she does not belong to the Kazoku (literally "Magnificent/Exalted lineage"), the hereditary peerage of the Empire of Japan, including the titles of princes, dukes, marquises, and barons, that existed between 1869 and 1947.
Under the new constitution adopted in 1947, the Emperor became "the symbol of the State and of the unity of the people" and his "divine" origin was nullified. All ex-dukes and ex-princes became formally ordinary citizens, but more often than not both the elite and the common folk would not accept this change of status unanimously. Polls show that some five percent of the respondents in Japan still consider the Emperor to be a divine descendant of the sun goddess, Amaterasu.
Half a century ago, a crown prince making up his mind to marry a girl outside the Kazoku circle made headlines, shocking, even antagonizing many.
Michiko Shoda received an excellent education. In 1957, she graduated summa cum laude from the Faculty of Literature at the University of the Sacred Heart (a Catholic university in Tokyo) with a Bachelor of Arts degree in English literature. An attractive, elegant young lady with a distinct touch of athletic build, always restrained in manners and speech, she was never a spoilsport; she could get across to other people. Her former university friends recall that this helped create an atmosphere of "harmony and mutual enrichment." Suffice it to say that Michiko graduated as valedictorian of her class.
She met her future husband, then Crown Prince Akihito, on a tennis court at Karuizawa, a resort town near Nagano. Few were willing to challenge a royal figure on court, and even fewer wanted to lose or, God forbid, win the game. On such occasions, Prince Akihito's retinue had to use their initiative and name a worthy contender, so when Michiko Shoda was called forth, she could not refuse. She and her 12-year-old partner beat the crown prince and his partner 6:1.
"Excellent! You got the better of me," the prince told her, and those present instantly realized that he had fallen in with the girl. Later, he would take pictures of her and send them to her, choosing one for an annual imperial photo exhibit.
They met again at Karuizawa the following summer. That time the prince and Michiko teamed up and eventually beat the Shah of Iran. Among his tutors was Keio University President Shinzo Koizumi [who taught him, in addition to formal education, diplomatic values and his role as a symbolic emperor. – Ed.]. The man had lost his son in a fire during WW II, he did not belong to the Kazoku and he believed it was most important to teach the young prince to understand the needs of the people and share their joys and sorrows. When he learned that the young man had made up his mind to marry a girl, a commoner, he understood and respected the prince's choice of beauty and virtue rather than social standing and wealth.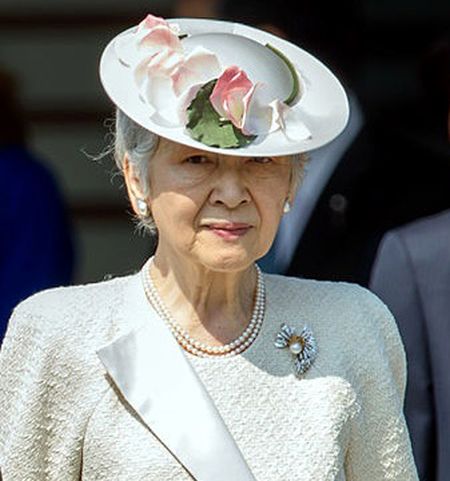 Photo from the website WIKIPEDIA.ORG
Besides, he and the crown prince's inner circle had gathered intelligence regarding Michiko long before the second tennis game. They knew that her name had been on a preliminary list of fiancees for the prince, but had been deleted because of her commoner status. After that second game of tennis, all doubts were cast aside.
That fall Michiko went on a trip to Europe and the United States. The crown prince wrote to her and she wrote to her parents, sharing her doubts about a marriage between a commoner and a future emperor.
After she returned to Japan, Prince Akihito would write and call on a daily basis. On November 3, Michiko said yes to his proposal, whereupon an official of the Imperial Household Agency formally requested her parents' consent to the marriage.
News about a commoner marrying a member of the ruling dynasty for the first time in its 2,600-plus-old history made headlines, inspiring hope that fresh blood would give a fresh impetus to the dynasty and strengthen ties with the common folk. In the meantime, some of the traditionalist hardliners insisted that a marriage of convenience was the only way for a member of the imperial family to get a spouse, considering that connections between the clans came first, forget about love. In view of this, an official announcement was made in parliament, regarding the engagement, stressing that the marriage would be made as per arrangements previously made, and that it had nothing to do with what the media had described as a real "fairy tale" or the "romance of the tennis court."
In mid-March, a couple of weeks before the wedding ceremony, Michiko appeared on television, saying the crown prince was an honest and decent man, that she trusted him implicitly, that she would always hold him in esteem.
After saying good-bye to her parents and close relatives in front of her home, Michiko got into a limo and rode off, leaving behind the hustle and bustle of her native Tokyo, crossing the bridge over the moat encircling the Imperial Palace, passing through the Main Gate with the White Chrysanthemum, entering a new closed world that would from now on become hers until her dying day.
The imperial wedding ceremony took place on April 10, 1959, and became probably the most memorable festive event in Japan that was still ridding itself the Second World War's debris.
This marriage between a crown prince and a girl who was a commoner was only the first breach of the Tradition. Others followed, including the couple's decision to raise their children instead of entrusting them to the care of court chamberlains (and this considering that Akihito had been in their care since two years of age).
There would be no wet nurses, no nannies for the future Crown Prince, Naruhito, Prince Akishino Fumihito, and Princess Nori Sayako. Michiko was always a loving mother who would personally cook and fill their school lunch boxes, attend school events, and conduct music lessons for children.
There have been media reports pointing to strained relationships between Michiko and her imperial mother in law who, unlike Emperor Hirohito, never accepted her son's choice of a commoner as wife. However, Emperor Akihito and Empress Michiko have lived together for more than 50 years. Even though, under protocol, the Empress has to keep two steps behind the Emperor on certain official occasions, this distance has remained purely virtual in their relationships. The Emperor has constantly demonstrated his support and always held his wife's hand during official appearances.
Her official responsibilities, besides accompanying the Emperor on trips abroad and during the religious rituals, include participation in various ceremonies at the Imperial Palace and elsewhere, benevolent and cultural projects, official receptions, and especially summits.
In time of ordeal the two are always on the scene to communicate with and support the people. In the aftermath of the 2011 Tohoku earthquake and tsunami, they visited the site, spoke with some of the victims, and sat with them on the tatami, very much contrary to protocol. This was publicly regarded as proof of the imperial family's genuine empathy.
The Emperor, embodying the god of the ripened rice plant, plants the first rice of the spring and harvests rice from the plants of the autumn. In one of the most solemn Shinto ceremonies of the year the Emperor, acting as the country's chief Shinto priest, ritually sows rice in the royal rice paddy on the grounds of the Imperial Palace.
The Empress is particularly responsible for the Momijiyama Imperial Cocoonery. She participates in the annual ceremony of harvesting silk, personally feeds silkworms with blackberries and takes care of them, the frames, and the harvesting. She is keenly interested in literature. In 1991, she wrote a children's book, illustrated by Wako Takeda and entitled Hajimete no Yamanobori (My First Mountain Climb). She translated into English Michio Mado's poetry, including Dobutsu-tachi (The Animals), that won him the Hans Christian Andersen Award in 1994.
An excellent pianist, she loves classics but is making every effort to promote the gagaku medieval Japanese court music style. She supports and takes part in the annual Kusatsu International Summer Music Academy and Festival, playing during concerts and conducting master classes. She also plays at chamber music soirees at foreign embassies (my husband and I have been fortunate enough to attend two of them).
She and her imperial spouse take daily strolls down the park surrounding the palace, and they are a top-notch ballroom dancing pair (as evidenced at a recent charity ball in Tokyo) and tennis team, keeping in shape.
Empress Michiko remains true to her elegant, graceful, tasteful self, without a hint of mannerism. She knows how to listen to people and let them know that she is listening, and that she cares.
I first saw her in 1997, on my first visit to Japan, during a reception at the Akasaka Palace (also known as the State Guest House). Such imperial receptions are held every May when irises, symbols of samurai valor, are blossoming all over the place. Before the imperial couple appeared, everyone could enjoy the scenery, gagaku music, and communicate with each other.
Then, at the gentleman-usher's signal, the guests lined up on both sides of the imperial passage through the garden alleys. I didn't know about others, but I was nervous; I'd never seen an emperor in person.
Miraculously, as the imperial couple was walking past, the Empress paused in front of me, looked at my ID card with the inscriptions done in Chinese ink using thin brush, courtesy of the Palace's Chancellery, and asked how I was feeling in Japan, whether I was having any problems. I don't remember what I mumbled in response, but I clearly remember the way the Empress was looking at me. Her eyes told me she really cared, so much so I suddenly felt I was the only one in the world Empress Michiko cared for…
The Japanese given name, Michiko, is made up of the hieroglyphs "mi" ("beautiful"), "chi" ("wisdom/intellect"), and "ko" ("child"). I can't think of a better name for a true empress, a living symbol of wisdom and grace.
Happy Birthday to Your Imperial Majesty!