How open data improves Ukrainians' lives
A master class from Drohobych
26 September, 18:05
Ukraine has placed second among the countries that achieved the greatest progress over the past four years in the field of information disclosure. Meanwhile, this country holds the 17th position overall out of the 30 countries that have joined the International Open Data Charter. Within Ukraine, Drohobych has been the leader in data disclosure this year. Recently, this 100,000-strong city won the national competition Open Data Awards 2018.
Drohobych can offer the rest of the country a real master class in making routine and uninteresting bureaucratic documentation useful to the community as it creates new services and even makes money.
Even as recently as two years ago, most decisions, reports, or routine statistics remained confined to the internal servers of the city council or even old paper journals. However, local officials then began to publish the entire information about the city's life: from real estate registers to tender procedures and the number of patients admitted by the outpatient hospital. All these data are now made available to residents at the city's website, which can be accessed from any Internet-capable gadget.
"You can see a whole picture after just three or four clicks, whether it concerns finances, alliances, and conflicts involving local councilors, or decisions they make," local civic activist, editor-in-chief of the Media Drohobychchyny newspaper Mariia Kulchytska shared her impressions.
According to her, the work of local journalists has become much simpler. After all, if earlier one had to submit dozens of requests to get some figure having to do with the city budget or tender procedures, now it is enough to go to the city's website. Local authorities post all their decisions there of their own accord, without waiting for requests. And these are not just scanned bureaucratic documents, but also analyzed data.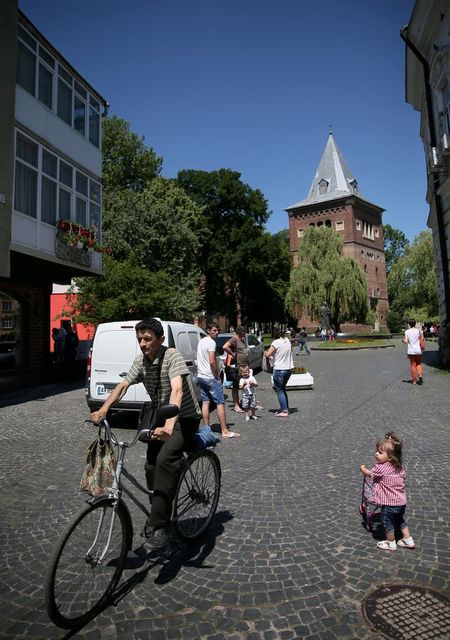 Photo by Ruslan KANIUKA, The Day
A good example of turning dull statistics into useful services was shown in the case of the local outpatient hospital. The Drohobych hospital was among the first in Ukraine to open its registry data for citizens, enabling them to schedule a doctor's appointment online. In just 20 days of this September, over 9,000 citizens did so through the e-registry.
"We save both patients' and doctors' time. There are no queues at the doctor's cabinet's door anymore. Everything is scheduled hour by hour, everything is scheduled online," acting chief doctor of the Drohobych City Outpatient Hospital Yuliia Honcharenko told us.
Moreover, local patients have their own electronic medical records. People can access them, too, using their own smartphones, if need be, and doctors can do the same: a patient may well need urgent advice or be in some kind of emergency.
"We had a case when a person had become unconscious, so the doctors saw in his electronic declaration that he had diabetes, and already knew how to proceed further, how to help him."
This kind of healthcare reform has also been of interest to residents of the district and neighboring towns. According to Drohobych officials, electronic innovations have attracted hundreds of so-called medical tourists to the city. People go to Drohobych to take advantage of the quick and convenient services offered by the city's doctors.
The city's mayor is happy: this project has been a success not only in terms of reputation, but also economically. After all, more data makes for better analytics, and hence better decisions. The city's money is spent wisely.
"Now we can fund priority projects. For example, we did thermo-modernization of a kindergarten. We have been saving on heating bills due to it. Also, we have replaced the mains pipes, taps and have been saving on water bills. Such seeming trifles have a very big impact when it is done on a city scale, believe me," asserted Taras Kuchma, the mayor of Drohobych.
As a result, investors have grown more interested in Drohobych, and the city's advertising revenues have doubled. While they stood at 176,000 hryvnias in 2016, then in 2017 the figure was already 350,000 hryvnias. This was because the newly created service, based on open data, allowed the city to detect all illegal advertising boards, and the field work was done by citizens themselves.
"You look at the address, go to the corresponding web service, look whether the board is registered, and if it is not, you submit a report to that effect and this illegal advertisement gets removed. Why is this important? Because it increases the local budget's revenues," Kulchytska said.
Manager of the Drohobych Smart City program explained that the success came from data presentation. The website offers not just a set of dry figures filling endless spreadsheets, but ready-for-use analytics as well.
"You wanted the information, and it is already here. We have 240 unique sets of data. But if we say to residents, 'here is an Excel spreadsheet, now look for yourselves,' it will come to nothing. We have presented it in such a way that it is interesting to residents," said Stanislav Haider, head of the department of information technology and analytics of the Drohobych City Council. "Four illegal billboards were found within a month after this project started, all thanks to our citizens. We have opened the data and visualized it for people."
It should be added that such a project of open data was cheap and paid for itself within its first year of operation. And now it brings increasing benefits every day. In particular, it helps the formation of civil society.
"By default, data, just like the city's budget, belong to its residents. And it is important for us that both the residents and the authorities understand it, that the residents act as citizens, not guests of their city," Haider concluded.
The next stage of the local Smart City program will involve the blockchain technology applied to municipal projects. For example, the queue for children's entry to kindergarten will be monitored with the help of modern means in the educational sector. Should some official try to change some child's place in the queue manually, the blockchain technology will record it. It is hoped that the new approach will minimize most corruption risks.