Pinning hopes on European Court
Why Ukrainians whose property was destroyed in Donbas have to sue their government?
25 November, 17:25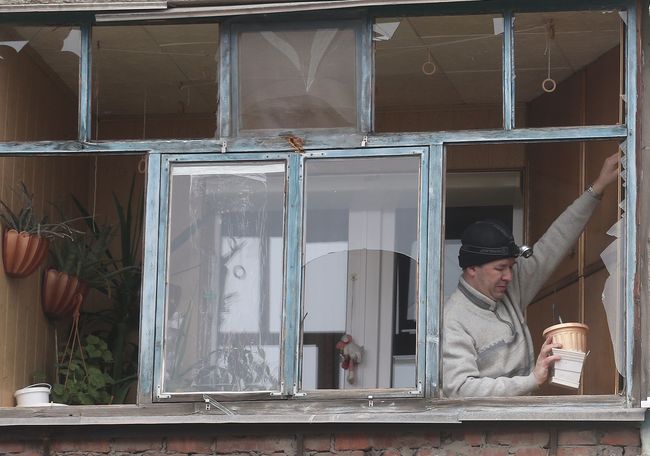 War in the east of Ukraine has left thousands of people homeless. Often it is impossible to ascertain whose artillery shell blew a home apart. According to the Ukrainian Helsinki Human Rights Union (UHHRU), law-enforcement agencies don't even try to investigate such cases on Ukraine-controlled territory. At best they interview victims, and this considering that under the Law of Ukraine "On the Struggle against Terrorism" payment of damages caused by acts of terrorism is made at the expense of the central budget. With the Antiterrorist Operation officially underway, the state must make such payments, but the indifference of officials leaves the victims without property and hope for justice at home, so UHHRU people recommend filing applications with the European Court of Human Rights.
UHHRU has collected 30 eyewitness accounts by victims whose property was damaged by hostilities in Donbas and filed applications with ECtHR. Some of the claims have been registered, with findings forwarded to UHHRU public reception offices. These offices are all over Ukraine and their addresses are on websites. In typical cases individuals can file such applications, using human rights activists' experience.
But first one has to apply national legal protection procedures. An application is filed with law-enforcement agencies in Ukraine and Russia, then you wait for a response. After that you can turn to the ECtHR, personally or through a representative. There is a standard UHHRU form and all you have to do is fill it in. You have to attach to it all evidence and a number of documents, including those testifying to your title to the property damaged or destroyed and copies of applications filed with law-enforcement agencies. After that you forward the application and appendage to ECtHR.
Damage claims are filed against Ukraine and Russia. Ukraine is to blame even when there is clear proof that the artillery shells or rockets were fired from the DNR or LNR. "Ukraine hasn't taken proper measures to ensure the security of its citizens and is not conducting effective investigations into such cases," explains UHHRU expert Yulia Naumenko, adding that "it is hard to tell who will be found responsible by the European Court and whether a given application will be granted. Ukraine will start practicing such procedures in five to six years, not earlier. Neither the DNR nor LNR can be held responsible, but Russia refused to admit its involvement in cases relating to Transnistria, Chechnya, and South Ossetia – as it does now – while the court ruled that the Russian Federation was responsible as a country that had such quasi states under control.
Several years from now the indifference of the Ukrainian state toward its citizens may turn out to be a heavy burden on the central budget. Says Mykhailo Tarakhkalo, director, UHHRU Strategic Study Center: "Often it is impossible to ascertain who shelled a given town and the Ukrainian authorities bear a large part of the blame. Law-enforcement agencies refuse to conduct even elementary investigations like determining the trajectory of artillery or rocket fire and the kind of weapons used. If they did, Ukraine would be relieved of at least part of the responsibility. There is a law that says that all damage caused by an act of terrorism is paid by the state. Perhaps higher courts should work out explanations for the lower courts. Our law-enforcement agencies should understand that such damage cases are best handled on a national level, so you can determine the responsibility, the extent of damage, the need to make damage payments. All this takes normal investigation. Otherwise there will be serious consequences for the budget of Ukraine."