An exhibit by this name is held at the Museum of Contemporary Art of Ukraine
25 June, 2018 - 16:52
Kyiv is a city of contrasts. Volodymyrska and Brovarskyi Prospekt are the oldest (about 1,000 years) and the longest (14 km) streets, respectively. The theme of Kyiv is endless. Poets and writers sang praises of this city, it being painted and photographed. For some, it is the city of childhood; for others, it is the capital of Ukraine; and somebody else takes interest in its ancient history. Everybody has their own vision of Kyiv.
At the exhibit, you can see Kyiv the way the following artists see and feel it: Olena Yablonska, Oleksandr Pavlov, Hanna Fainerman, Ernest Kotkov, Oleksandr Naiden, Oleksii Oriabynskyi, Zoia Orlova, Viktor Kozyk, Yakym Levych, Vladyslav Shereshevskyi, Oleh Zhyvotkov, Yurii Solomko, Liubov Rapoport…
"Art must improve the human being, carry spiritual light, make attitude to life easier and more transparent, and remove bleak ideas and thoughts. If a picture cleared a way for the serene, it has done a good thing for people. A picture should radiate good," the famous artist Olena Yablonska used to say.
"Canvases by Oleksandr Pavlov, the guru of Ukrainian abstractionism, personify absolute freedom," artist Oleksandr Liapin says about the master's work.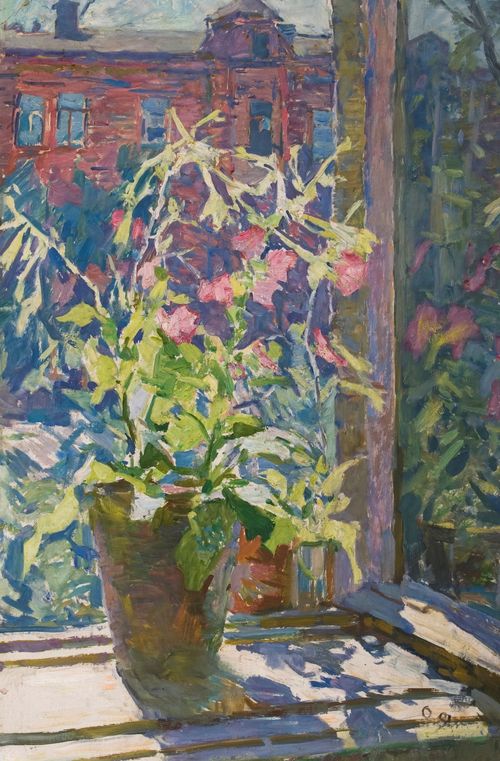 OLENA YABLONSKA, TOBACCO ON THE WINDOWSILL
The exhibit displays interesting canvasses by Oleksandr Naiden (artist, researcher, and writer) and Oleksii Oriabynskyi (representative of the so-called "unofficial art," whose work did not fit the rigid framework of socialist canons and was at odds with the then ideological system).
Kyiv motifs run through many pictures of Viktor Kozyk. His works are emotionally expressive and full of spirituality.
Nor will art buffs miss the works of Yurii Solomko who is well known for his pictures painted on geographical maps. Incidentally, Solomko maintains that a geographical map is one of the strongest symbols ever created by human civilization. It is on these symbols that Yurii expresses his vision and opinions.
If you closely examine these authors' works, you will see all kinds of emotions – concern, joy, sadness, tenderness, fascination – and feel the rhythm the masters worked in. This is the way pictures are painted – with true feelings, living emotions, and in a special rhythm, which makes them valuable. This is a powerful energy space and a pictorial chronicle of Kyiv.
The exhibit "Address: Kyiv" will remain open until September 9.