The Lviv Palace of Arts displays little-known works of 1960s-1980s modernists
23 March, 2016 - 17:26
The Lviv National Academy of Arts' Management Department and the Lviv Palace of Arts have jointly launched a conceptual exhibition project, "Existence > Cosmos – Vector of Leopolitan Modernism." It is a retrospective show of the main directions in Lviv's alternative art of the 1960s-1980s in the works of Roman Selsky, Leopold Levytsky, Karl Zvirynsky, Oleh Minko, Liubomyr Medvid, Ihor Bodnar, Yevhen Lysyk, Teodozia Bryzh, Roman Petruk, Oleksandr Aksinin, and other modernists.
Project organizers say it is an attempt to bring the unknown, "different," Lviv of the 1960s-1980s back to the history of Ukrainian and European art.
"This profile is obviously incomplete, for just one exhibit cannot possibly embrace everything, but it is a serious profile of our Leopolitan art from the late 1950s to the late 1980s," says Lviv National Academy of Arts teacher Liubomyr Medvid, one of the few still living artists whose works are displayed at this exhibit. "Lviv saw some interesting processes. Indeed, people had things to say in the 1960s, and, thank God, we were saying them frankly and sincerely, albeit 'with tongue in cheek' sometimes. But even this 'tongue in cheek' approach had a limited, narrow, presentation and played its role. That was the art of silent but determined Resistance."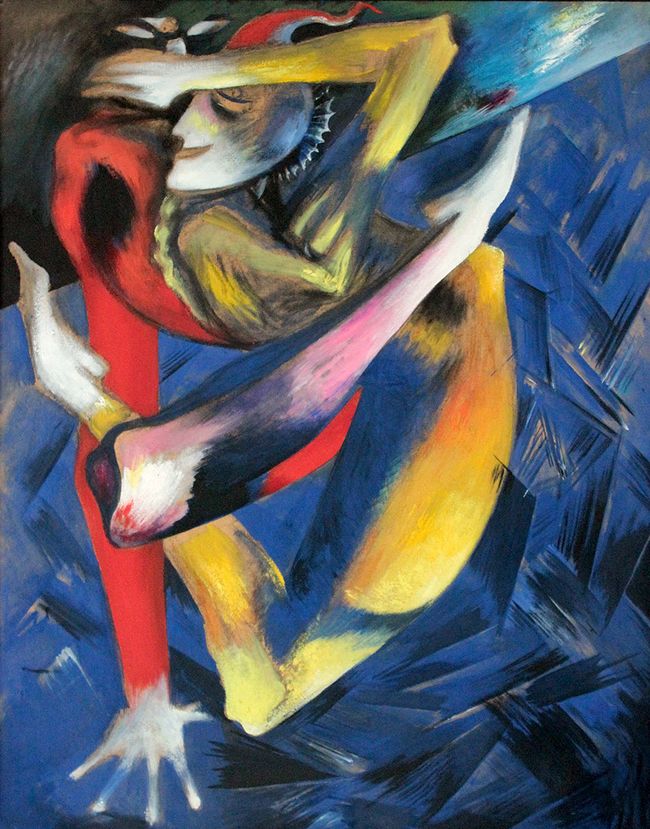 YEVHEN LYSYK. BALLERINA / Photo replica by the author
"This exhibit has deliberately gathered some symbolic items by which you can trace certain trends in thinking and certain ideologies of art that existed in Western Ukraine contrary to bans," says Roman Yatsiv, a well-known Lviv art critic. "Surprisingly, my mentor Karl Zvirynsky drew absolute parallels in the 1950s and the early 1960s with the conceptual works of that-era Polish and Western artists. They fully shared the desire to live by their ideas and offer spiritual resistance to the imposed ideology of socialist realism. If this attitude had been open, it could have had a much stronger impact on society."
The project "Existence > Cosmos – Vector of Leopolitan Modernism," which comprises not only an exhibition, but also an artistic symposium, will last until April 5.